38% Said This Is The Best Netflix Cooking Show
Drop/Shutterstock
More and more people have been tuning into food shows over the years (via The Hollywood Reporter) — and for good reason. Maybe someone's an avid home chef looking to learn a few tips and tricks from professionals. Maybe they're a foodie who loves to drool over amazing culinary creations. Or maybe they're just in need of something entertaining to watch on a Friday night. Regardless, there are a ton of options out there, such as "Top Chef" and "Chopped." In fact, in 2021, Food Network was one of the top five non-news cable networks among women aged 18 years or older during prime time (via Discovery).
Netflix has also recently expanded its repertoire of foodie TV series, even launching a landing page dedicated solely to the genre. There's "The Great British Baking Show," with its cult following of tea-loving, scone-eating fans, and "School of Chocolate," with its indulgent cocoa-inspired competitions. Which one are people most likely to pick when flipping through the streaming app? To get a sense of what viewers enjoy most, Mashed polled more than 600 people in the U.S. on what they deem the best cooking show on Netflix. More than a third of them picked on show in particular as number one.
The Great British Baking Show is a big hit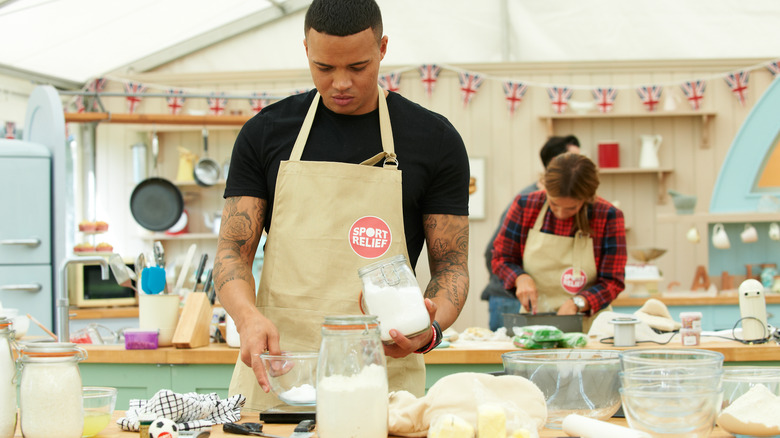 Comic Relief/Getty Images
It seems that people looking for a cooking show on Netflix might be most inclined to watch "The Great British Baking Show." According to Mashed's poll results, 38.11% of respondents say it's their favorite culinary series to watch. Not surprisingly, the British baking competition also draws a lot of eyeballs in the U.K. — Variety reports that the Season 12 finale broadcast on the U.K.'s Channel 4 brought in some 6.9 million viewers. It has a decent rating on Rotten Tomatoes, with one person on Influenster saying, "I love this show! It's a refreshing reality show because of how tasteful, supportive, and down-to-earth the contestants are. The goods they bake are just beautiful and leave my mouth watering for some sweets, bread, and pie every time. It's an absolute treat for your eyes to watch this show!"
How did the other popular cooking shows on Netflix compare to "GBBO"? "Chef's Table," with 16.61% of the votes, took second place, followed closely by "Nailed It" with 15.47%. Some 11.07% of people chose "The Chef Show" as their favorite, while 10.42% chose "Baking Impossible." Unfortunately for "Sugar Rush," it was the least liked of the bunch, with only 8.31% of respondents dubbing it their top pick.