A 102-Year-Old Had A Birthday Bash At Chick-Fil-A
Visiting Chick-fil-A is often food served with a side of "my pleasure." That Southern hospitality is at the heart of everything the quick-service restaurant does. Even the company's mission statement subscribes to "have a positive influence on all who come in contact with Chick-fil-A." As seen in a recent birthday celebration, that sense of positivity and community can be served at breakfast, lunch, and dinner.
As reported by Positively Lex 18 of Lexington, Kentucky, Thomas Dade celebrated his 102nd birthday at his local Chick-fil-A restaurant. The centenarian was joined by friends who marked a life well lived, and also celebrated a fellowship that seems to feed the soul as much as fill their bellies. While the meal had a spirited conversation and 102 balloons hanging in recognition, the occasion served as a time to reflect on how a simple weekly ritual can form a bond among friends that doesn't fade when the last drop of coffee runs dry. And even if that iconic Southern-style chicken might not be the reason for Dade's longevity, there could be something said about a special seasoning that comes in the form of a lasting friendship.
A centenarian shares his secret to living to be 102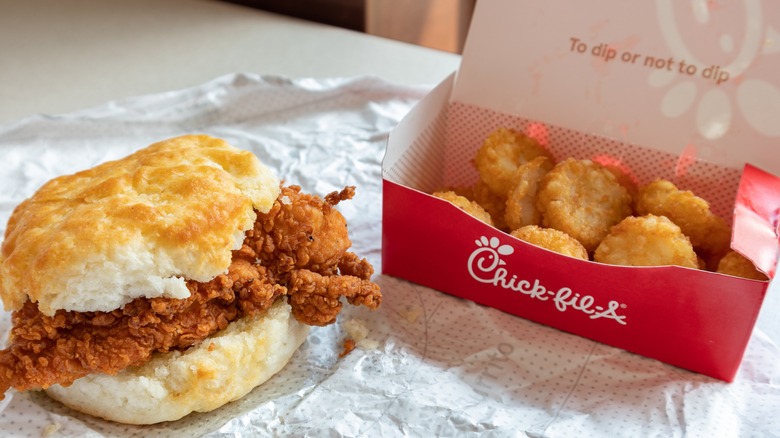 James Andrews1/Shutterstock
As his friends gathered at a local Chick-fil-A restaurant to mark his 102 birthday, Thomas Dade spoke to Positively Lex 18 about his robust life. From living abroad to his commitment to his faith, those decisions might not be the fountain of youth, but they could be the seasoning to make another year more flavorful.
Specifically, Dade said that celebrating the love and kindness shown to each other — especially among friends — is a reason why he believes that his life has been so fulfilled. While the idea of treating everyone right might be similar to the Golden Rule, it is a simple statement with profound meaning. Although maybe not intentional, kindness seems to flavor what Chick-fil-A does. As the company's values state, the collective group who is willing to serve might be another way of showing kindness to others. It seems that Dade and the quick-service restaurant have something in common: Kindness might be the ingredient that adds flavor to life.