The Surprising Connection Between Pizza Hut And Teenage Mutant Ninja Turtles
Scott Dudelson/Getty Images
The names Michelangelo, Raphael, Donatello, and Leonardo may bring to mind famous Italian Renaissance artists. But if you grew up in the 1990s, perhaps they evoke fond memories of the legendary anthropomorphic quartet that graced television screens on Saturday mornings (and the silver screen three times): the Teenage Mutant Ninja Turtles. The cartoon, which was created by Massachusetts artists Kevin Eastman and Peter Laird, started as a comic book in the '80s, per Mental Floss. And if there's one thing fans know about the lovable characters — other than fighting villains and hanging out with their sensei and adoptive father, Splinter, or their pal April O'Neil — it's that they have a deep love for pizza.
The hit show has remained a pop culture sensation since its launch in 1987 (per IMDb). But there was an era during which the martial-arts-practicing turtle ensemble was so influential, it helped sales skyrocket for one of the world's largest pizza chains: Pizza Hut.
Pizza Hut sponsored the Ninja Turtles' music tour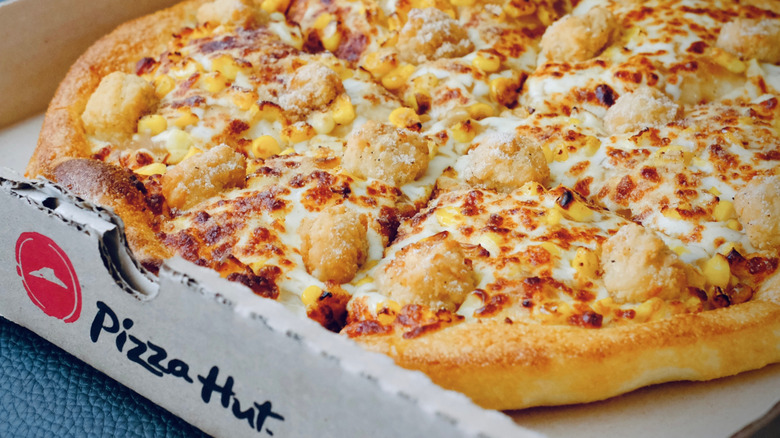 HeyDebbie/Shutterstock
To put it lightly, the Turtles' popularity was bonkers, yo! In 1990, the "TMNT" characters starred in their first live action movie, which was fittingly named "Teenage Mutant Ninja Turtles" (per IMDb). And to make things even more awesome for young fans of the amphibious foursome, the "heroes in a half shell" ventured on a nationwide tour — "Coming Out of Their Shells" — to showcase nearly a dozen glam rock and rap songs performed by the cast and various instrumentalists. The setlist included jams such as "Pizza Power" and "Cowabunga" (per Discogs). The Chicago Tribune promoted the concert tour, unveiling that Pizza Hut contributed more than $20 million to the new album, which was sold in its locations nationwide — in the form of cassette tapes, of course.
MTV reports that more than 2 million cassettes were distributed to customers who ordered personal pan pizzas. David C. Novak, the Senior Vice President of Marketing for Pizza Hut at the time (and eventual co-founder and CEO of Yum! Brands) said in a statement, "Pizza Hut will launch the most aggressive promotion ever done in the record industry to support the Turtles' new music, which I'm sure all of America will love" (via MTV). Cowabunga indeed, dude.