Would Hunter Fieri Ever Challenge His Dad On Tournament Of Champions?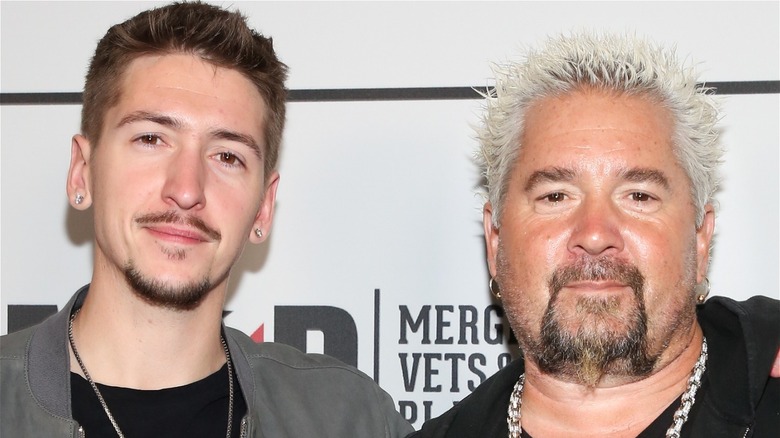 Paul Archuleta/Getty Images
Guy Fieri's latest competition show "Tournament of Champions" has officially come back for another season. This time around, everything is bigger — twice as many chefs are competing against each other to win the grand prize, which has been increased to $100,000. In an interview with Parade, Fieri explained what makes the competition so challenging: "It's blind tasting, and no other competition has that where the judges don't know who's competing and the competitors don't know who's judging. So it's cook your best dish, put it on the plate and it's out of your hands."
According to Guy Fieri's son Hunter, who appears on the show interviewing contestants backstage, fans should expect a lot of fireworks this season. As he told Food Sided, "Things are going to get crazy." Considering the fact that Hunter is no stranger to the world of food competitions and has been spotted on "Tournament of Champions" in the past, he was asked whether he would ever participate in a cooking challenge against his famous father. The celebrity chef's son had an interesting answer.
Hunter's response is intriguing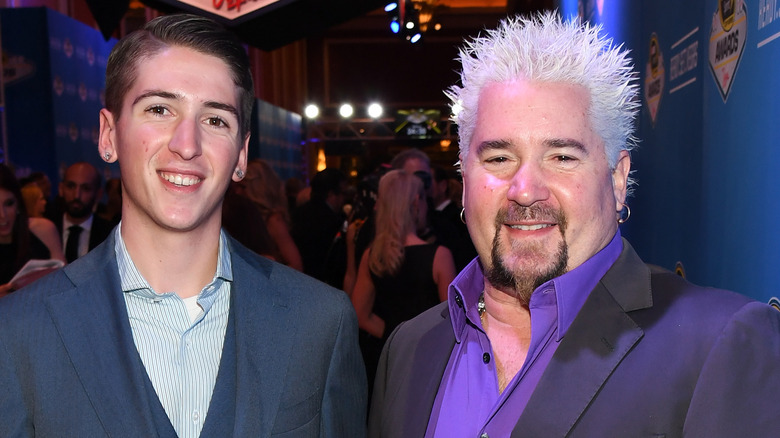 Ethan Miller/Getty Images
According to Food Sided, Hunter Fieri said that he wouldn't mind competing against Guy in a cooking challenge, but he's pretty sure "that his dad would still have the advantage." This does make sense, considering Guy Fieri has been in the culinary (and culinary TV) industry for a long time and knows what to expect from a food competition. That said, Hunter is grateful for his past culinary experiences with his dad, such as the time the two spent traveling across Europe after Hunter finished high school.
Per Delish, the father-son duo explored Europe for a month in 2015 and visited 13 different locations. Hunter remarked, "I learned a lot more about food there than I ever had anywhere else." He also spoke about his future goals and said, "I want to open my own restaurants — to have things that I created and things my dad created and run this empire." Though that interview happened in 2018, even then he cracked a joke about competing with his father: "I have to one-up dad, of course."