Baskin-Robbins Is Honoring St. Patrick's Day With This Oreo-Based Flavor Of The Month
If you are looking for something different from McDonald's iconic, green and minty fresh Shamrock shake to mark March 17, Baskin-Robbins has a new ice cream to help frozen treat lovers celebrate St. Patrick's Day. The ice cream company has created a new variation of the most popular ice cream in America, cookies and cream, for the Irish holiday. The ice cream brand has teamed up with the creme-filled cookie Oreo to create its Golden OREO Irish Cream ice cream with layers of sweetness.
According to Baskin-Robbins, the flavor of the month features several different flavors and textures mixed together that will hopefully satiate your taste buds. The ice cream flavor is a combination of Irish cream — less than .5% alcohol by volume, per the brand's description – and Belgian chocolate. It is filled with a graham cracker swirl cookie to give it a crunchy texture, along with bits of Golden OREO cookies. This ice cream sounds like it would make a great sundae or milkshake depending on your mood. 
The flavor is available through March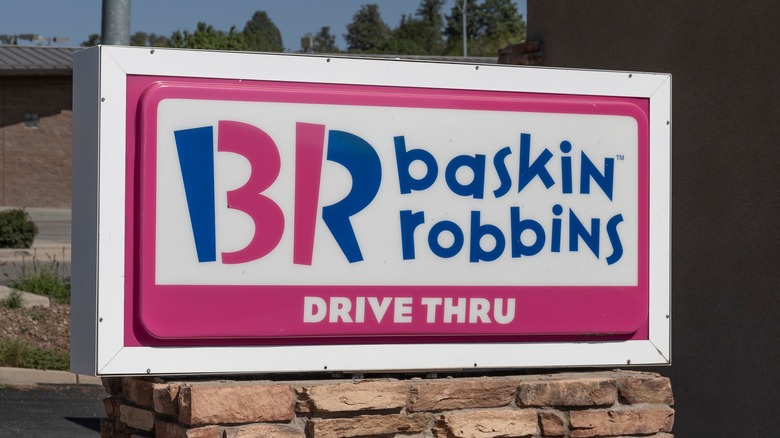 Jonathan Weiss/Shutterstock
Per Foodsided, this new Baskin-Robbins March flavor of the month is available now at the ice cream shop's locations. Fans on social media seem to be looking forward to sampling it. One person wrote on Twitter, "This is so good, I'll be IN even though I can't have this as I gave up sweets for Lent." Another fan seconded this feeling, tweeting, "That's an interesting mix. I'm in!" Yet another offered, "You had me at ice cream but especially Oreo #IN."
For those who have food allergies, be aware that this Golden OREO Irish Cream ice cream does contain milk, soy, and wheat, according to its nutritional information. Oreo is definitely a popular brand for the ice cream company to partner with when it comes to its flavors. Per Inspire Brands, last March the ice cream company's flavor of the month was another riff on cookies and cream: OREO 'n Cold Brew. This ice cream took cold brew as its flavor and layered in chunks of OREO cookies and a crispy chocolate cookie ribbon.