Why Mary Berg Was Hesitant To Write Her First Cookbook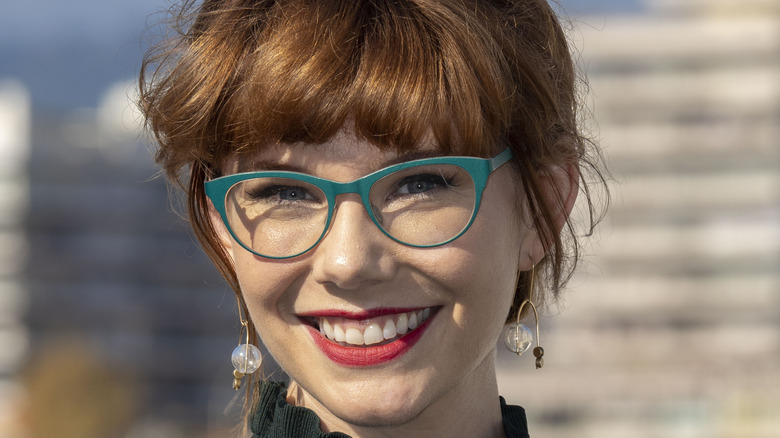 Arnold Jerocki/Getty Images
Toronto, Canada's Mary Berg took a big chance in 2016 when she became a contestant on "MasterChef Canada," according to Toronto.com. Berg had no professional culinary training but had spent her life cooking and baking for everyone around her. She dazzled the judges with her composed and flavorful dishes (shared via YouTube) and her dream came true when she became the first woman to win "MasterChef Canada".
Since then, Berg has gone on to host her own cooking show in Canada, "Mary's Kitchen Crush," and in 2022 Food Network announced that Berg would host another show called "Mary Makes It Easy." She has also written two cookbooks since her "MasterChef" win: "Kitchen Party: Effortless Recipes For Every Occasion" and "Well-Seasoned: A Year's Worth Of Delicious Recipes." For an outsider it's easy to assume that writing a cookbook is an effortless task for someone like Berg who is so comfortable in the kitchen and knows her stuff when it comes to technique and flavor. Surprisingly, Berg shared in an interview with EatNorth that when it was time to begin work on her first cookbook she was worried about the potential isolation the work might bring with it. 
Here's how Mary Berg made cookbook writing fun
In her interview with EatNorth, Mary Berg shared how it felt to start her first cookbook, "Kitchen Party," saying, "I was nervous going into it. I thought it was going to be really lonely and that I would just be working on my own and toiling away over a stove with no one to talk to."
Berg was right to be wary, as the loneliness of creating a cookbook may catch first-time authors by surprise. In an article for DianneJacob.com, Chef Cameron Stauch said that while writing his first book, "There were days when I didn't speak to anyone." Stauch also noted that even when a manuscript seems finished, edits and photography keep authors tethered to the project for longer than they anticipate. 
Berg described herself to "MasterChef Canada" judges (shared via YouTube) as an "A-type personality" who loves to be around people, so of course this outgoing cook would feel apprehensive about long stretches of isolation! Fortunately, Berg's family helped her find a balance that made the cookbook process fun.
"It's me in the kitchen during the day when everyone's at work," she shared with EatNorth, "and then after my husband comes home and my sister-in-law comes over, and we all just kind of dig in together." And of course, humor always helps as Berg notes: "They rip my food apart which is actually a lot more fun than it sounds."