The Burger Andrew Zimmern Would Choose If It Were His Last Ever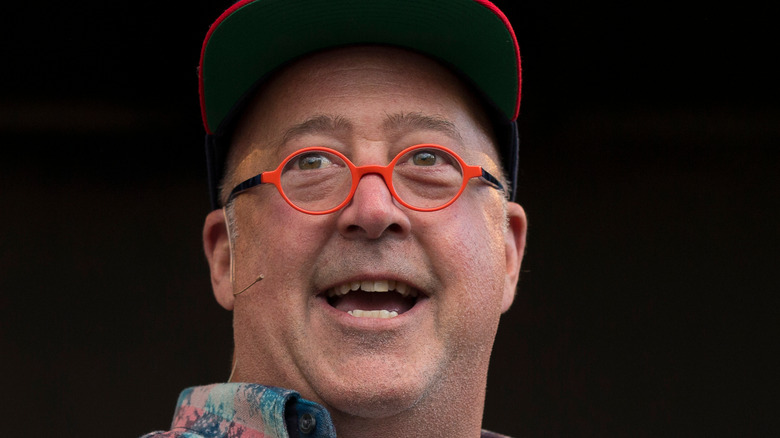 Sterling Munksgard/Shutterstock
Andrew Zimmern has traveled the world, sampled foods from just about everywhere, and tried to inspire viewers of his Travel Channel show "Bizarre Foods" to step outside their comfort zone when it comes to eating. But, when it comes to hamburgers, Zimmern sticks with what he knows and loves. During an Ask Me Anything session on his Spilled Milk blog, the star chef revealed he is a fan of the hamburgers at JG Melon in New York City. In fact, Zimmern went on to share that, if he ever had that last burger on earth moment, he would choose one of theirs hands down.
Why this one, instead of Shake Shack or Five Guys (both of which make his list of best quick service burgers)? Well, it is important to note, Zimmern's love of JG Melon is long-standing. Back in 2012, he tweeted about it being the "best burger," and in 2015, he told Food & Wine, that it's his "favorite bar burger, bar none." As Zimmern explained, "All the fancy stuff can come and go, but this is the burger I grew up on, and it holds a special place in my heart." And if you are on the fence about what to order on the side, he recommends "the cottage fries and spinach salad." Of course, there's even more to his love affair with this menu staple.
It is all about the nostalgia for Zimmern
As Andrew Zimmern answered questions on his Ask Me Anything video, he conceded that there is probably a better burger out there, but he loves this one because it remind him of his childhood and the nostalgia and memories that came along with eating at JG Melon. From his first drink to the first girl he kissed, when growing up, JG Melon was Zimmern's "neighborhood tavern" where all those big moments happened.
According to Time Magazine, "positive feelings" can influence how we feel about a food. In fact they note that, "Researchers suggest that when we associate foods with happy memories, the effects are profound, impacting how good we think foods taste as well as how good those foods make us feel." Perhaps, this is why Zimmern loves JG Melon so much; however, the World Food Ambassador is not alone in his love for this burger.
Per the New York Post, cooking host Bobby Flay is also a lover of the option that JG Melon serves up. "I love the burger ... I grew up eating there," he said. Similar to Zimmern, Flay also has a theory about why they are so good. He said, "I think it's the griddle. They'll tell you it's the meat — I'm sure it's good quality meat. But I think the flatiron griddle really makes the burger fantastic. The burger is just the right size. It's got the right crustiness. They melt the cheese completely. They just do all the fundamentals spot-on."