This Is The City With The Most Chick-Fil-A Locations
Chick-fil-A is well-known for its classic chicken sandwich topped with two pickles, its killer waffle fries, its creamy milkshakes and frozen lemonade, and its house Chick-fil-A sauce that is so beloved, you can buy it at grocery stores (via Chick-fil-A). This poultry-focused fast-food chain is the real deal, grabbing the chicken restaurant award on the Harris Poll's annual EquiTrend Study that uses consumer feedback to rank the top brands in a variety of categories. And while you might assume that a chicken item is most people's go-to Chick-fil-A order, the most ordered item in 2021 in all United States regions was actually those iconic criss-cross waffle fries, according to the restaurant chain's blog.
Since Chick-fil-A made its debut in 1967 in Atlanta (per Entrepreneur.com), it has grown and flourished to rake in the third-most sales of any fast-food chain in the U.S., according to Visual Capitalist, only outpaced by McDonald's and Starbucks. However, the outlet also revealed that consumers prefer chicken over other sandwiches, and that Chick-fil-A accounts for more than a third of "all chicken restaurant sales." 
It is not hyperbole to say that people really like Chick-fil-A. But have you ever wondered which city in the U.S. has the most of its restaurants? 
A Texas city holds the title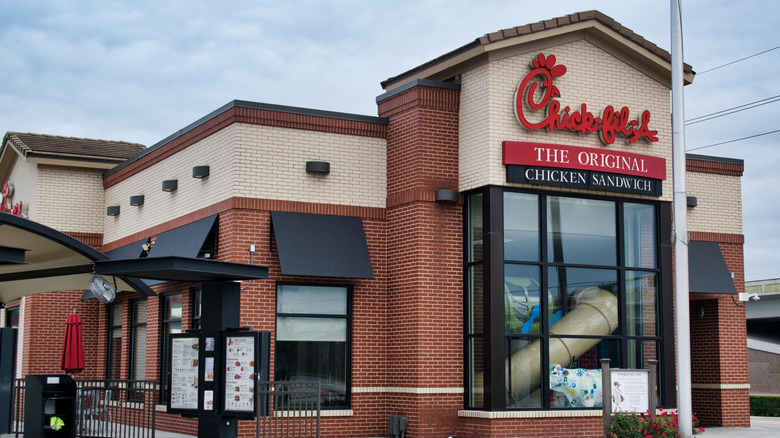 Brett Hondow/Shutterstock
Wonder no more, because the city that takes this title is of course in the state where "everything is bigger" (via Let's Texas). According to Scrape Hero, the U.S. city with the most Chick-fil-As speckling its landscape is Houston, Texas. The site shares that there are currently 2,813 Chick-fil-A restaurants in the United States, and Texas claims 16% of them. That, for the math-minded, comes out to 456 locations in the state. But drilling down a little more, Houston tops all U.S. cities with 55 Chick-fil-A spots, beating out Atlanta, the city where the chain is headquartered. In fact, Texas as a whole has more Chick-fil-As than Georgia, which boasts 254 restaurants total.
But why does Houston have the most Chick-fil-A shops? It might seem like an unlikely city when you consider how proud locals are of their barbecue and Tex-Mex offerings. But "Space City" is also the largest city in the southern U.S. (per houstontx.gov) and Chick-fil-A is also a Southern-based chain. 
However, it is worth noting that the state where people consume the most Chick-fil-A chicken nuggets isn't Texas. Per The Infinite Kitchen, that title goes to the people of Arizona, followed by Wyoming and New Hampshire. So take that, Texas!