MLB Players Hired As Papa Johns 'Pizza Pros' During Labor Dispute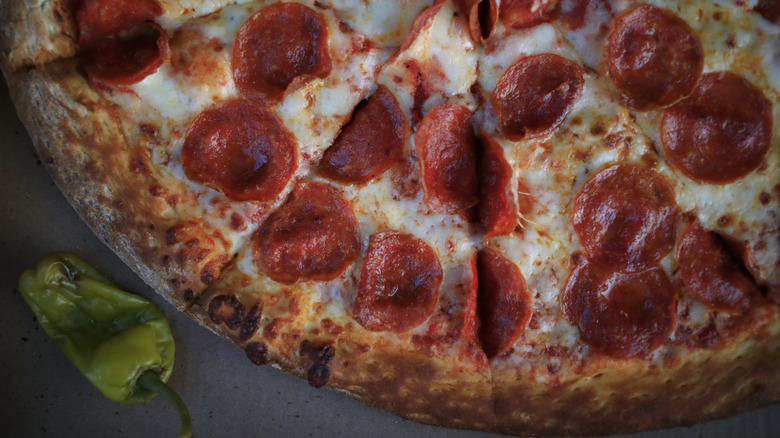 Bloomberg/Getty Images
There may be some good news coming for baseball fans across the country who've been waiting to find out if and when their favorite teams will take the field this season. Per MLB, discussions have been scheduled for today between Major League Baseball and the Major League Baseball Players Associations, with the hopes that the two parties will hammer out a new collective bargaining agreement so we can all get back to watching some baseball. NPR reports that the MLB regular season was originally scheduled to begin on March 31, but stands will sadly be empty that day since the first two series for each team have already been canceled. This means 91 less games, and as NPR notes, "players won't be paid for games they don't play."
As a result, baseball players might be finding some extra time on their hands, and one company decided to seize the opportunity. On March 1, Papa Johns took to Twitter to pose an interesting offer to MLB players: "If your team isn't doing much lately, why not join ours?" By way of a catchy video, the pizza chain invited players to apply to be a "Pre-Season Pizza Pro" for the company and receive some of the same benefits of their employees — including a new uniform. A couple of pizza-loving baseball players decided to take them up on their offer.
Two Atlanta Braves players became Pizza Pros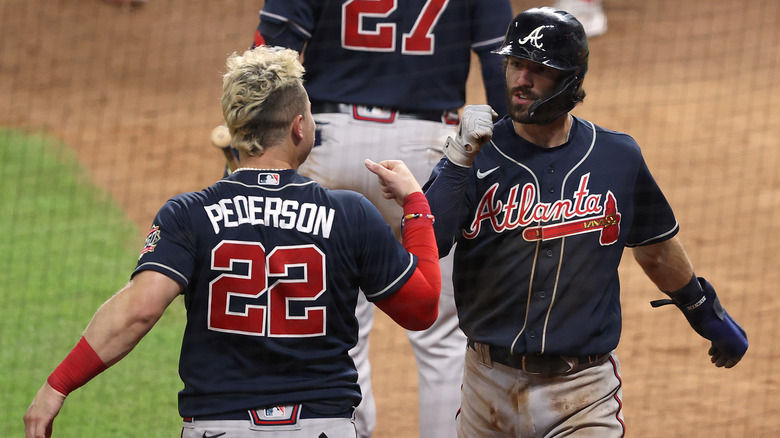 Bob Levey/Getty Images
After Papa Johns posted a job opening for Pre-Season Pizza Pros on Twitter, two players from the Atlanta Braves decided to get involved. According to People, shortstop Dansby Swanson tweeted back "Time to update my resume" and compiled a comical video application (now on Twitter) showing off his "speed delivering pizzas." Meanwhile outfielder Joc Pederson replied "Let me shoot my shot," and put together a video — also on Twitter — featuring the player with a pile of Papa Johns pizza boxes. Smiling at the camera, Pederson picks up a paper plate with a slice on it, and jokes, "I guess if I'm not going to be at home plate, might as well fill up my home plate."
The clever applicants were successful, though seeing as the tweets included "#ad," it would appear that both players were already working for the pizza chain. According to People, Swanson and Pederson worked a shift at a Papa Johns location in Marietta, Georgia. Rather than stepping into the batters box, the duo folded pizza boxes, and instead of making double plays, they, of course, made pizza. Though we'd gladly accept a pepperoni pie from either of these cheeky ball players, we're hoping to see their skills out of the kitchen and back in the ballpark soon.