Joshua Weissman's Mom's Pot Roast Recipe - Exclusive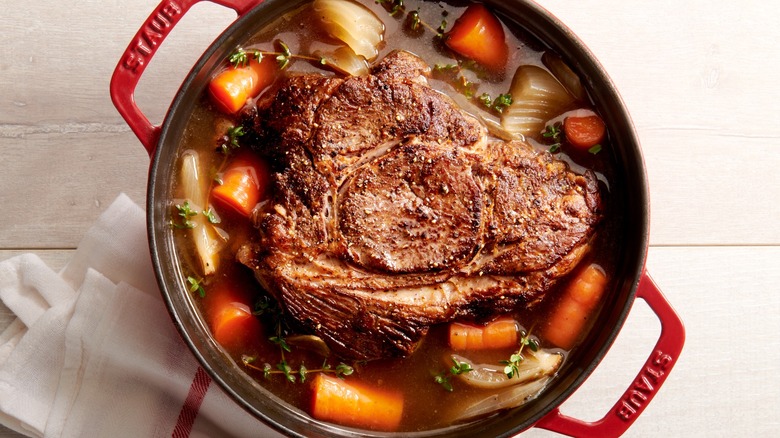 Joshua Weissman
If you don't have time to make your own butter for Joshua Weissman's Mom's Pot Roast Recipe, he'll give you a hall pass. To be fair, one of the only things that Joshua-does-it-all-from-scratch-Weissman doesn't make himself is butter. "I will say that on average I usually have about four to eight pounds of [store bought] butter sitting in my fridge no matter what. I know that seems excessive," the YouTube sensation copped to Mashed in an exclusive interview. The stock is optional too, although Weissman would probably tell you to seize the day and cook some up. For good measure, he'll teach you how to make "a basic stock out of anything" in his New York Times best-selling cookbook, "An Unapologetic Cookbook." You've got no excuses.
And, can you really think of a better, hearty nosh-up than a pot roast slow-simmered in garlic, thyme and homemade beef stock? Weissman calls this meal, his "family weekend meal crutch," by which he means "it's the number one choice I think everyone should be able to lean on when they want something special on the weekend that feeds a lot of mouths with relatively minimal effort." Got your stock pre-made? In that case, prep time for this classic meal, which Weissman shared from his new cookbook, exclusively with Mashed, is only 10 minutes.   

Reprinted with permission from "An Unapologetic Cookbook" by Joshua Weissman. Published by Penguin Random House.
Joshua Weissman's Mom's Pot Roast Recipe - Exclusive
Joshua Weissman's mom's pot roast recipe is one of his favorite easy weekend recipes, and he shared it exclusively with Mashed.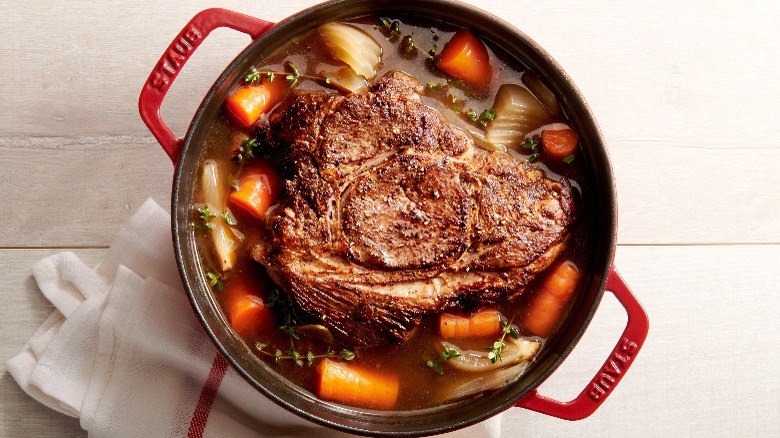 Total time: 3 hours, 40 minutes
Ingredients
4 pound chuck roast
Kosher salt and freshly cracked black pepper, to taste
2 tablespoons neutral tasting oil
1 large yellow onion, quartered
5 cloves garlic, sliced
1 quart beef stock
8 sprigs thyme
5 medium carrots, cut into 1½-inch sections
For the gravy
6 tablespoons unsalted butter
½ cup unbleached all-purpose flour
3½ cups cooking liquid from the roast
Directions
Preheat the oven to 325°F.
Season the roast generously with salt and pepper. Heat a 5- to 7-quart Dutch oven over medium-high heat. Once hot, add the oil.
Once the oil is extremely hot, add the roast and sear for 2 to 3 minutes on each side, or until the roast is nicely browned on every side. Remove the roast and set
on a plate to the side.
Add the onion, garlic cloves, and salt and pepper to the Dutch oven. Sauté over medium-high heat until the garlic is fragrant and the onion is just beginning to soften.
Add the broth, and as soon as it boils, immediately reduce the heat to low. Once gently simmering, lower in the roast. Add the thyme sprigs around the roast.
Cover and braise for 1½ hours.
Add the carrots around the roast, cover, and cook for another 1 to 1½ hours, or until the meat is falling-apart tender.
Remove the roast and veggies to a platter, and cover with foil to keep warm. Discard the thyme stems. Reserve 3½ cups cooking liquid.
To make the gravy, in a medium saucepan, melt the butter over medium heat. Whisk in the flour and cook, whisking constantly, for 45 seconds. Gradually whisk in the cooking liquid until the desired consistency is reached. You may not use all of the reserved liquid. Continue stirring until completely smooth and then remove from heat.
Enjoy the roast and veggies with a generous ladleful of gravy per serving.
Nutrition
| | |
| --- | --- |
| Calories per Serving | 657 |
| Total Fat | 33.2 g |
| Saturated Fat | 14.2 g |
| Trans Fat | 1.2 g |
| Cholesterol | 227.0 mg |
| | |
| --- | --- |
| Total Carbohydrates | 21.1 g |
| Dietary Fiber | 3.3 g |
| Total Sugars | 5.0 g |
| Sodium | 1,677.6 mg |
| Protein | 70.6 g |