Hard Rock Cafe Just Dropped A Lionel Messi-Inspired Burger
When the Hard Rock Café turned 50 years old in June 2021, the hotel and restaurant chain teamed with soccer icon Lionel Messi for its "Live Greatness" campaign (via Hard Rock Café). Now, the latest bit of Messi branding to come from this celebrity partnership has just dropped: the Messi Burger.
According to a news release, the dish, which Messi created, is supposed to represent his ideal burger. In practice, that means the burger boasts two patties with a decoration of provolone cheese, chorizo, caramelized red onions, lettuce, tomato, and the Hard Rock Café's signature sauce. Customers can add a fried egg for an additional charge. All this fits within a toasted brioche bun.
In the same week, the latest collaboration between Messi and Lay's came to fruition. Playing on the acronym G.O.A.T., the chip company and Messi released a series of limited-edition cheese flavors, a news release announced. Sadly, they declined to go all the way and release a goat cheese chip. Instead, shoppers in the United States can purchase a cheddar jalapeño flavor, and those in Argentina can get queso and pimienta, and caramelized onion. That said, these flavors will probably find a large audience due to Messi's worldwide celebrity.
The Lionel Messi brand grows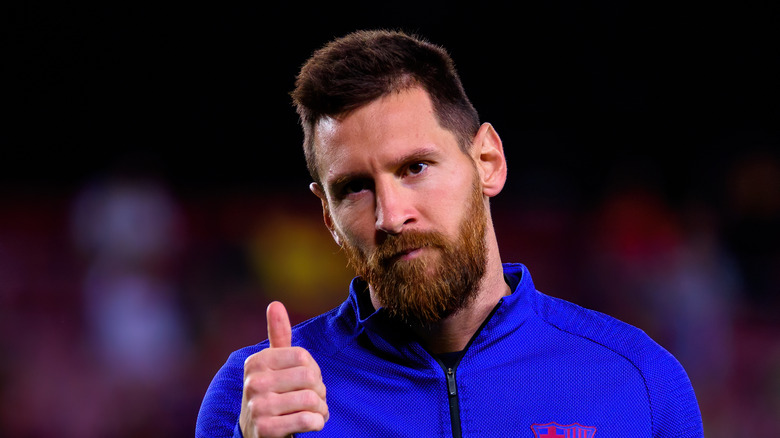 Christian Bertrand/Shutterstock
If you don't pay attention to global popular culture, it's hard to comprehend how large of a brand the football superstar Lionel Messi is in his own right. When Messi joined the club Paris St. Germain, fans waited hours to purchase his jersey for 165 euros, which equals $180 (via The West Australian). Amazon had previously acquired the exclusive streaming rights to French games, which prompted sports marketing expert Vincent Chaudel to tell the newspaper that the company "won the lottery" with its new ability to broadcast the star's matches.
However, if you look beyond the pitch to see what brands Messi has attached his name to, you'll see a large list of some huge names (via Startup Talky). He's worked with Adidas, of course. However, he has also branded with Pepsi, Budweiser, and Mengniu, among others. The man commonly lauded as one of the greatest sportsmen is also one of the greatest advertising opportunities available. 
No wonder he has a burger now too.