Coffee Mate's New Creamer Captures The Flavors Of This Iconic Ice Cream Treat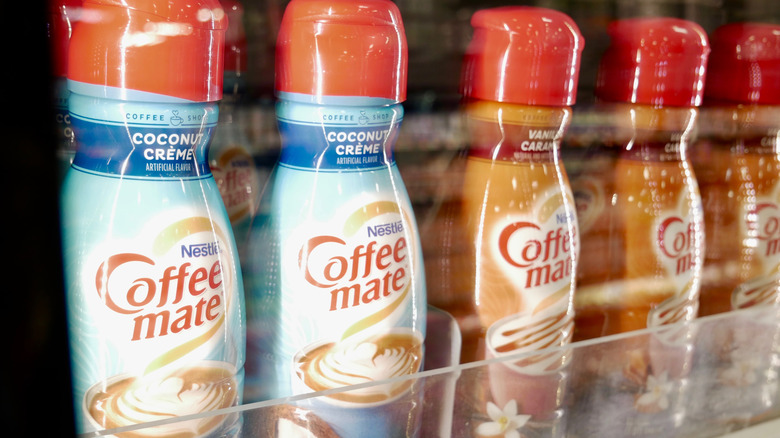 OLOZANO/Shutterstock
If you like ice cream and dessert — and let's face it, that probably describes quite a few people — then Coffee Mate's newest liquid coffee creamer flavor might end up on your grocery list. The popular brand just announced that it will be adding a brand new flavor, one that takes its inspiration from one of the most decadent ice cream truck classics on the market: the Drumstick.
The Drumstick was an accidental creation, and came to be when a vanilla ice cream cone was accidentally dropped into a pile of chocolate and peanuts by an employee at a candy factory in 1928, according to Nestlé's website. I.C. Parker, one of the factory managers, was inspired by the accident to create a whole new type of ice cream dessert. Parker's wife, Jewel, noted that the finished invention, which had a hard coating of chocolate and peanuts sprinkled on top, looked like a fried chicken leg, or "drumstick," and the name stuck. And now, fans of the Drumstick will soon be able to experience this ice cream creation in coffee form, thanks to Coffee Mate's new release.
It joins other dessert-inspired Coffee Mate creations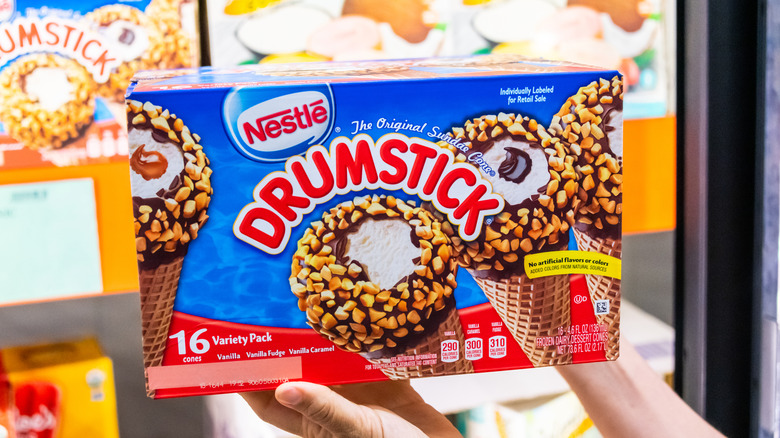 calimedia/Shutterstock
While its name might be inspired by poultry, the Drumstick features a sweet combination of vanilla ice cream, milk chocolate coating, and crunchy peanuts — all placed onto a waffle cone. Now, these same flavor notes have been added to Coffee Mate's Drumstick Vanilla Sundae Cone creamer, so you can satisfy your caffeine craving and your sweet tooth in one go. Whether you use it to brighten up breakfast or as a sweet ending after dinner is up to you.
The Drumstick Vanilla Sundae Cone coffee creamer is scheduled to land on store shelves at participating retailers nationwide in April of 2022, according to Chew Boom. But if you just can't wait to get your hands on a bottle, it has already arrived at some select Walmart locations, where it is selling for about $3.99 for a 32-fluid ounce bottle, although prices may vary by location, as Elite Daily reports. Those who are fans of a little extra sweetness in their coffee might also be intrigued by some of Coffee Mate's other dessert-inspired creamer flavors, like Glazed Donut, Oatmeal and Crème Cookie, M&M's Milk Chocolate, and even Snickers inspired coffee creamers (via Coffee Mate).