Why Pasta Primavera Is Actually An All-American Dish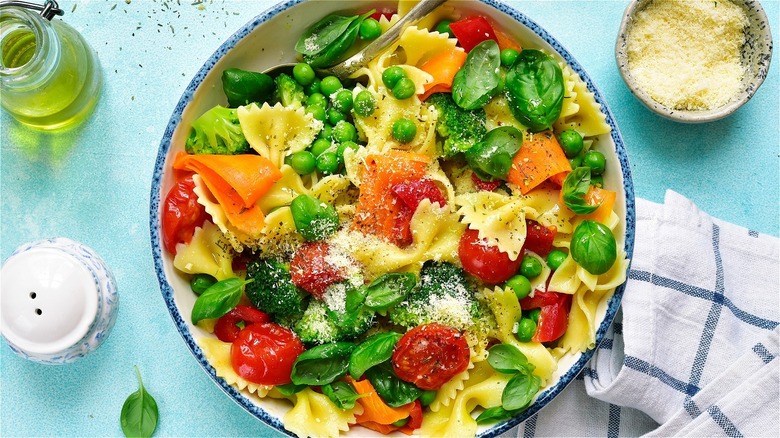 Liliya Kandrashevich/Shutterstock
Pasta primavera is one of those go-to comfort recipes that many of us love to make and eat with family and friends. Per MSN, this dish is chock-full of veggies that are largely green in nature, along with some cherry tomatoes, basil, or whatever vegetables your palate might want to nosh on, tossed into your favorite cooked pasta with creamy sauce and parmesan cheese. But what is significantly different about this pasta dish, compared to many others we dine on, is that pasta primavera was created in North America, not Italy.
The New York Times shares that pasta primavera came into its own in the 1970s, when famed New York restaurant Le Cirque added it to its off-the-menu repertoire. The article explains that the paper's restaurant critic, Craig Claiborne, and food columnist Pierre Franey would come to refer to pasta primavera as "by far, the most talked-about dish in Manhattan." But who gets the credit for inventing this dish, and why do so many of us consider it a uniquely American pasta meal? Sirio Maccioni, the owner of Le Cirque, told Food & Wine, "Our pasta primavera was born when I promised fresh pasta with tomatoes and basil to critic Craig Claiborne, but we had no tomatoes." However, some people in Canada may think there's more to that origin story.
There are a few stories about pasta primavera's invention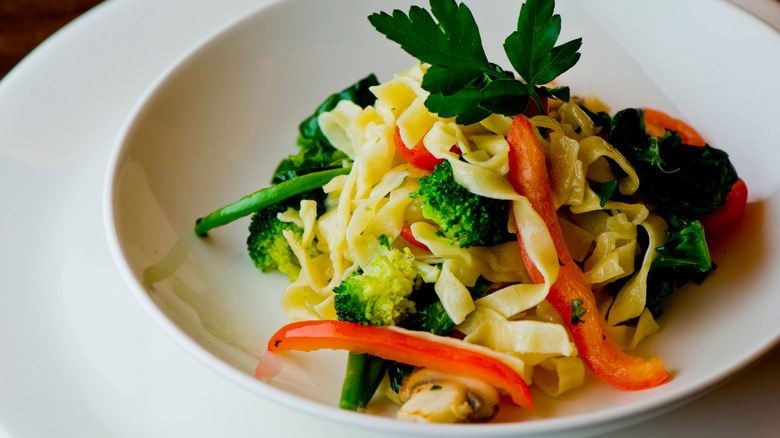 Marie Sonmez Photography/Shutterstock
According to the Chicago Tribune, Pierre Franey wrote that this pasta dish came about during a fishing trip in Canada with cookbook author Ed Giobbi and Sirio Maccioni. Franey infers in his article that this dish was a collaborative venture the three created after a "long day of fishing." Therefore, pasta primavera was actually created in Canada if this tale is to be believed. Of course, that's not the only tale.
Quartz shares yet another story of the genesis of pasta primavera. The fishing trip in Canada remains in this version; however, this time, Maccioni's wife Egidiana is part of the narrative, playing co-host with her husband to a bunch of foodies. As this story goes, the group was tired of dining on "wild boar and lobster," and so Egidiana or Sirio went to the pantry and used the available ingredients to make "a mess of greens, cream, mushrooms, and olive oil tossed over pasta." And naturally, there is a third story stating that Jean Vergnes, the chef at Le Cirque, invented the dish, per The New York Times. Regardless of how pasta primavera was born, everyone seems to agree that Le Cirque definitely made the dish the "it" meal of the era.