How A Taco Bell Batman Promo Changed Fast Food Advertising Forever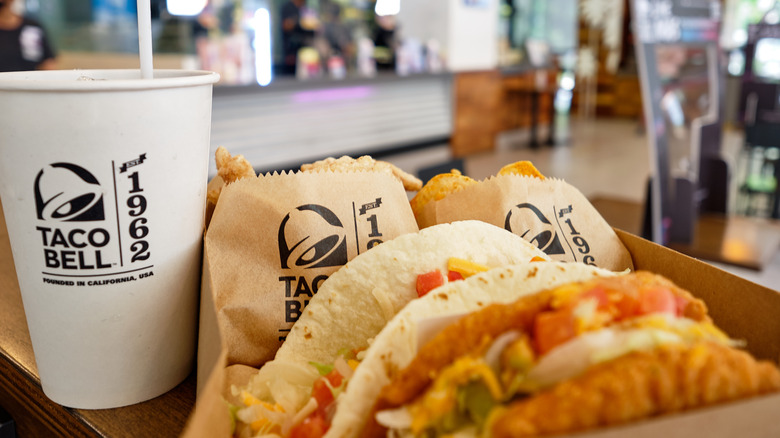 KULLAPONG PARCHERAT/Shutterstock
Advertising is part of the reason you may find yourself heading for the border. From Gidget the Taco Bell chihuahua of the 90s "Yo Quiero Taco Bell" ads to the newer Mexican Pizza commercials, these marketing strategies are meant to get your taste buds hyped. Of course, as Reader's Digest reports, the food might not look anything like the dolled-up meals you see on the tube, after all, advertisements are for one thing — getting people to buy a product.
Through the years, there have been many marketing successes and failures in the world of fast food. From Domino's moment of self-reflection with an honest review of their own "lackluster" pizza to Rax offending commercials that contributed to the failure of the fast food chain, ads truly can make or break a brand. 
Once upon a time, the world of fast food advertising saw two unlikely heroes team up for a great crusade. One from the dark streets of Gotham City, fighting for justice, and the other bravely serving late-night boxes of burritos and tacos to college students across the nation.
Taco Bell shattered records with its Batman collaboration
In 1989, Tim Burton's film "Batman" broke records and may have changed the world of advertising forever. The AV Club reports that the 1989 blockbuster transformed American cinema and became a "cultural phenomenon." The film later inspired the creation of "Batman: The Animated Series" and the sequel, "Batman Returns" (via Collider). However, perhaps one of the biggest influences "Batman" had was is marketing. 
In the summer of 1989, Taco Bell customers could collect four specially-designed "Collector's Edition" cups, portraying the image of the Dark Knight, the Batmobile, and other assorted imagery from the movie. According to one commercial, if customers purchased a 32-ounce drink, the cup would not only be free, but they could also get free refills and cinnamon twists. The deal immediately took off and even though this wasn't Taco Bell's first movie-inspired marketing tactic, in 1989 a company spokesman told the Los Angeles Times that the collab was "by far the chain's biggest and best yet."
This pairing of fast food with cinema as a means of advertising truly took off, from McDonald's collaboration with "Indiana Jones," per YouTube, to the more recent Burger King and "Trolls" commercial, companies have continued to use Hollywood as a means of advertising. None, however, may be as epic as the 1989 Taco Bell "Batman" promotion.