Taco Bell Just Turned Its Popular Nacho Fries Into A New Menu Item
Taco Bell has its staple items, like crunchy tacos, bean burritos, and the Crunchwrap Supreme. But the chain's menu has also seen a rotating cast of wildly popular special, seasonal, or limited-edition items. There was the massive Quesalupa, which featured an indulgent cheese-stuffed shell. There were the Nacho Fries, which according to Business Insider, were the "most successful launch in Taco Bell history" when they came out for the first time in 2018. And when the beloved Mexican Pizza permanently left the menu in 2020, fans were devastated.
However, there's good news for Taco Bell customers who are feeling nostalgic for the ghosts of menus past. If you, like so many people, were obsessed with the aforementioned Nacho Fries, you're in luck — they're coming back to Taco Bell in 2022. Not only are they returning in their OG form, they're also featured in a brand new menu item: the Steak Nacho Fries Burrito. Here's everything you need to know about the recently released dish that has fans buzzing.
The Nacho Fries Burrito is only available for a limited time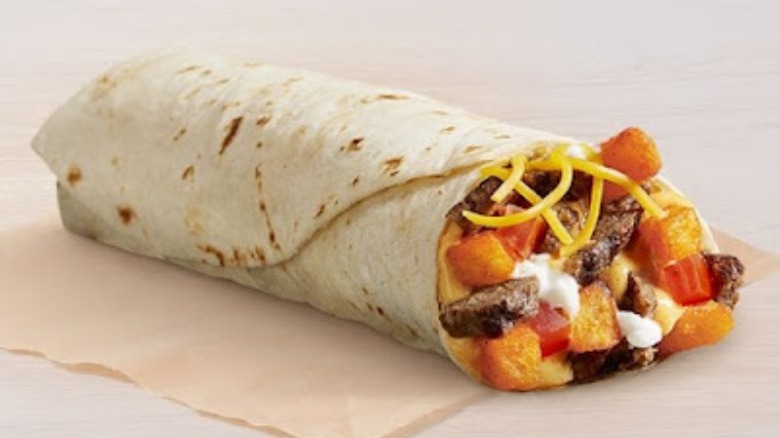 Taco Bell
The Steak Nacho Fries Burrito is exactly what it sounds like: a burrito stuffed with Nacho Fries alongside a slew of other meaty, cheesy, saucy fillings. If you aren't familiar with the OG Nacho Fries themselves, they're regular French fries that are heavily seasoned with a taco spice blend and paired with a nacho cheese dipping sauce. While people rave about these fries, they aren't exactly a meal — they're more of a side dish. Enter the Steak Nacho Fries Burrito. Peek inside the flour tortilla, and you'll find Nacho Fries, hunks of steak, chipotle sauce, nacho cheese sauce, sour cream, shredded cheese, and tomatoes. Like all of Taco Bell's menu items, you can fully customize the new burrito to your liking. It costs $3.49 and clocks in at 520 calories for the entire thing.
YouTuber The Stupid Food Review Show already posted a video review of the burrito. "I don't know what this is all about, but whatever!" he said, as he bit into it. "Actually, this is good. Got some good spice in there, too." If you're interested in trying the new Steak Nacho Fries Burrito, Chew Boom reports that it will be available at select Taco Bell locations across the United States for a limited time only.