Gordon Ramsay's Reaction To Another Spot-On Impression Delights TikTok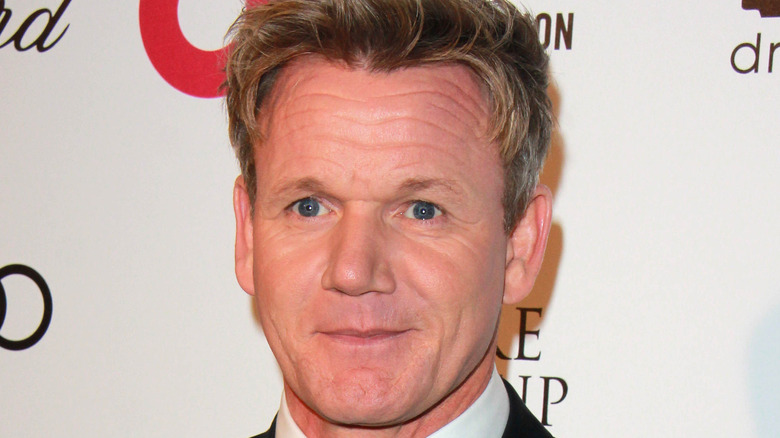 Kathy Hutchins/Shutterstock
Sharing a celebrity impression on TikTok already requires some serious confidence, but there's the added pressure to get it absolutely perfect since many famous people are on the app and might see your video. If you're portraying Gordon Ramsay, the pressure is probably even higher: The chef is arguably as famous for his hot-tempered personality as he is for his restaurants and television work. He's also been known to react to people on his TikTok page, so if you're bold enough to share your impersonations of him online, you better hope you've done a good job.
But according to TikTok user Jack Chalmers, whose impressions have previously caught Ramsay's attention, impersonating the "Hell's Kitchen" star is actually easier than one might think. In a video posted to his page earlier this week, the TikToker offered his followers a step-by-step breakdown explaining how to "do the most amazing Gordon Ramsay impression" should they want to try flexing their own acting chops.
Per his instructions, mastering the chef's accent isn't as essential as one might assume. Instead, he says, "the most important part is the mannerisms." He explains, "It's a mixture of the slap, the bounce, the counting on your fingers, the finger on the chin," all well demonstrating each movement exactly as Ramsay does. Since posting the video, Chalmers has received tons of positive feedback from users approving of his tips. And, just like last time, he once again caught the attention of the celebrity chef.
Ramsay can't believe how easy he is to mimic
Gordon Ramsay shared a reaction video to Jack Chalmers' "instructional" TikTok in a split-screen video posted to his 31.5 million followers. Stunned by the accuracy of Chalmers' impersonation, he captioned the post: I don't think I'm THAT easy to do an #impression of ! Seriously ?!? #ramsayreacts." Still, the chef praised the actor for taking the time to get every detail about him right. "Yes! 'Get a grip!' That's exactly that," uttered the chef in his response video, nodding along approvingly as Chalmers replicated his signature hand gestures. "You're getting there. Well done"
In just two days, the video on the chef and restaurateur's page has racked over a thousand comments from Ramsay fans, with many agreeing that Chalmers nailed the impression. "He's better at being Gordon [Ramsay] than Gordon [Ramsay]," wrote one user.  "You dueted yourself?" joked another. Even people who know Ramsay personally chimed in to praise how identical Chalmer's behavior is to the chef. "I can't tell which one is Gordon," commented  "MasterChef" alum Nick DiGiovanni.
Whether or not we will one day see Chalmers cast to play Ramsay in a biopic is to be determined, but for now, what matters is that chef approves of his impersonation. And in any case, it seems the actor is thrilled about the recognition. Commenting on Ramsay's video alongside a sunglasses emoji, he declared "Mom, I made it."