The Absolute Best Bread Machines For Your Kitchen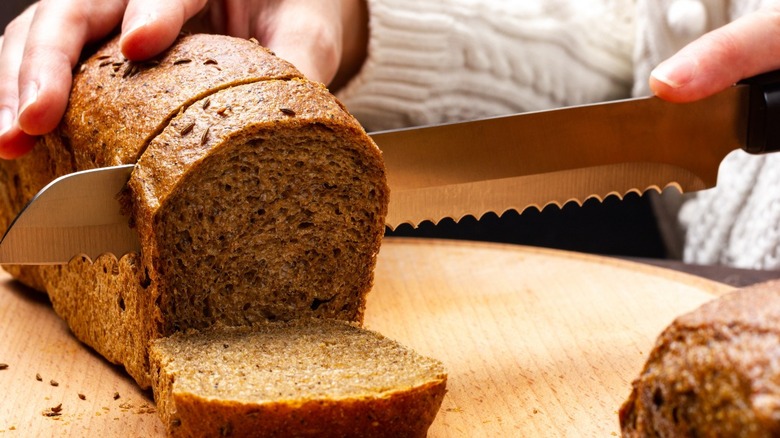 SashaMagic/Shutterstock
We may receive a commission on purchases made from links.
Now more than ever, people are trying their hand at homemade bread. Considering some types of bread can take over 70 hours to produce, increased time at home is the only way most home cooks could even possibly pull a recipe like this off. Now that everyone is returning to work and the outside world, no one has time to babysit a delicate ball of dough. But what's a bread lover to do? Enter the bread machine. Bread machines can mix, knead, proof, and bake a great loaf of bread completely hands-free. All you have to do is add the ingredients and adjust the settings.
Homemade bread is healthier than store-bought due to the lack of preservatives, and some experts say that sourdough bread may be healthier than white bread due to probiotics. Many modern bread machines can make many different types of bread, from sourdough to cinnamon raisin. Don't fret gluten-free bakers — great gluten-free loaves can be made in most bread machines. Some models can even knead pasta dough and make jam. Depending on your goals, budget, and experience level, there is a bread machine out there for you. We've rounded up the best machines on the market for every kind of baker.
How We Chose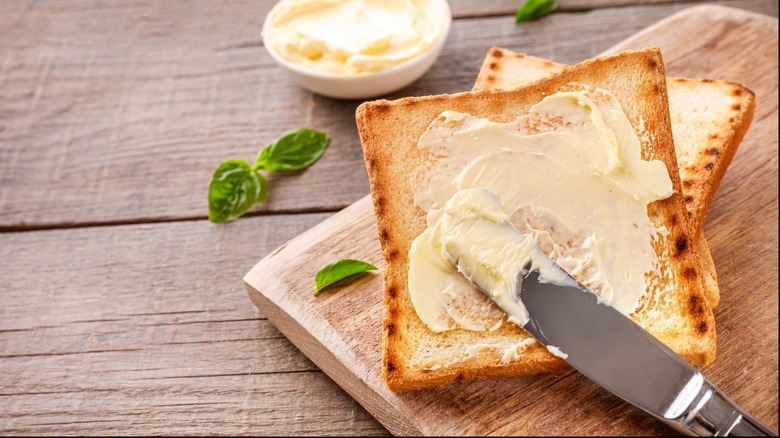 LumenSt/Shutterstock
It may seem like a simple task, but we used a variety of different tactics to choose the best bread machines from the rest. First, we analyzed the most popular models across different retailers in terms of most-purchased and highest-reviewed. When it comes to reviews, one person's 'easy' may be another person's 'difficult', so it's important to take that into account, too. 
Another factor we analyze is the range of functions, features, and specific specialties. Certain bread machines, for example, are designed with a wide array of features (such as delayed start or automatic mix-in dispensing), and priced accordingly. Other models come with a more basic set of functions but might be better for a beginner baker. Sometimes, certain machines can get press, good or bad, that brings them to our attention. 
Bottom line, we assess every model or machine on the market and determine which are worth recommending and which are just more of the same.
Best overall bread machine
If you're looking for the highest-rated machine, period, look no further. The Zojirushi Virtuosos Plus Bread Maker machine has a little bit of everything, from a solid capacity to a great range of features. According to the Zojirushi website, some of these features include dual kneading blades to ensure even mixing, 15 different bread and cooking settings (including jam and rapid bake), a viewing window on the lid so you can see the bread's progress, and a nonstick coated bread pan for easy cleaning. The coated loaf pan is wide and deep, and produces a solid loaf that looks just like any artisan loaf bread.
 The versatility of this machine makes it a favorite among reviewers, who say they can make evenly browned loaves with a great texture time and again. 
As of April 2022, the Zojirushi Virtuosos Plus Bread Maker is available on Amazon for $375.
Best budget bread machine
For some bread bakers, extra functions and features are simply not needed, and why pay more for what you don't need? The Amazon Basics 2-Pound Non-stick Bread Making Machine brings a great, simple machine at a super low price. That doesn't mean it's a one-trick pony, however. This machine has 14 settings, including a gluten-free and express option. You can choose from three crust colors (light, medium, and dark) and pre-set it up to 13 hours in advance. As one Youtube review states, the Amazon Basics machine excels at basic white and sandwich breads and is forgiving if you omit a tablespoon of something like honey.
A few reviewers say that the machine could be quieter, which may not be an issue for some users. The manual and the recipes it includes could be much better and more detailed, and it can be difficult to find replacement parts. The price more than makes up for some of the drawbacks, and at just $61.49 on Amazon, this is the cheapest bread machine on the market. For such a low price, you can still expect a surprisingly nice loaf of bread.
At the time of this writing, the Amazon Basics 2-Pound Non-stick Bread Making Machine is available on Amazon for $61.49.
Best splurge bread machine
The best bread machines have an abundance of features and special functions, and no other models come close to the Breville Custom Loaf Bread Maker. Those features come at a price, but if you love homemade bread, this machine will more than pay for itself in no time. The sleek brushed-chrome exterior is beautiful for countertop storage, but the model is overall compact enough to store in most kitchen cabinets. A handy "mix-in reservoir" will automatically add ingredients such as fruit or nuts at precisely the right time. The included manual is practically worth the cost of the machine, as it includes dozens of innovative and delicious recipes that are all specially designed to work perfectly in the Breville.
Even if you only have three minutes to put the ingredients together, you can still expect a beautiful loaf that no one would believe wasn't handmade. This machine not only produces great bread in the short term, but it can go the distance as well. One reviewer states that even after two years of consistent use, it still works as well as ever.
As of this writing, the Breville Custom Loaf Bread Maker is available on Amazon for $299.95.
Best large-capacity bread machine
A good bread machine that can make bigger (more than two-pound) loaves of bread can be hard to find, and if you aim to make a three-pound loaf, there's really only one machine on the market. The West Bend Hi-Rise Bread Maker bread machine has set itself apart from the rest of the market by being capable of producing up to three-pound loaves of high-quality bread. Along with this large capacity, the West Bend comes with the standard array of features, from 12 different bread settings to three levels of crust color.
While not as commonly purchased as some other models, reviewers appreciate the wide, traditional size and shape of the loaf (as compared to some bread machines that produce a tall vertical loaf). The wide shape accommodates two paddles, and produces a more evenly mixed dough that doesn't need to be shaped by hand.
As of April 2022, the West Bend Hi-Rise Bread Maker is available on Amazon for $124.42.
Best express bread machine
Even though most bread machines can make a full loaf start-to-finish in just a few hours, some busy people just don't have that kind of time. Luckily, Oster makes a model with an express setting that can churn out fresh bread in just less than an hour. The express setting can make 1.5 and 2-pound loaves in a few different flavors, such as white and honey whole wheat. This speed can come at a cost in terms of crust development, as one reviewer states, but for crust-haters and parents of crust-haters, this machine could be worth the trade-off.
The Oster comes with the standard range of features such as multiple bread type settings and crust color choices. This bread maker also has a handy signal at the end of mixing to let you know when it's time to add things like nuts or dried fruit, if your recipe requires it.
As of April 2022, the Oster 2-lb Bread Maker is available on Amazon for $81.02.
Best machine for gluten-free breads
Giving up bread can be one of the biggest challenges of the gluten-free diet. Store-bought versions can be expensive and tricky to store. Luckily, some great gluten-free bread recipes are out there and a bread machine will make the process that much easier. The Cuisinart not only makes great-quality wheat bread, but it can also make perfect loaves of gluten-free bread and is highly recommended by professional gluten-free bakers. Jane Bonacci, author of "The Gluten-Free Bread Machine Cookbook," specifically recommends this machine over all others. It also comes with a handy recipe book that has dozens of recipes, including an assortment of gluten-free bread recipes that can be adapted to fit any taste.
While it is right in the middle of the road in terms of price affordability can be an issue for some, so look around for special deals, which pop up frequently. 
At the time of this writing, the Cuisinart Compact Bread Maker is available on Amazon for $79.95.
Best bread proofing machine
This foldable bread proofer from Brod & Taylor does everything but bake your loaf, and it folds down flat for easy storage. This product could be great for someone looking to streamline and automate the proofing process, but wants more control when it comes to baking. 
Unfortunately, one major downside of bread machine is each model can only make one shape of bread, usually a loaf. For boules or oval-shaped loaves, you have to shape and bake yourself. This proofer lets you do that, while still giving you some of the ease of an automatic machine, and at a fraction of the cost of most bread machines. It's the perfect addition to any baker's kitchen, as hundreds of great reviews say. It has a good range of other functions, such as yogurt making and chocolate tempering. It can even slow cook pots of stew and soup, simply by placing the 8-quart pot into the machine and letting it go to work.
As of April 2022, the Brod & Taylor Folding Proofer and Slow Cooker is available on Amazon for $189.95.
Best multi-function bread machine
Didn't know you could bake bread in your Instant Pot? Baking is another feature of this wondrous multi-cooker. Lots of people just simply don't have the space or budget for single-use appliances in their kitchens. Luckily, some creative minds have discovered that an Instant Pot multi-cooker can make all kinds of great breads. From banana bread to sourdough, the Instant Pot has much of the same capability of your average bread machine, as many reviewers will attest to. Some specialized features may be absent, but if your desire is to just make a quick and simple loaf of bread, this machine will do the trick. 
It can even be used to simply proof the dough, if you want to bake in your own oven for more control. This can be a particularly useful tool for bakers who wish to create custom shaped loaves of bread. We love a kitchen appliance that can truly do it all. 
At the time of this writing, the Instant Pot Duo Plus 6-Quart is available on Amazon for $89.99.
Best space-saving bread machine
Dash is known for their great small-sized kitchen appliances and the Dash Everyday Bread Maker bread maker is no different. This miniature bread maker can still churn out a 1.5lb loaf with a tiny countertop footprint. 
For its small size and weight, the Dash packs a surprising amount of features, including a mix-in chamber that automatically dispenses ingredients like dried fruit and nuts right into your dough at the optimal time. It comes with 12 pre-loaded settings for easy set-up, and options to customize loaves in ways like size and color. Like some other models, the Dash is capable of just mixing and proofing dough, for bakers that prefer a more hands-on approach when it comes to shaping and baking, like one reviewer did to make great pizza dough. This model is by far the smallest in our roundup, so if size is a huge factor in your decision making process, this may be the right selection for you. 
As of April 2022, the Dash Everyday Bread Maker is available on Amazon starting from $62.70.
Best aesthetic bread machine
For some consumers, aesthetic quality and design is paramount. Anyone seeking an attractive option for their bread machine can look no further. The Neretva two-pound LED Display Bread Maker is gorgeous with a designer finish, but doesn't sacrifice on functions and quality. The sleek, matte blue finish doesn't immediately scream "bread machine," which makes it perfect to live on your countertop. Premium chrome hardware adds a touch of modernity and class. 
Just because this machine has great style, doesn't mean that's its only trick. The Neretva comes standard with 20 preprogrammed options that take the guesswork out of baking anything from white bread to jam. A bright LCD display and a crystal clear viewing window are welcome features that just add to the ease and usability of this model. The recipes included in the manual will make you a confident baker, no matter how inexperienced, as one reviewer noted. Neretva also has a whole line of other matching countertop appliances, everything from espresso machines to air fryers, if you want to have the complete set. 
At the time of this article's publishing, the Neretva Bread Machine was available on Amazon for $129.99.