Joanna Gaines' Bread Machine Recipe Can Be Made In A Snap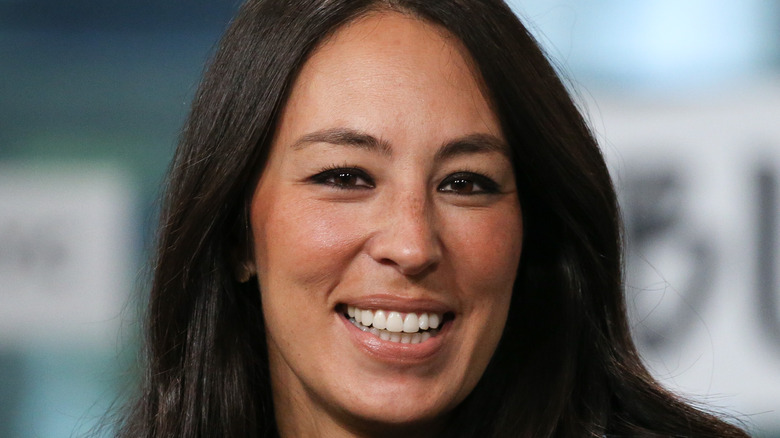 Rob Kim/Getty Images
Stress relief can come in different forms. For instance, when she's not rebuilding houses on her HGTV show "Fixer Upper," lifestyle guru Joanna Gaines likes to wind down by cranking up the flavor.
"Playing with recipes, baking, cooking — these are the very things that ground me as a mom and as a wife when my schedule at work can feel busy," Gaines wrote in a blog post for her Magnolia company website back in 2018. And elsewhere on her social media platforms, this is made abundantly clear. Whether it's a YouTube video for zucchini bread or doing what she calls "canning up the last bits of summer" on her Instagram, one thing is certain: Joanna is at peace in her home kitchen, making good food with and for the people in her life. 
And if cooking is her passion, making fresh bread using a bread machine appears to be her love language. 
Joanna's favorite gadget for fast bread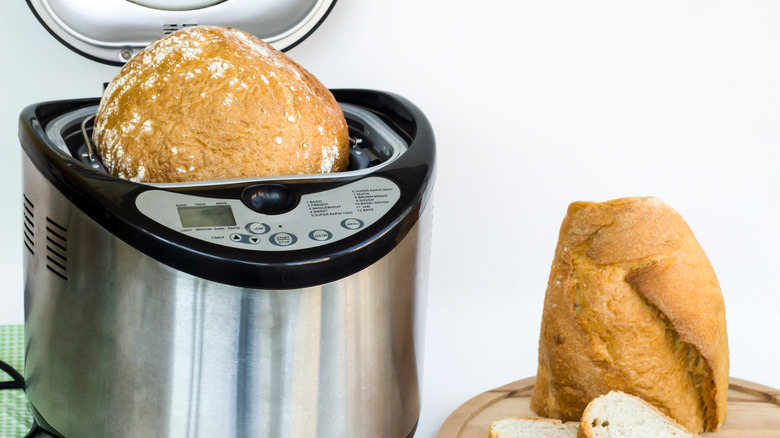 Mehtap Ozcan/Shutterstock
Aside from her expertise in design and remodeling, Joanna is also well-known for her cooking tips, particularly her "expert shortcuts" (via Taste of Home). And while it's true that time helps food to slowly and fully develop its flavor, not everyone has all day to spend following time-consuming recipes for, say, bread. 
Enter the bread machine: a countertop appliance built with the capability to knead, proof, and bake bread, all in about 2 hours and change. This, of course, helps Joanna and many carb-lovers enjoy good bread fast. Of those 2 hours, home bakers using the bread machine can expect to put in no less than 5 minutes of active work to measure out ingredients and pour them into the bread machine (via All Recipes). 
Joanna's recipe for bread machine bread in particular takes 3 minutes to prepare, after which you can let the machine do the rest. According to Taste of Home, what emerges is a "softly crusted loaf of sweet bread" that begs to be drenched with any array of sweet ingredients you would normally enjoy for breakfast, like milk, cinnamon, and vanilla for French toast. The recipe's sugar content can also be adjusted if you want an all-purpose loaf suited for sweet and savory situations. And if the situation calls for it, you can easily make two loaves instead of just one, given the machine's speed and power.