The Cooking Show Christina Hendricks Can't Get Enough Of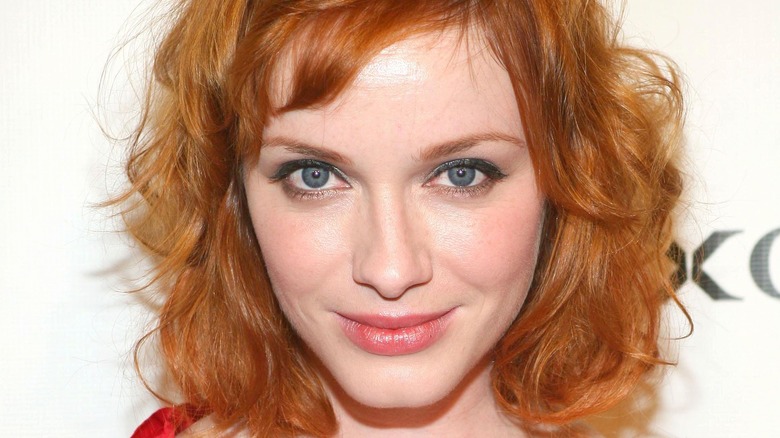 Everett Collection/Shutterstock
Christina Hendricks is an American actress best known for her roles as advertising agency partner Joan Harris (née Holloway) in the period drama series "Mad Men," housewife-turned-criminal Beth Boland in the comedy crime show "Good Girls," anthropomorphic antique doll Gabby Gabby in the animated film "Toy Story 4," and many others (per IMDb).
In addition to her passion for acting, Hendricks is also quite fond of cooking. In a recent interview with People, the red-headed bombshell admitted to being a foodie and shared that she taught herself how to cook when she was in her 20s. Now in her mid-40s, she has whipped up dishes that range in culinary expertise levels over the years — from basic ones to "really complicated Thomas Keller recipes that took three days." Hendricks also revealed that she stays inspired by consuming food media, including cooking magazines and TV shows. There is one popular cooking show, however, that she has faithfully tuned in to for more than a decade. For those who have ever watched "Top Chef," it's easy to understand its captivating powers. And let's just say Christina Hendricks is among its most loyal viewers.
Christina Hendricks is a huge Top Chef fan
The premise of "Top Chef" is simple: Contestants prepare creative gourmet meals which are then judged by some of the world's most legendary chefs as well as celebrities. Over the years, it has been praised for its honest portrayal of people with real stories. Christina Hendricks loves the program so much and has openly admitted to wanting to appear on it. At a 2010 Tommy Hilfiger fashion show, she reportedly said, "I'd love to be a judge on 'Top Chef.' That is probably my favorite show. I'm a foodie and I'm just always so curious. I watch it all the time, and I actually want to taste it. I want that job so I can taste that food." (via Grub Street). The very next year, during Season 3 of the spinoff series "Top Chef Masters," Hendricks appeared as a guest judge alongside her then-husband, actor Geoffrey Arend.
"I've been watching 'Top Chef' for 12 years or something like that," Hendricks recently told People. "I'm obsessed. It's always been my favorite. I still haven't watched 'The Great British Baking Show' and I tried to get into 'Iron Chef' and stuff like that. I just like the sort of more personal feeling of 'Top Chef.' It's like a more well-rounded show." "Top Chef" premiered on Bravo in 2006 and is now on its 19th season, per the show's official website. That means she has been a fan for the majority of its run, which is awesomely impressive.