The Heartwarming Story Behind This Ex-NFL Player's School Cafeteria Gig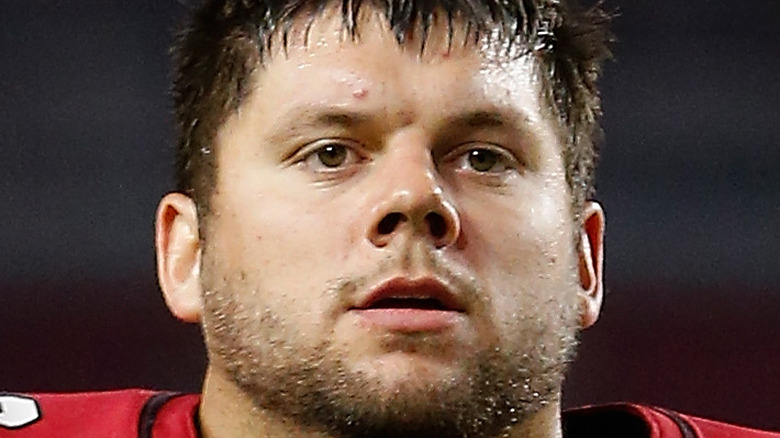 Christian Petersen/Getty Images
As a former NFL offensive tackle who played eleven seasons in the pros, including stints with the Raiders, Cardinals, Broncos, and Packers, Jared Veldheer was accustomed to eating some pretty hefty meals. It turns out Veldheer, who retired in 2021, still knows his way around the kitchen, and he's practically applying that experience in this newest chapter of his post-football life.
Shortly after leaving the game, Veldheer landed a job as a kitchen director with St. Paul the Apostle, a school in Grand Rapids, Michigan, the city where he grew up. The 6' 8" 321-pound gentle giant serves lunches to 170 students in preschool through eight grade, according to ESPN. Veldheer is a bit of a foodie who loves cooking, and his culinary horizons extend well beyond the spongy frozen pizzas, dry hamburgers, and fried veggie sticks conjured up when envisioning humdrum school cafeteria offerings.
Some of the flavorful items that have graced his unorthodox school menu are chicken tikka masala, smoked carnitas, and chimichurri flank steaks. He specializes in preparing healthy and well-balanced fare. Veldheer learned about nutrition as a college pre-med student and later accrued more knowledge as an athlete taking close inventory of his body and what he put into it (via TODAY). For instance, that same chimichurri steak dish comes paired with rice and baby carrots.
Jared Veldheer is leading the cafeteria team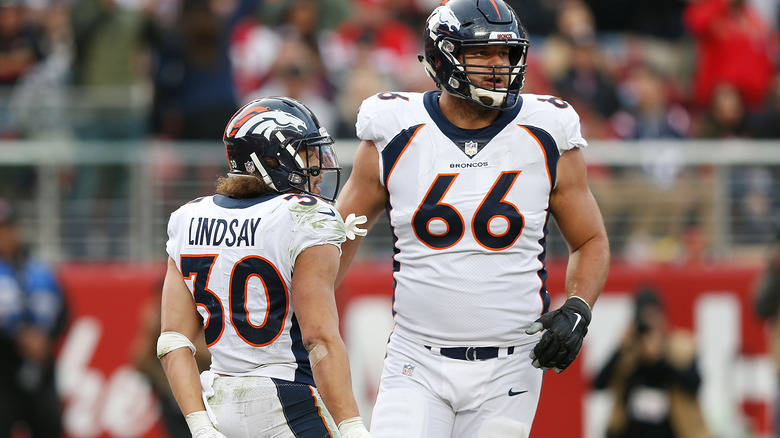 Lachlan Cunningham/Getty Images
When Veldheer learned about St Paul's cafeteria vacancy in August 2021, it coincided with his retirement and he decided to pursue the opportunity. One impetus for the move is that Veldheer's two children attend the school, and he had previously become acquainted with the school's principal, Michelle Morrow, while dispensing advice on nutrition and food garnered from his own cooking background during his playing days, per ESPN.
Velheer doesn't skimp when it comes to quality, and has even lugged equipment from home to use in preparing cafeteria meals, such as a Traeger grill and a Blackstone flat top. An Instant Pot comprises yet another valuable tool in his kitchen repertoire.
His commitment to providing top notch, nourishing meals involves planning menus a month ahead and recruiting parent volunteers (an easy task since volunteers get "paid" in food), but most parents and students appreciate his efforts. The toughest nuts to crack are the picky preschoolers and kindergartners. Everyone's a critic these days.
Concurrent with his NFL exit, Veldheer was suspended for the first six games of the 2021 NFL season for using a banned substance called Clomid. Veldheer addressed the issue in a statement simultaneously announcing his retirement and explaining that he was taking the drug to treat abnormally low testosterone  levels that he surmised was triggered by head trauma from his playing career. The NFL reinstated him in October 2021, but for now, he has swapped his football uniform for a chef's apron.