The Truth About Matthew Kenney From Bad Vegan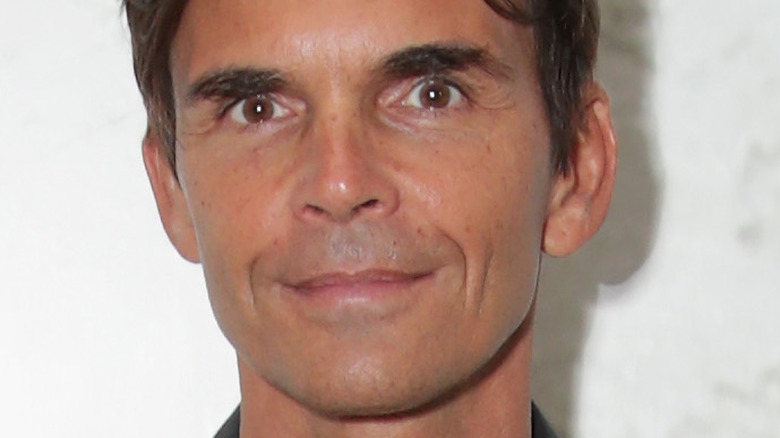 Cindy Ord/Getty Images
We may receive a commission on purchases made from links.
The king of the vegan, raw food-based movement may very well be Matthew Kenney, whose empire has swept across the country and the globe to include 47 restaurants, a culinary school, a dozen cookbooks, and his very own company, Matthew Kenney Cuisine, of which he is the CEO. Kenney was classically trained in the French style of cooking, techniques he has maintained as he has transitioned toward using plant-based, locally-sourced ingredients in his restaurants. His culinary endeavors have earned him two nominations as Rising Star Chef in America by the James Beard Foundation, per Kenney's website. 
VegNews credits Kenney with "pioneering a new style of vegan cuisine," one "worthy of a white tablecloth experience." But it also points out that Kenney owns some more casual dining venues, including Plant City X, a vegan drive-thru restaurant in Rhode Island. 
Matthew Kenney was highlighted in the Netflix documentary "Bad Vegan" for his partnership, both in business and in life, with Pure Food and Wine co-founder Sarma Melngailis.
He's from Maine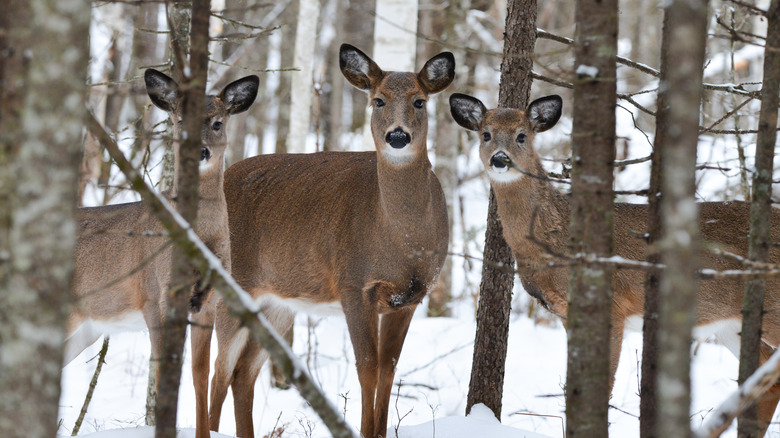 Rebecca C. Photography/Shutterstock
Matthew Kenney is known for his fancy restaurants in New York City and around the world, but the chef hails from a place with a little less hustle and bustle: Maine. Kenney grew up on the coast of Maine in the town of Searsport, living an outdoorsy life that even involved hunting, per Observer. "I killed my first deer at the age of 10 ... I was part of a family that believed in hunting and fishing and eating meat and potatoes. We brought whole-hog into the traditional American diet," he said in his OKC Tedx Talk. 
After leaving to attend the French Culinary Institute, the Maine deer hunter returned to the state to work at several meat-centric restaurants, including the now-defunct Commissary at the Public Market in Portland, before turning his focus to plant-based cuisine. 
As of 2011, Kenney still maintained a home in Belfast, Maine (near Searsport), and could be seen frequenting the town's co-op and farmers' market. "The ingredients here are as good as anywhere in the country. There's so much good product all over the state," he said (via Press Herald). For a time, he even owned a restaurant in Belfast called The Gothic, which featured a vegetarian menu and focused on molecular gastronomy preparation techniques. Given his endeavors in big-name cities, Kenney certainly didn't have to open a restaurant in a quiet Maine town, but he called the venture "a project of passion more than anything else" (via DownEast).
Matthew Kenney started a vegan food delivery service
Matthew Kenney launched a vegan-based food delivery service in 2021, initially operating out of Los Angeles and delivering to the greater Southern California area, per Variety. The service, XFood, is the brainchild of Matthew Kenney and his company PlantX and features meals that are produced using a no-waste food initiative and that are packaged using environmentally friendly materials (via Kenney's website). 
According to Variety, selections include meals for three days — three lunches and three dinners, plus cold-pressed juices — and might feature options like kung pao cauliflower with tofu and zucchini. When Kenney announced the XFood concept on Instagram, his comment feed filled with fans hoping he would bring the delivery service to their area. One user wrote, "Please bring this to New York!!" while another chimed in, "Come back to Miami." 
These Instagrammers are in luck. While Kenney wanted to keep the new business's endeavors close to PlantX's headquarters in Los Angeles at first, things have gone so well in the Southern California market that he has suspended operations in Los Angeles in preparation of expanding the XFood business nationwide by the end of 2022, per PlantX's website.
He owns the 'world's first vegan food hall and marketplace'
Providence, Rhode Island has a large food scene and is consistently ranked as one of America's biggest foodie cities. In fact (and somewhat ironically), in 2012, the city was granted Travel + Leisure's "America's Best Burger" award for its "classic and creative burgers," many of which are made from ingredients sourced from nearby purveyors. Now, Providence can add vegan food to its list of inspiring cuisines as Matthew Kenney has founded Plant City, the "world's first vegan food hall and marketplace."
The food hall features four restaurants: New Burger, serving vegan burgers, fries, and other comfort foods; Make Out, which is smoothie and sandwich-based; Double Zero, a pizzeria; and Besina, an upscale Mexican and Latin American-inspired eatery featuring foods made from locally-sourced ingredients. There is also a coffee shop on site, Coffee Bar and Bakery, which sells baked goods and drinks ranging from espresso lattes to superfood lattes. And as if all that weren't enough, visitors will also find a commissary kitchen, event space, and communal space featuring everything from cooking classes to meditation sessions, per Plant City's website. 
Plant City's Instagram teases customers with pics of seemingly impossibly delectable dishes created by Kenney and his teams, such as one of a barbecue nacho special featuring barbecue seitan, corn, and chipotle mayo. Eager eaters took to the comments with anticipation. "Oh my, this looks insanely good!" wrote one user, while another chimed in, "Fireeeeee! Will be getting for lunch."
He also owns a culinary school
Matthew Kenney has certainly expanded his culinary education program since opening Matthew Kenney Academy in Oklahoma City in 2009. He and his company Matthew Kenney Cuisine now run the Food Future Institute, a vegan culinary education program that operates both online and on-site in Venice, California. 
The online version allows students to progress at their own pace with various educational videos that make up 12 learning modules as well as access to over 100 vegan and gluten-free recipes. Need a little extra help while learning from home? Students can utilize the live chat feature to have a real chef talk you through your cooking snafu, per the Future Food Institute's website. 
The on-site Venice campus, meanwhile, features a curriculum of classes aimed toward both professional chefs looking to expand their vegan repertoires and novice cooks looking to learn how to cook some dang good vegan cuisine. Classrooms include the finest cooking equipment and alumni not only have access to a network of fellow vegan chefs but also have the potential opportunity to work in Kenney's restaurant Plant Food + Wine, located right next door, per a Food Future Institute brochure.
Matthew Kenney has written 12 cookbooks and a memoir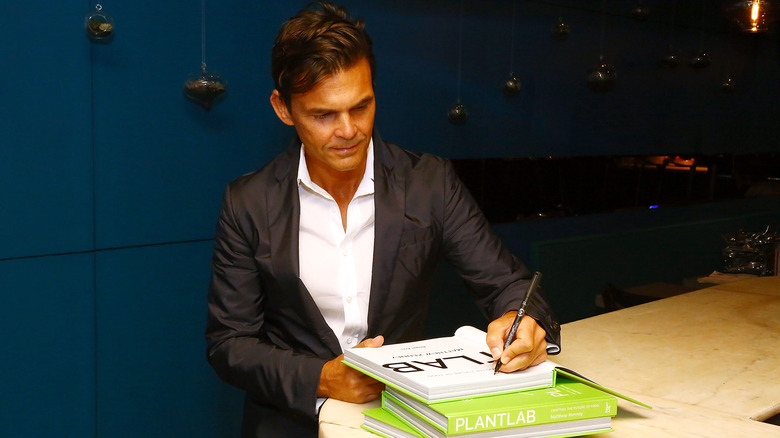 Astrid Stawiarz/Getty Images
As if his culinary résumé weren't enough, Matthew Kenney can also list author among his list of achievements. Kenney has written not one, but 12 cookbooks, as well as a 2015 memoir, "Cooked Raw," which chronicles his journey from conventional chef to a star and trailblazer in the vegan food world. Kenney's first cookbook, "Big City Cooking," published in 2003, guides readers in how to use the best and freshest available ingredients available in large cities and how to prepare them using techniques including roasting, searing, and grilling. 
Hal Rubenstein of New York magazine said of the book, "Kenney ... show[s] you how you can cook deliciously and smart for the life you lead, in the city you love, in that kitchen you hate, with the little time you have, using the best stuff from the market down the block." 2005 brought the publication of "Raw Food Real World," Kenney's collaboration with Sarma Melngailis. 
The books rounding out Kenney's impressive collection include "Plantlab," "Plant Food," "Everyday Raw Detox," "Raw Chocolate," "Everyday Raw Desserts," "Everyday Raw Express," "Everyday Raw Gourmet," "Entertaining in the Raw," and "Everyday Raw," per Kenney's website.
He's given two Tedx Talks
Matthew Kenney is committed to spreading the word about the benefits of a raw, plant-based diet, as is evident from his presentations at two Tedx Talks: the Tedx OKC in 2011 and the Tedx American Riviera. 
In his Oklahoma Tedx Talk, entitled "Are You Feeding Your Body or Feeding Dis-ease?" Kenney talked to audiences about American consumption habits and misinformation that can lead us to believe that some "healthy" foods are not, in fact, healthy. For example, he compared the caloric content of one fast-food salad to that of a Snickers bar. 
Kenney's American Riviera Tedx Talk focused on promoting the raw food diet by noting its benefits and speaking about how people can incorporate such a healthier diet into their everyday lives, replacing foods they may not want to give up. "I understand where you're coming from. We're pleasure seekers. We don't want to give up flavor. So, it's really interesting, the only way we're going to adapt and change our habits is really if we like it, if we enjoy it, if we get pleasure out of it. That's the secret and as a chef, that's what got me excited about it," Kenney said.
Matthew Kenney and Sarma Melngailis were a couple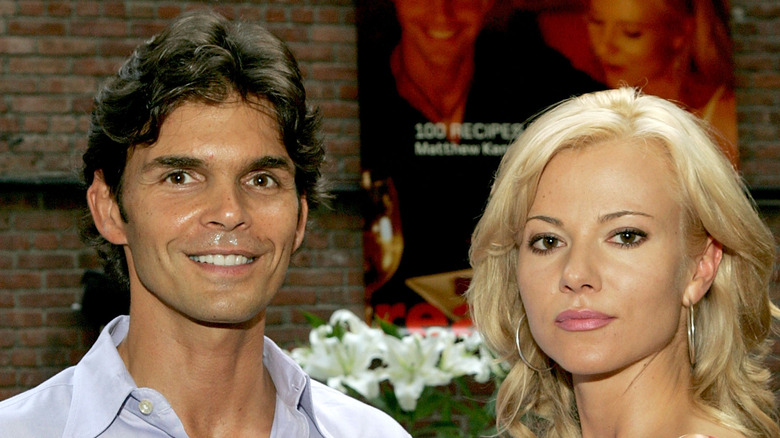 Paul Hawthorne/Getty Images
Matthew Kenney and Sarma Melngailis' relationship may have been based on business, but the two were also in a romantic relationship for a time. In Episode 1 of Netflix's "Bad Vegan," Melngailis reports having "been a fan of Matthew's before [she] had ever met him." Around the time Melngailis had graduated culinary school and began working in the raw food industry, Kenney was busy running his restaurant, Matthew's, and putting together plans to publish a cookbook. 
Melngailis says she met with Kenney to interview to be part of the cookbook. And the interview must have gone well, because she had the job by the time she left. "Matthew and I became a couple pretty quickly," Melngailis said. Melngailis said the eventual publisher of "Raw Food Real World" ate at Pure Food and Wine and told Kenney and her that she wanted to publish the book. 
"Him and Sarma together on the cover of that cookbook were part of the brand. That's what they were selling. You can look like these wonderful people. Of course, like a lot of images, there's rot on the inside," said Allen Salkin, a writer for Vanity Fair who followed Melngailis' story, in the documentary.
He was dismissed from Pure Food and Wine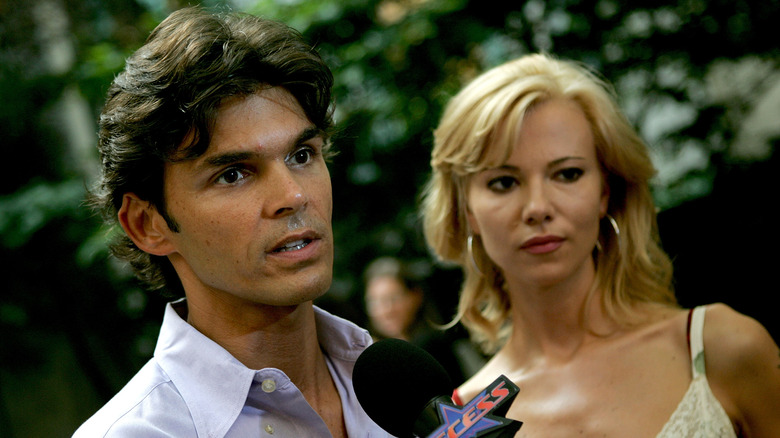 Paul Hawthorne/Getty Images
Matthew Kenney and Sarma Melngailis began to dream of running a restaurant together and eventually opened Pure Food and Wine with the financial backing of Jeffrey Chodorow. "From the beginning, the restaurant itself had a purpose, which was to make vegan, raw food not something weird, but to make it more mainstream," Melngailis said in Episode 1 of "Bad Vegan." Pure Food and Wine may have appeared successful to outsiders, but Melngailis said the inside story was quite different, as she was more careful with money and Kenney had a reputation of being dismissive of his financial obligations. 
"I began feeling resentful more and more and we weren't getting along," Melngailis said. The couple eventually split, but both remained working at Pure Food and Wine. "We were both there. It was like I wasn't leaving, he wasn't leaving," Melngailis said. Both Kenney and Melngailis individually called Chodorow telling him the pair could no longer work together, and he had to pick who would go. 
"I thought about it and I said, 'Okay, my options are: I have Matthew Kenney, who's a very talented chef who had a bad financial history, and on the other hand I have Sarma.' She was a very accomplished person in her own right ... So, I picked Sarma and I told Matthew to go, which frankly, I think shocked him," Chodorow said.
He reportedly had a stalker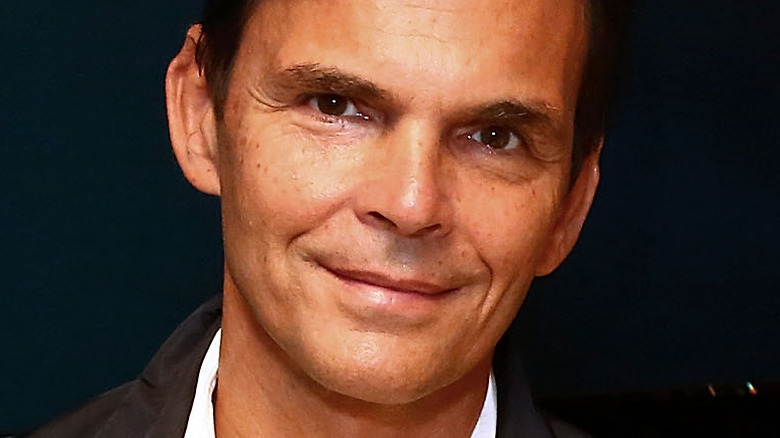 Astrid Stawiarz/Getty Images
When you're a successful restaurateur and entrepreneur, you're bound to face both those who celebrate your success and those who criticize it. In a piece written for the Observer, Kenney detailed a series of unfortunate interactions he had with a person he calls LED, who was allegedly a "stalker" who was "motivated by jealousy." Described as the self-professed owner of a European vegan culinary school, LED supposedly claimed to be one of Kenney's major competitors and invited collaboration between the pair. However, upon further investigation, Kenney wasn't impressed with his online presence or references. Soon came a series of emails from various addresses with multiple confusing tirades and tantrums, at times complimenting Kenney and at other times stating the pair were "going to war." 
Kenney is no stranger to business conflicts, having been sued multiple times, including once by Jeffrey Chodorow over an incident following Kenney's departure from Pure Food and Wine, per the New York Post. The alleged harassment from LED, however, spread to social media and beyond. 
But when Kenney was considering the option to hire lawyers, he "finally had a lightbulb moment" and decided to open his own culinary school in the same location as LED. The school was wildly successful, and Kenney said he has LED to thank for it. "We inadvertently launched a new business in 48 hours that I never would have thought about had I not been the subject of a litany of attacks," Kenney said (via Observer).