Le Creuset's Colorful New Cookware Is All About Bread
Let's face it, we all got a little more into cooking during lockdown. In fact, so many of us kept ourselves busy with baking bread, grocery stores across the country faced an unprecedented yeast shortage.
Even now that we're moving back toward "normal," a lot of us are still using baking as a calming activity. According to the Science History Institute, making our own bread is particularly comforting because it connects us to history while also keeping us grounded in the moment. No time for stressing when the bread needs kneading!
In theory, homemade bread is relatively simple to make, requiring few ingredients and standard kitchen fare. No fancy gadgets needed. But in reality, there's plenty of room for mistakes when baking bread. You might use the wrong flour. You might not add enough fat or sugar or moisture. You might knead too little or too much. Nevertheless, you can minimize some of your baking woes with the right cookware. 
Baking has never been so colorful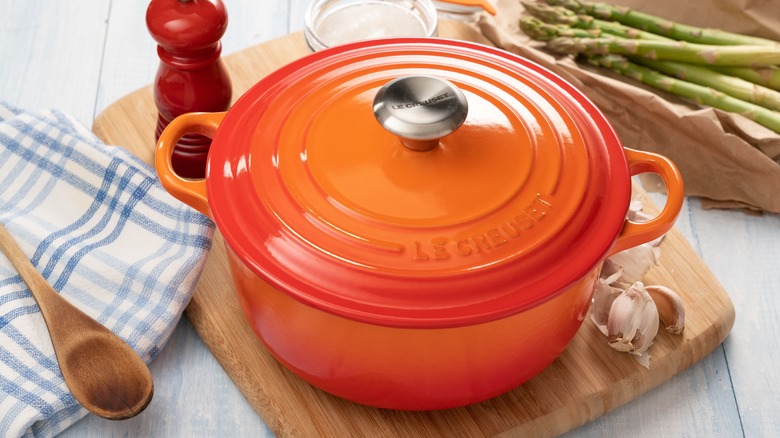 EGT-1/Shutterstock
Cast iron cookware is great for innumerable recipes, says Taste of Home, including deliciously crusty bread. While we're used to cast iron cookware looking like, well, cast iron cookware, you can actually get it in color. Eight colors, actually.
Celebrated Dutch oven purveyors Le Creuset just launched a new line of enameled cast iron "bread ovens," which comes in muted colors like white and sea salt as well as bright colors like orange, red, and a Caribbean blue. According to Le Creuset, the cookware is specifically designed to "produce bakery-quality results." A single "bread oven" costs $290, but it might just be worth the price if you're really into baking.
Eating Well notes that the enamel makes the cookware easy to clean and safe to use at high oven temperatures. You can use the cookware without or without the matching lid. Without, it functions as any other cast iron, but if you're baking bread, be sure to use the lid, as it helps "trap and circulate steam which creates a crispy crust while leaving the inside of your bread tender and fluffy."