TGI Fridays' New Happy Hour Menu Means All-Day Drink Deals
Although the origins are as fuzzy as one's head after one too many cocktails, the concept of happy hour is universal for most bars and lounges. VinePair credits bored U.S. Navy members and Prohibition-dodging Americans with inventing the late-afternoon tradition, but whatever the case may be, it's a time for cheap drinks and good times (if only for a brief period of inebriated bliss). Actually, that's one of the biggest drawbacks of happy hour: It comes and goes just as soon it has begun. Wouldn't it be wonderful if there were a place where it was happy hour every hour?
TGI Fridays thinks so. Having evolved from a rowdy singles' bar in Manhattan to a nationwide chain restaurant, TGI Fridays lives by the motto of treating every day like Friday. And how better, the chain reasoned, could it make the slowest of weekdays feel like a wild Friday night than with an all-day happy hour menu? While competitors in the casual dining space, like Ruby Tuesday, have been known to host an all-day happy hour once per week, TGI Fridays plans to offer happy hour 24/7, according to a recent press release.
TGI Fridays' happy every hour menu includes $2 beer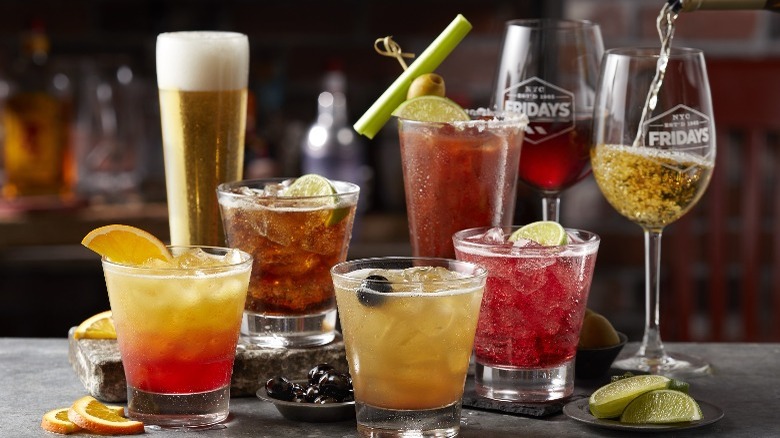 TGI Fridays
Earlier this month, according to a press announcement from the chain, TGI Fridays introduced "happy every hour." This new menu includes a list of cheap drinks and food that are available all day, every day. Libations range from $2 beer and $5 wine to a variety of $4 cocktails, such as a tequila sunrise and whiskey sour. The concept isn't a limited-time special, the chain assures, but a permanent one — which means you can pop by TGI Fridays on Saturday at noon for a reduced price Miller Lite or bloody mary. The happy every hour menu doesn't appear to include food specials, but the chain points out that you can order mozzarella sticks and cheese fries at any time.
This isn't the first time that TGI Fridays has made happy hour an all-day event. Back in 2015, per Brand Eating, it ran a similar promotion with $5 appetizers and slightly more expensive drinks, ranging from $3 beers to $6 Long Island iced teas. This time, the promo is sticking around.