Reddit Is Cracking Up Over This Gross Cast Iron Pan Cleaning 'Hack'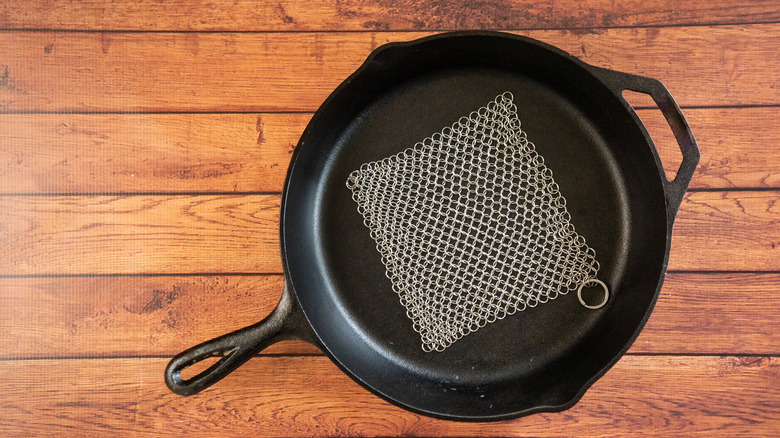 Jaimieandkyleshootstock/Shutterstock
If you've gotten your first cast iron pan or skillet recently, you've probably searched up some methods about how to keep the pan seasoned and clean. You shouldn't soak cast iron pan in water, but according to Alton Brown and Alex Gaurnaschelli, it's fine to clean it with some soap, despite the fact that some people think you shouldn't let soap touch the cast iron (via Twitter).
Though there's sure to be some cast iron skillet tips you wish you knew sooner, one place you can turn to is the subreddit r/castiron to see what folks are cooking up and how they take care of their kitchen gear. But there are also some more lighthearted conversations, like this post by a Redditor who shared a video with their "go-to method for cleaning cast iron." In the video, the poster's dog takes a lick of whatever seasoning and leftovers were on the cast iron, and Reddit had some strong feelings about the canine cleaning method.
Redditors respond to the cast iron cleaning 'hack'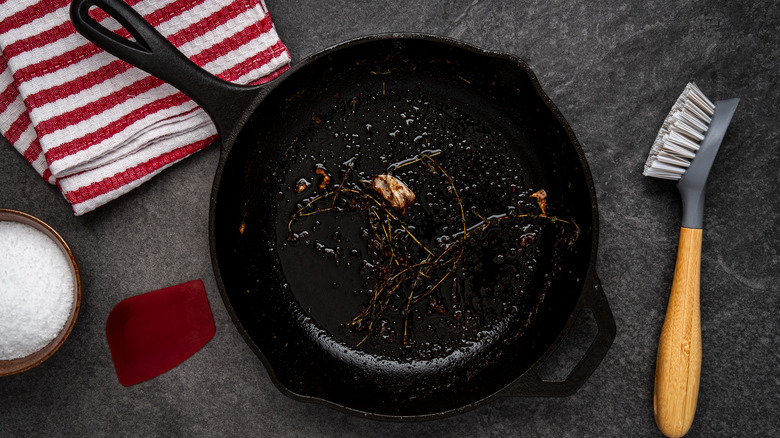 Bruce Peter/Shutterstock
The Reddit post has over 300 comments, so there are plenty of cast iron users interacting with it. People with a good sense of humor played along with comments like, "Hot hot hot hot hot hot HOT!" and, "But is the dog dishwasher safe?" Some people thought that this would actually be a hack, but quickly caught out to the fact it was a joke. One person wrote, "Lol won't lie I stopped to watch it because I just got my first cast iron pan and was legit curious. Needless to say I think you're [messing] with me ..."
Although there were plenty of Reddit users who took this in stride, some Reddit users commented about how gross this was and this is why they don't trust the food at potlucks. But one person didn't even mind the dog licking the cast iron saying, "I once bought shrimp cocktail from a kid at the side of the road in Mexico. I sure as hell won't blink an eye at potluck or company cookouts. And I'd eat what OP made even if his dog licked it clean first." But in all seriousness, cleaning your kitchen properly should be part of your regular routine. There are some kitchen cleaning hacks you need in your life, but don't worry. There isn't any help from pets here!