Why Gordon Ramsay Argued With A Reporter Over Lobster Rolls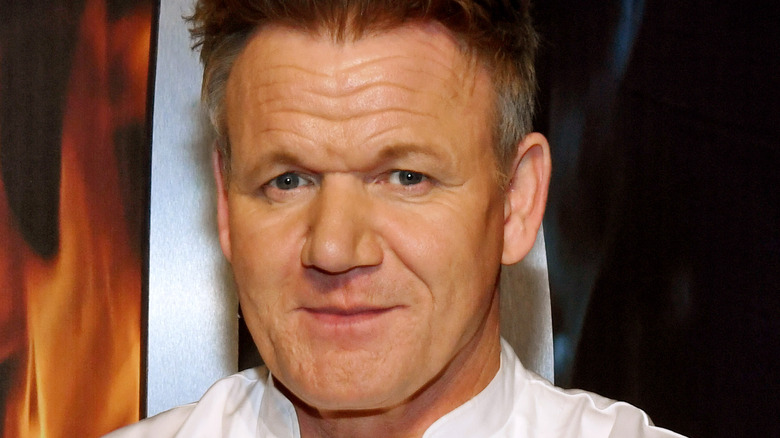 Ethan Miller/Getty
Everyone has their favorite summertime traditions, from catching lightning bugs to spending long days at the lake and sitting on porch with a popsicle in hand. Regardless of what your summer traditions are, many of them revolve around food. From May through September, families across America spend their days whipping up refreshing summer salads and fruity cobblers, and hunting down tomatoes, peas, squashes, peaches, watermelon, and strawberries at the farmers' market. Whether you are enjoying burgers and grilled corn at a pool party, or fried clams and frozen drinks by the beach, summer events and food undeniably go hand-in-hand.
While there are so many seasonal foods that we enjoy year after year, few scream "summer" quite like the legendary lobster roll. A heap of tender lobster meat piled high on a soft, toasted bun — what could be better than that? Ever since this summertime sandwich was invented in Milford, Connecticut, it's taken New England by a storm. But surrounding this beloved summer dish is an age-old regional debate: Connecticut vs. Maine? While the Connecticut-style roll is typically filled with hot lobster coated in warm butter, the Maine-style roll features chilled lobster dressed with mayo (via Food Network). While both taste delicious in their own right, most individuals have a lobster roll that they prefer over the other. In a recent interview, "MasterChef" Gordon Ramsay even weighed in on the controversy.
Ramsay remains neutral on the divided lobster roll debate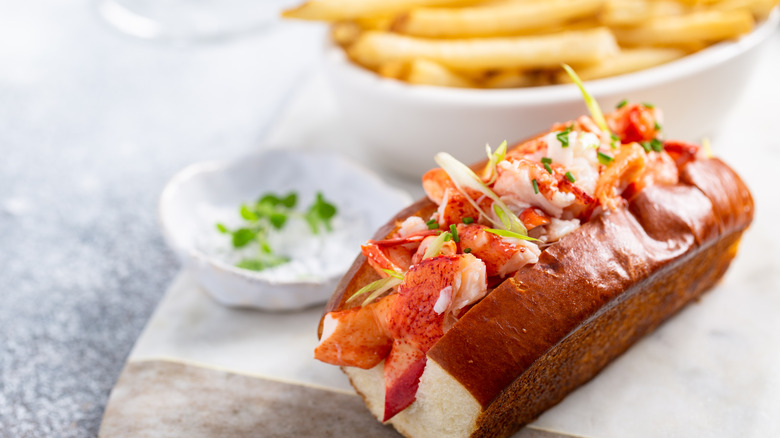 Elena Veslova/Shutterstock
Is Gordon Ramsay an opinionated person? Most fans of "MasterChef," "Hell's Kitchen," and "Kitchen Wars" would say yes — especially when it comes to food. From his disdain for vegans and vegetarians to his controversial opinion about Greek Food, Ramsay is never afraid to hold back with his deep-seated views. However, when it comes to the lobster roll debate, Ramsay remains surprisingly neutral.
In an interview with Maria Stephanos for WCVB, Ramsay revealed, "I don't understand the politics between the lobster rolls." In Ramsay's opinion, it comes down to what mood you are in. Meanwhile, Stephanos, a New England reporter, is a Maine lobster fan through and through. "It never depends. It's always mayonnaise," she asserted. The one thing that Ramsay and Stephanos did agree on? While butter makes you sleepy, mayonnaise is a little lighter and more refreshing.
The light-hearted debate between the American reporter and the British TV personality occurred at Ramsay's new restaurant in Boston called "Ramsay's Kitchen." The menu features many of Ramsay's signature dishes including Beef Wellington and Sticky Toffee Pudding, as well as two types of lobster rolls. Both served on toasted brioche, guests can opt for either the Maine-style lobster roll with chilled lobster salad, or the Connecticut-style roll with warm butter-poached lobster.