MasterChef's Christine Ha Tells Us What It Was Like Cooking For Gordon Ramsay - Exclusive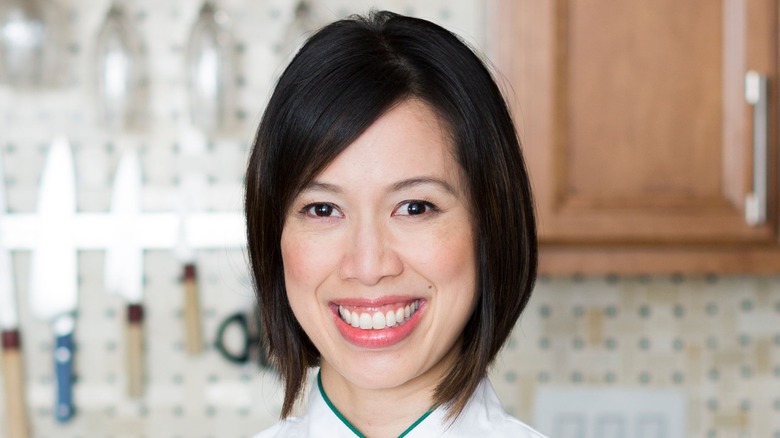 Julie Soefer Photography
We may receive a commission on purchases made from links.
It's been almost 10 years since chef, television host, and restaurateur Christine Ha competed on "MasterChef," ultimately taking the Season 3 crown. Ha won over the fans and judges with her incredible dishes, all while inspiring everyone in the kitchen by achieving such a difficult feat as the first-ever blind contestant on the show (via The Blind Cook).
Since then, Ha has published a New York Times best-selling cookbook, "Recipes From My Home Kitchen: Asian and American Comfort Food," along with opening two restaurants of her own. And much of that is all due in part to her performance on the show and her experience of interacting with Gordon Ramsay along the way.
When the topic of "MasterChef" comes up, one of the first questions is always about what Ramsay is really like off-screen. And the answers are always mixed. During an exclusive interview with Mashed, Ha shared all about her experience with the famed chef and what it was like to have him try and judge her food.
Christine Ha shares how Gordon Ramsay made her a better cook
Gordon Ramsay can sometimes get a bad rap. Certainly, he's fierce on "Hell's Kitchen." And he's definitely harsh on "MasterChef." But for Ha, she didn't have too many complaints about Ramsay being too tough on the show.
Going into the show, Ha had certainly heard of Ramsay, but she says she didn't think of him as anything other than just another judge. "I wasn't really revering him like the big celebrity chef that he is," she said. "I knew he was a very famous chef with a lot of Michelin stars behind his name, but if anything, I felt like it was challenging to cook for all of the judges, not necessarily just Gordon."
Perhaps for Ha, that was her winning strategy as she was concerned with putting her best foot forward for all of the judges. But over time, she definitely gained Ramsay's approval and embraced all the knowledge he was able to impart to her. "I ended up building a very good rapport with Gordon. I think he's very charismatic, and funny, and kind, and he wanted, I think, for all of us to succeed as best as we can and with what we're given," she said. "It was definitely an experience of a lifetime to be able to cook for him and have him judge your food and make you into a better cook."
To recreate some of Christine Ha's recipes at home, pick up her book "Recipes From My Home Kitchen."