You'll Soon Be Able To Order An 11-Course KFC Dinner In This Country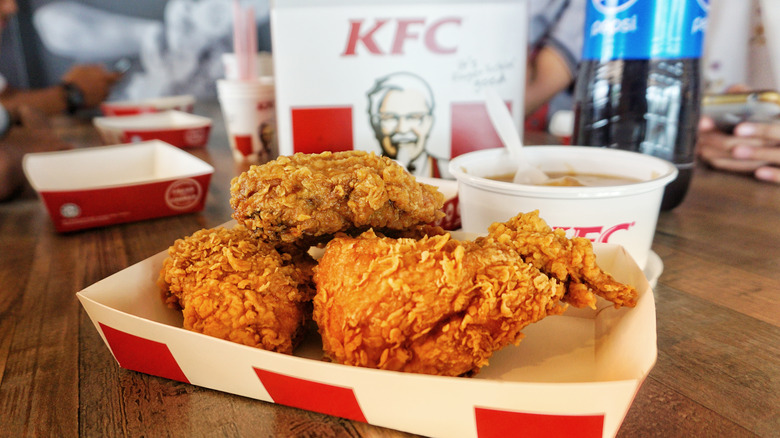 Sapadia Aku/Shutterstock
Fine dining connoisseurs and fast food aficionados can unite around a unique new dining event. KFC announced it has collaborated with Sydney, Australia-based chef Nelly Robinson for the "Kentucky Fried Chicken Degustation" — a multi-course meal down under which the fast-food chicken icon describes on its reservation page as "a fancy way of saying heaps of food." 
The event, according to Food Network, includes an 11-course tasting menu that will highlight 11 of the restaurant chain's most popular menu options. The brand chose the number of courses to reflect the number of secret ingredients famously used in KFC's chicken seasoning. 
But don't expect to be served a regular drumstick on a plate — this is KFC food after it has met its fairy godmother and transformed into a princess for the ball. Dishes, via a press release on Mumbrella, include "The Tongue Twister": an image of the Colonel's face made from chicken, lettuce, tomato, and pepper mayonnaise flavors. There's also the "Potato and Gravy," which consists of a gravy candle that melts into a potato bun, and the "Popcorn Chicken": KFC's classic preparation alongside celeriac soup with mushroom gnocchi and basil. Diners can also brace for an edible flower garnish and complementary wine pairings, according to KFC's reservation page.
KFC fans will be 'taken on a world-first culinary journey'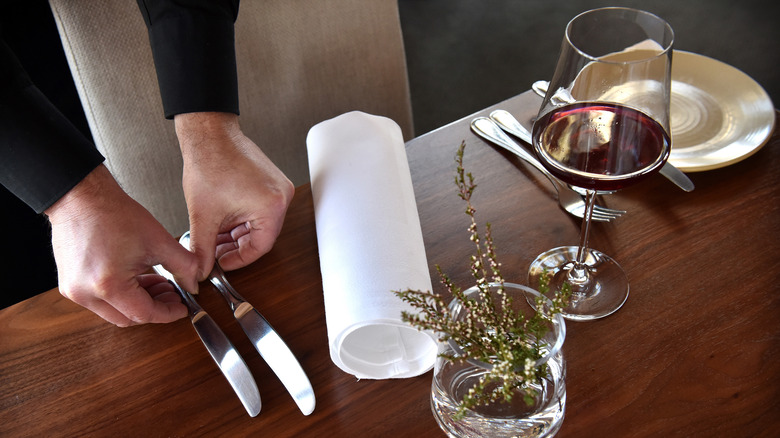 Bloomberg/Getty Images
KFC's reservation page shares that the dinners are scheduled for April 1, 2, and 3, 2022 with seatings at 4:45 p.m. and 8:15 p.m. at a currently undisclosed location in an "inner-city suburb of Sydney." Prospective parties of two or four people can join the waitlist for the event. If accepted, the cost will be $75 AUD — which Newsweek notes is $53.90 USD — per person, who won't be notified until April 1, 2022. Proceeds will go to the KFC Youth Foundation, a charitable organization that promotes mental health in young people.
The company believes this dinner is perfect for anyone who's ever found themself craving something a little more from their favorite KFC meal. "Our fans will experience KFC in ways they could never have imagined as they are taken on a world-first culinary journey that looks and tastes uniquely KFC. We've pulled out all the stops to make it a magical moment and one that our guests will never forget," Kristi Woolrych, KFC Australia's CMO, said in the press release on Mumbrella.