Alex Guarnaschelli Just Dropped A Recipe For The Perfect Burger Topping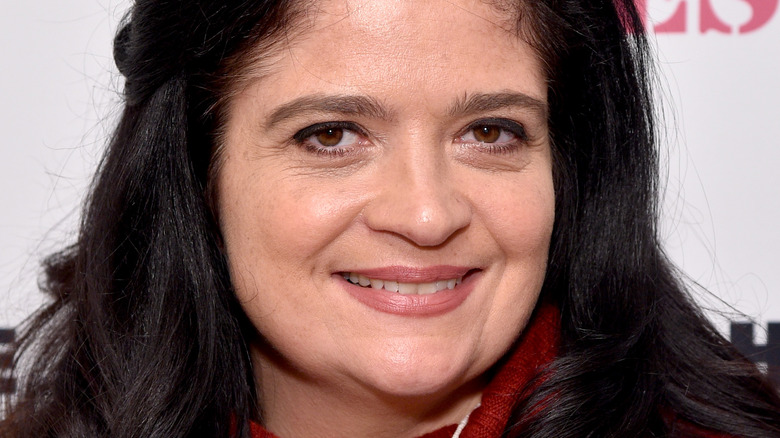 Bryan Bedder/Getty Images
When you're craving a burger, you know that the patty itself — whether it's beef, turkey, or something plant-based — is just the beginning. What really matters is what else you put between the bun. According to a 2020 YouGov survey, only 2% of people don't put toppings on their burgers, which means the majority of Americans are all about loading up on trendy condiments, veggies, and more to add flavor and texture. The most popular toppings, based on the survey, are what you'd expect to see at the standard backyard cookout: cheese, ketchup, lettuce, tomatoes, onions, pickles, and mustard.
Everyone has their own preferences for what goes on their burger — even celebrity chefs, like Alex Guarnaschelli. The "Chopped" judge recently shared a recipe for one of her favorite burger toppings on Instagram. As you might expect from a professional foodie, her go-to is a little more gourmet than a squirt of ketchup or a Kraft Single.
People are drooling over Guarnaschelli's caramelized onions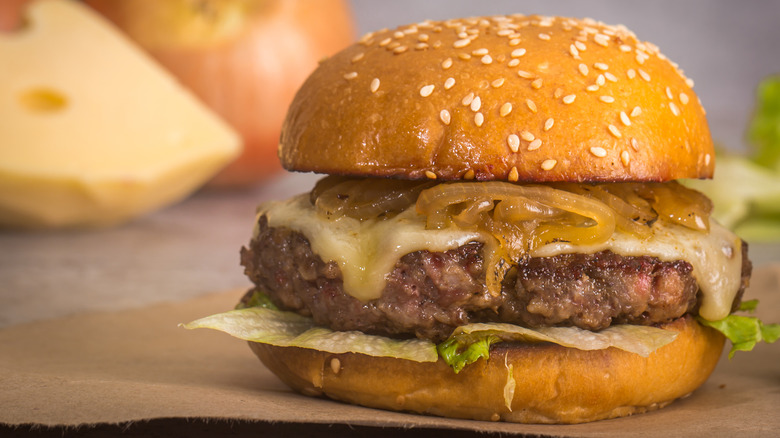 Estudio Conceito/Shutterstock
Raw onions are a common burger topping, but have you ever tried caramelized onions on your burger? That's what Alex Guarnaschelli swears by. In the caption of a recent Instagram video, she shared her simple recipe for preparing the onions. All you need are unsalted butter, thinly sliced yellow onions, and a pinch of salt, along with about 20 minutes to spend sautéing everything together. Her two biggest tips are not to rush the process — otherwise, you could burn or crisp the onions — and to add a splash of red wine vinegar at the end to "brighten" them.
Whether you enjoy them on a burger, steak, or just on their own, note that the onions will last a few days in the fridge, but Guarnaschelli wouldn't recommend freezing them. In response to a fan's comment, she noted that freezing and defrosting will leave you with a mushy texture. The ICAG isn't the only person who enjoys caramelized onions on burgers. Followers chimed in with their favorite ways to eat the topping on burgers, such as one who combines them with bacon and lingonberry jam, as well as another who adds mayo, provolone, and black pepper.