Anne Hathaway's Hack Will Change How You Eat Cupcakes Forever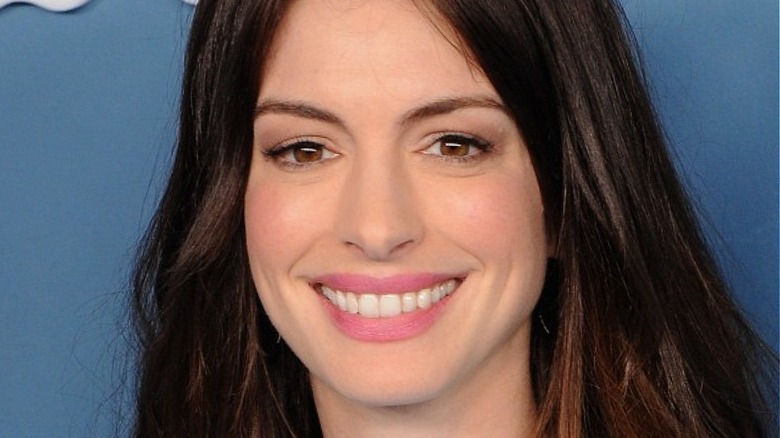 Albert L. Ortega/Getty
People just can't seem to get enough cupcakes. Pint-sized versions of your favorite cake, they're the equivalent of a personal pizza, but in dessert form. There are hundreds of mouthwatering cupcake flavors, from classic vanilla smeared with chocolate icing to carrot cake covered in cream cheese frosting. They reached peak popularity in the early 2010s, when must-visit cupcake shops popped up all over the country (looking at you, Georgetown Cupcakes) and TV shows like "Cupcake Wars," where contestants compete to bake the perfect cupcake, played on TV screens constantly. Though the craze has died down, they're still a mainstay at bakeries everywhere.
While cupcakes are a convenient way to get your cake fix, they can be a little tricky to bite into without getting frosting all over your face. Fortunately, Anne Hathaway recently revealed the proper way to eat a cupcake on "The Kelly Clarkson Show" — and people are blown away by her genius trick of turning the dessert into a mess-free sandwich of sorts. Here's the secret to chowing down on a cupcake the next time you're at a party à la Anne.
This cupcake sandwich trick has gone viral before
On "The Kelly Clarkson Show," Hathaway demonstrated a cupcake hack that she told Clarkson "stopped the party" when she casually did it at a recent birthday celebration. Her trick? Carefully twist off the bottom of the cupcake, then flip the top onto it so the icing is sandwiched in between the layers of cake. You're effectively turning it into an easy-to-eat cupcake sandwich, or, in Clarkson's words, a whoopie pie. This way, Hathaway explains, "you don't get frosting up your nose" when you go in for a big bite. "Been doing this for years. It makes cupcakes so much better!" a viewer commented on YouTube. "Perfect ratio of cake and frosting," another agreed.
As brilliant as Hathaway's party trick is, she isn't the first to have come up with it. In 2021, the cupcake sandwich trick went viral on TikTok when a pair of Australian food bloggers shared a video of the technique. Even further back in 2013, a Reddit post revealing the hack garnered plenty of comments from foodies awed by the idea. "Apparently this method gives you icing and cake in every bite," one person said. Whoever thought of the idea, they certainly changed the way a lot of people eat cupcakes.