Costco Fans Are Raving About These Stainless Steel Mixing Bowls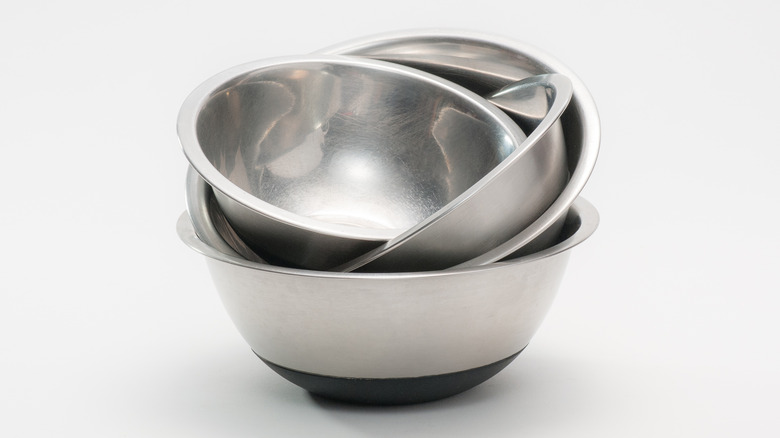 Chilero Calidad/Shutterstock
No offense to your great aunt's gorgeous collection of Gooseberry Pyrex, but even a brief binge on food YouTube will prove that many modern bakers prefer stainless steel mixing bowls over all others. A 2014 Cook's Illustrated article praises the silver-hued kitchen essential for being lightweight and easy to handle, making it ideal for mixing heavy ingredients or components of bakes, like doughs. The magazine also gives points to stainless steel bowls for their ability to conduct heat quickly and efficiently, which means they're perfect for making tempered chocolate in a double boiler. An article in the Vocal Media column Feast also notes the material's sturdiness and its power to keep food cold.
Evidently, many home cooks who shop at Costco are also on Team Stainless Steel. In an Instagram post, @costcohotfinds — an account run by a self-proclaimed "Costco addict" that informs fellow frugal shoppers about the chain's latest bargains — raved about an extra-sweet Costco deal on a set of stainless steel mixing bowls. 
The Instagram post noted that 'you just can't beat the price'
"One of my absolute favorite items I've gotten at Costco for the kitchen!!!" @costcohotfinds captioned her Instagram post. In the video, the account creator lists the many virtues of the bowls as she films them in their packaged glory on a shelf at her local Costco. "If you were to ask me about my favorite Costco kitchen items, these would be at the top of the list," she says. "These mixing bowls come in a box of three and you just can't beat the price." While the three-pack normally clocks in around $20, the bowls are on sale for $15.99 through March 27.
@costcohotfinds continues to sing the praises of the product, noting how it's superior to your average stainless steel mixing bowl. "They have a silicone bottom, so they don't slip on the countertop," she says, adding that the bowls come with built-in measurements up the side and that they're "super easy" to clean. 
Judging from the comments on the post, other Costco members are just as excited. "Got these when they first came out... LOVE THEM," wrote one user. "I got these last week! I love them!" wrote another. If you're looking to level up your kitchen supplies, snag these babies from your nearest Costco before their sale ends this Sunday.