José Andrés' Newest Endeavor Will Send Spanish Foods To Astronauts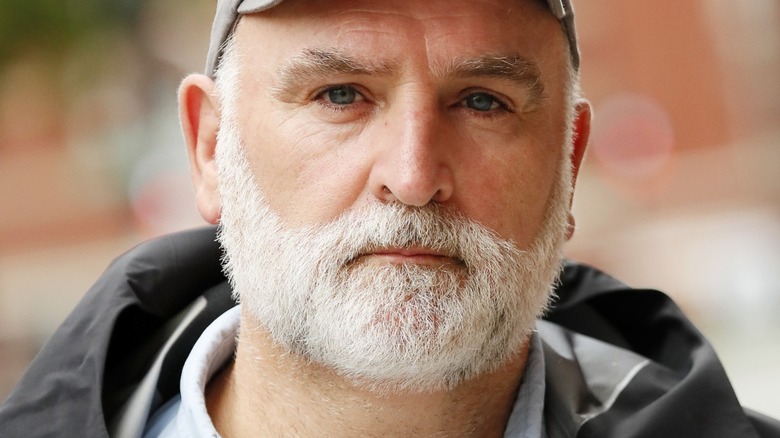 Paul Morigi/Getty
Those who have yet to spend time beyond planet Earth would be forgiven for picturing space food as tubes of mystery goo — that's essentially what astronauts were dining on during the first NASA missions, according to History. But ever since nutritionists discovered that things like dehydrated coffee, soup, and spaghetti could be successfully rehydrated in space, the food astronauts eat has only gotten better. Still, coming as a shock to absolutely no one, Spanish-American chef and humanitarian activist José Andrés wants to take space food to the next level by bringing dishes from his native country to a crew at the International Space Station, reports Food & Wine.
Impressive as it is, the task is anything but unexpected for Andrés, who has a reputation for helming huge projects. Before founding the World Central Kitchen (the nonprofit that earned him a National Humanities Medal from former President Barack Obama in 2016), Andrés' name was synonymous with Spanish-style tapas, which he famously popularized in North America after moving from Spain to New York City in the early 1990s (via The Wall Street Journal). Now that he's successfully spread the gospel of Spanish cuisine in the States, Andrés is going literally above and beyond by preparing a traditional Spanish meal for outer space, per the request of Axiom Space.
One giant leap for paella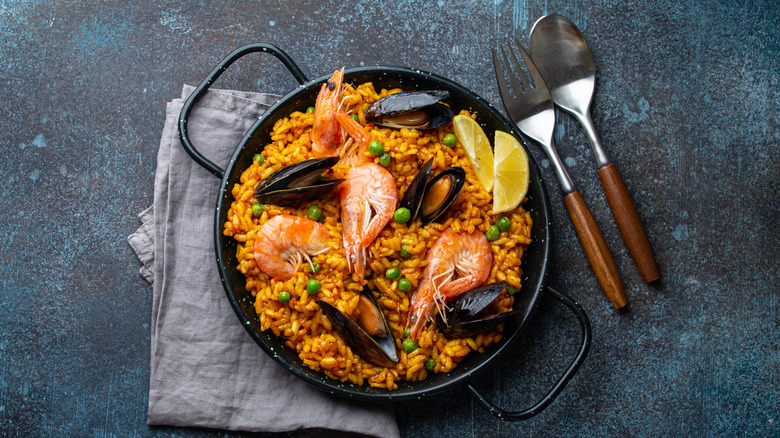 Elena Eryomenko/Shutterstock
In partnership with his restaurant company ThinkFoodGroup, reports Food & Wine, Andrés will send paella and other dishes from his native Spain to the International Space Station. Their efforts will feed four astronauts from Axiom Space, launching the first all-private-crew mission to the ISS in early April. The chef is certainly up to the task. "I think feeding people for me is the ultimate challenge, especially in the edges of the known world," Andrés told Food & Wine. 
Keeping NASA's nutrition guidelines in mind, Andrés and ThinkFoodGroup landed on a "family meal" concept that stars "a prized cut of Iberico Pork with tomatoes, onions, eggplant, and peppers." The meal will also include chicken and mushroom paella — did you know that Andrés is the reason the paella emoji looks so authentic? — and Spanish cured ham, salami, and nuts to snack on. Rather than preparing the food in freeze-dried form, the hot dishes will be served in pouches that Andrés hopes can also be used in disaster relief situations, such as the one World Central Kitchen is currently spearheading in Ukraine. Considering the impact of his latest projects, we wouldn't be surprised if Andrés has another humanitarian award in his future. At the very least, maybe he'll get his picture on the wall at the International Space Station.