How Subway Helped With The Building Of 1 World Trade Center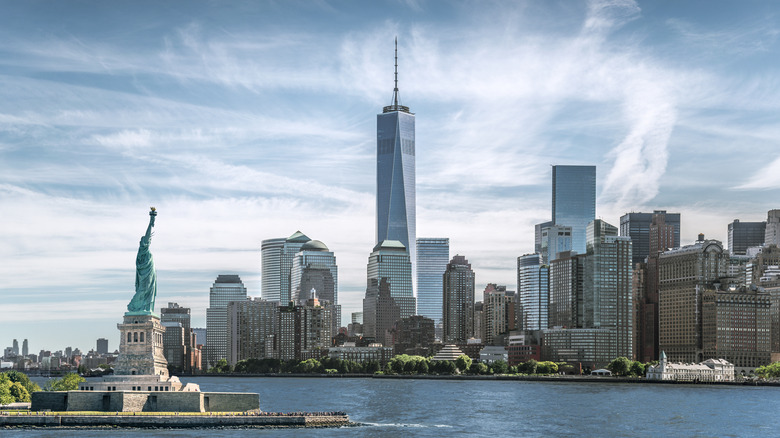 spyarm/Shutterstock
Although it is a global fast-food leader with more than 40,000 stores around the world, Subway restaurants have been disappearing recently. From scandals over their ingredients to conflicts between franchisees and corporate leaders, the Eat Fresh chain has seen its share of problems over the past few years.
Still, the restaurant continues to innovate its offerings with massive menu changes, including upgraded meat and new sauces and sandwich options. Diners already could mix and match ingredients to make over 37 million unique sub combinations, per HuffPost, and the current menu overhaul could push that number even higher.
Plus, thanks to some of Subway's more bizarre locations, you can order your go-to Meatball Marinara or Italian B.M.T. in spots like a church in Buffalo, New York or a riverboat in Germany (via Fortune). And one of Subway's more unexpected locations was only open for a few years — and played a vital role in rebuilding One World Trade Center.
Inside the sky-high World Trade Center Subway franchise
As One World Trade Center, formerly "Freedom Tower," rose from the ground, a Subway restaurant did too — literally. Along with offices, changing rooms, and bathrooms, the Subway shop was built in cargo container "pods" attached to cranes that allowed the whole operation to be elevated as the building progressed skyward, per The New York Times. It ultimately rose to nearly the top of the new building — the country's tallest skyscraper (via World Trade Center) — before closing in 2012 (via Gothamist).
Before the Subway opened, workers could either bring their own lunches or try to descend back to ground level to grab a meal to go — a nearly impossible task within the 30-minute lunch break given the pace of the construction hoist elevators, per Gothamist. Richard Schragger, who operated the Ground Zero Subway as well as a few others in Manhattan, offered free cookies to workers on the first day the shop was open, The New York Times reported.
Although this Subway location never sold enough sandwiches to break even — and ultimately cost building company DCM Erectors nearly $700,000, per Eater New York — the company considered it a successful experiment. And without Subway, the iconic 1,776-foot tower might not have become part of New York City's skyline.