Bobby Flay Says This Amalfi Antipasto Dish Is One Of His Favorites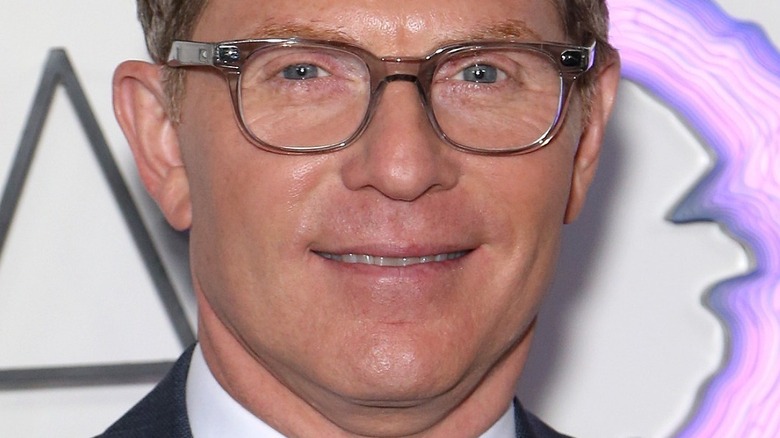 Gabe Ginsbert/Getty
Visitors to the longstanding Las Vegas hotel and casino, Caesars Palace, have Bobby Flay to thank for the addition of an on-site Italian dining option, which opened just last year. According to a Caesars Palace press release, Amalfi was inspired by Flay's famous travels to Italy and its beloved Amalfi Coast. The famous chef explained the appeal of the region's cuisine in the press release, saying "Food in Amalfi is known for two things, the fish that comes out of the water and pasta."
In an interview with Vegas Magazine, Flay shared some of his seafood and pasta recommendations. For guests dining at Amalfi, he pointed out desirable menu items, including "charred octopus with burnt orange and pancetta" and "squid ink fettuccine with lobster shrimp and fra diavolo sauce." As for his own order, he told the publication that "scialetielli with a scampi sauce and basil" is one of his favorites, and his choice dessert is the aptly-named "Bobby's Pistachio Sundae." Recently, another of Flay's Amalfi favorites has made an appearance on the chef's often-drool-worthy Instagram account.
Amalfi's Shellfish Fritto Misto is one of Flay's faves
Bobby Flay posted an enticing image on Instagram capturing "one of [his] favorite antipasti" available at Amalfi. In his caption, he explained the image was of Shellfish Fritto Misto "served with Meyer lemon aioli and pistachio pesto for dipping." As he explains in his "Always Hungry" podcast (17:20), the restaurant uses a trio of squid, mussels, and shrimp to make its version of the dish. Flay also shared some important advice for diners and at-home-cooks on his Instagram post: "Don't skip the fried lemon wheel in the mix! Delicious."
Of course, Flay is no stranger to giving cooking advice. After all, he's authored 16 cookbooks and has a 17th in the pipeline (via Flay's website). And the chef has been sharing how to make Fritto Misto before Amalfi even opened. Back in 2020, he posted an image of the tasty-looking dish on Instagram and dispensed some tips for creating the same "crispy, crunchy and light deliciousness." As for building restaurant menus — Flay is certainly right about one of his insights on the post: "Let's face it ... we see crispy on a menu and we want it."