Trader Joe's Fans Are Loving This Redditor's Use Of Frozen Garlic Naan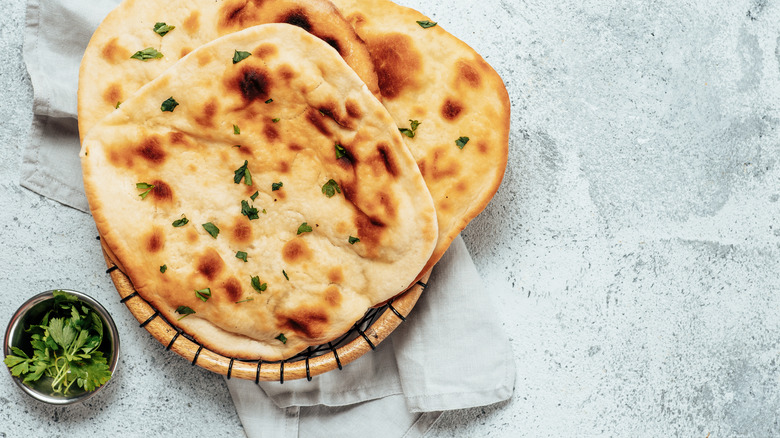 Fascinadora/Shutterstock
There's no rule saying that supermarket foods must be cooked and eaten as per the instructions at the back of the pack. After all, the best things usually come to those willing to experiment. Aldi shoppers make a case for using the supermarket's seasonal canned apples beyond the usual apple pie — baked in crescent rolls, layered between bread pudding, or even cooked alongside pork chops. Costco's famous rotisserie chicken makes a stellar filling for Mexican foods, and Trader Joe's pizza dough can make a whole lot more than just pizza, including cinnamon twists and pretzel bits (via Eat This, Not That!).
Another Trader Joe's shopper seems to have struck gold upon using the supermarket's frozen garlic naan in an ingenious way. Taking to Reddit, the shopper said that their dwindling groceries meant that they were out of pizza crust and needed a creative substitute in its place. So, they used a piece of Trader Joe's frozen garlic naan instead. Much to their surprise, the result was anything but disappointing. "I'm afraid I have ruined all other pizza crusts because it was the most tasty thing ever...Highly recommend for those who haven't tried it." A single slice of naan they say, can also be perfect for a single serving of pizza for one. Reddit is not only all for the deliciously creative use of garlic naan, but even has a fair share of suggestions to add to the new discovery.
Redditors offer a variety of suggestions for using garlic naan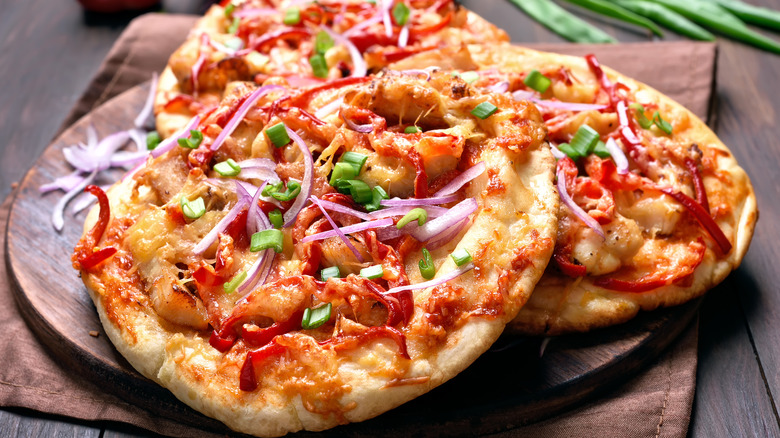 Tatiana Volgutova/Shutterstock
Comments on the Reddit thread have many creative recommendations for anyone wanting to make the most of garlic naan beyond a serving of hot curry. One user suggests air frying the naan chips and serving them alongside Trader Joe's chili onion crunch dip, and another vouches for smashing grilled cheese sandwiches made from garlic naans. Besides, adding toppings, sauce, and cheese on a frozen naan is also an economical solution to a sudden pizza craving, according to at least one commenter who shared, "LMAOOO just throw on some meat on that garlic naan and you saved yourself $10 at least!"
Some also suggest smearing just a dollop of butter on a warm naan and eating it as a snack, or turning the naan into an "Indian pizza" with "Tasty Bite Madras Lentils and vegetables/a tiny amount of leftover cheese." One Redditor even shares a recipe for how they turn the garlic naan into a pizza using mostly only Trader Joe's ingredients including a layer of pesto topped with TJ's frozen mushrooms, arugula, fire-roasted peppers and onions, shredded mozzarella, and parmesan.
With the variety of tasty options provided by these Redditors, perhaps TJ's garlic naan is on its way to gaining a cult following.