Pillsbury's Bunny-Themed Cookie Dough Is Back For Easter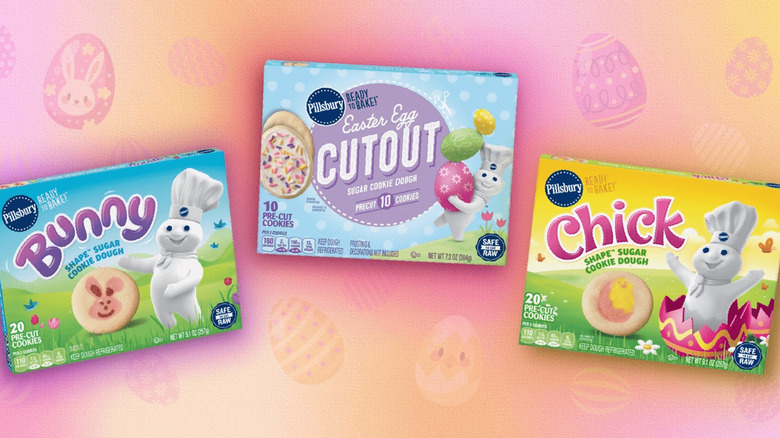 Pillsbury
Easter is just around the corner, so it's time to get all of your chick and bunny-centric decorations out, put your springiest wreath on the door, and start planning your celebratory dinner. While you're picking up your glazed ham, grain-fed turkey, or leg of lamb, you will want to save some room in your cart for a very important addition: Easter-themed Pillsbury cookies. Whether you are a fan of baby chickens, appreciate the simplicity of an Easter egg shape, or prefer to adhere to the traditional rabbit, these must-have sugar cookies will put a smile on even the frowniest face.
As each new holiday approaches, fans await these seasonal packages of scrumptious Pillsbury Shape Sugar Cookie Doughs with great enthusiasm. Boasting past offerings like snowmen, footballs, hearts, turkeys, pumpkins, and dinosaurs, there is a sugary snack for everyone and every occasion. They have even featured shapes honoring Snoopy, Scooby Doo, Pokémon, and Elf. And now, it's time for the Easter editions — a perennial favorite — to reappear. 
Pillsbury's Easter cookies can be eaten raw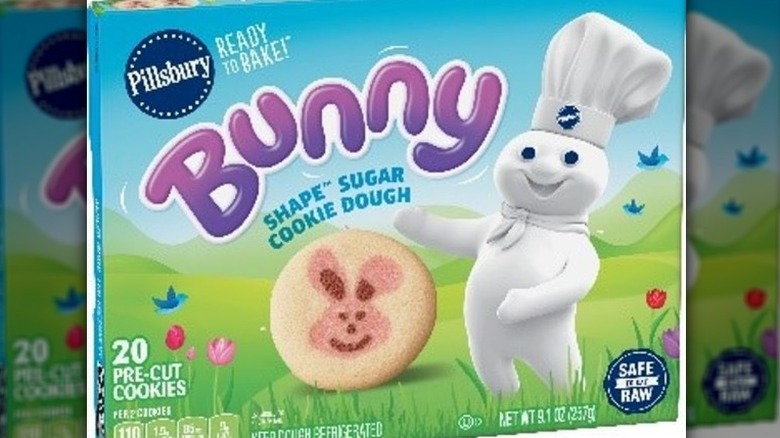 Pillsbury
Available in three distinct — but equally Easter-ish — shapes, shoppers can opt for cutouts featuring a pink bunny, a yellow chick, or oval Easter eggs that can be covered in frosting and pastel-hued sprinkles. The chicken and rabbit shapes yield 20 pre-cut cookies, while the eggs offer 10. They are available at retailers across the nation for a limited time. And with broad appeal among adults and kids alike, and a reasonable manufacturer's suggested retail price of 3 for $8.00, they won't last long. 
And if you are one of those people who has a penchant for raw cookie dough, you are in luck. Pillsbury says these shape sugar cookies are perfectly safe to eat uncooked. 
Whether you plan to make these with your kids or you want to keep them all to yourself, the doughboy only brings these Easter treats out once a year. You'd better act fast. And don't forget to save a few for the Easter Bunny's visit.