The Best Charcoal Grills Of 2022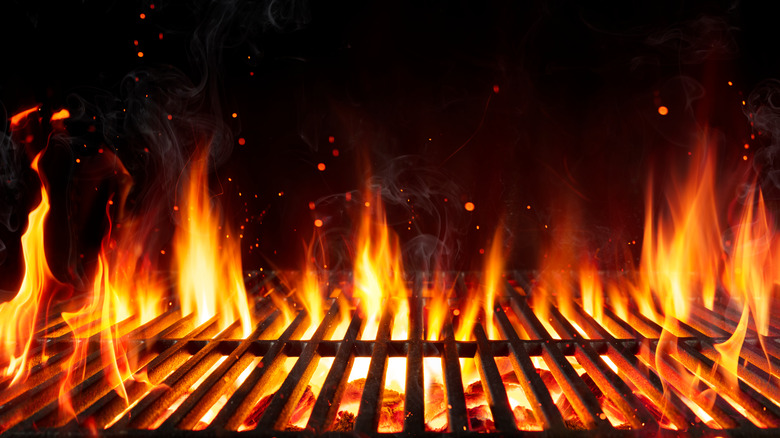 Romolo Tavani/Shutterstock
We may receive a commission on purchases made from links.
Grilling with charcoal taps in to something primal. There's a ritual to the process: arranging the coals in the perfect place, watching hypnotic ripples of heat radiate from the glowing coals, and of course, the feeling of contentment as flames gently roast your meal to charred perfection. There's no denying that grilling with charcoal adds a level of depth and flavor to your food that gas grills just can't compete with. According to Wired, that's because charcoal is basically pure carbon and burns at much higher temperatures than gas grills. As your food heats up, drippings full of fats and sugars trickle down over the hot coals, sending smokey plumes of vapors back up into your food that build major flavor.
There are a few key points and features to consider when you're searching for a charcoal grill that will suit your needs. The first, of course, is your price range. You should also consider size — how much space do you have for storage and about how many people will you typically be grilling for? How much grill space do you need for the amount of food that you'll be cooking? Are you looking for something smaller and portable, or do you want something bigger and more stationary? You should also consider other possibilities, like if you want an added rotisserie skewer for spit-roasting.
How we selected products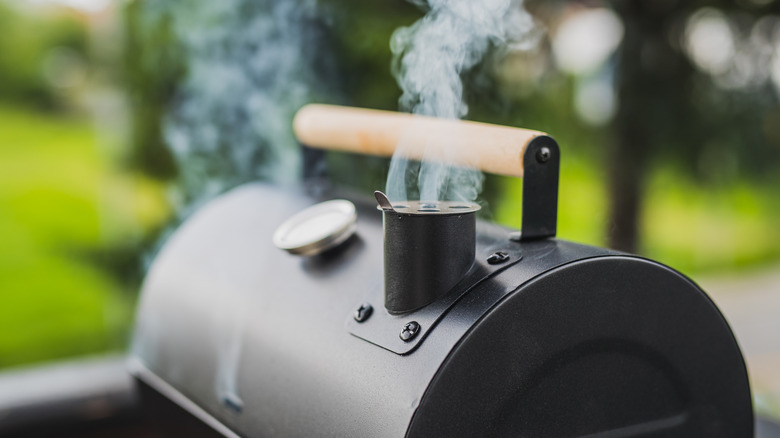 Anze Furlan/Shutterstock
Each of our charcoal grills has been selected based on research that includes a wide range of considerations. One key factor was general popularity based on user reviews and media coverage. Another key factor used in the selection process was diversity: we made sure to recommend charcoal grills that came equipped with different functionalities. We tried to select grills that came in a range of sizes and price points as well. This was to ensure that we could amass a list that offered something for everyone — regardless of budget, space, or experience. For example, some of the categories include the charcoal grill for the best value, the best ceramic charcoal grill, and the best charcoal grill for portability. 
The end result of our research and analysis is a thorough list of the best charcoal grills of 2022. Whether you're looking for a mini charcoal grill for a modest patio or a luxury grill for barbecue professionals, we've got you covered.
Best overall charcoal grill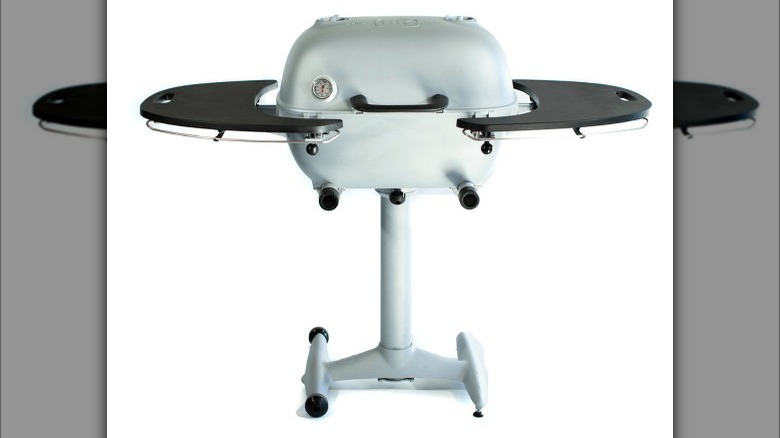 PK
If you're looking for a charcoal grill that has it all, look no further. The PK 360 charcoal grill is made with durable rust-proof cast aluminum that distributes heat four times faster than steel. And while most charcoal grills typically come with only two air vents, which limits your control of heat and airflow, the PK 360 comes with a four-point venting system that makes it perfect for creating two grill zones. The PK 360's four-point venting system allows you to easily master the art of direct and indirect heat, giving you the ability to quickly sear meats at higher temperatures or downshift into low and slow territory for smoking barbecue.
The PK 360 charcoal grill comes with 360 square inches of cooking space. It's also equipped with a pair of durable side tables that partially wrap around the front of the grill, allowing easy storage for plenty of seasonings, sauces, and any other items you like to keep handy while you're grilling. Each side table comes with an underlying metal rack that you can effortlessly hang tools from. Beyond this, the PK 360 is portable, as the grill detaches from its stand. It also comes with a temperature gauge for precise cooking. If you're looking for a quality charcoal grill with a good amount of space that's truly built to last, the PK 360 is the perfect match.
You can buy the PK 360 charcoal grill on Amazon for $999.
Best value charcoal grill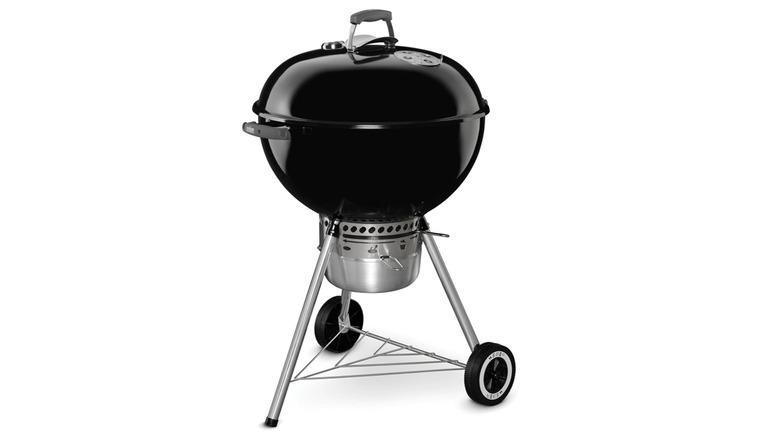 Weber
If you're on a budget and looking for the best bang for your buck, Weber's original kettle premium charcoal grill is a solid choice. This classic charcoal grill from Weber boasts 363 square inches of cooking space, which is enough to fit over a dozen burgers. The porcelain-enameled dome lid allows excellent heat retention and also prevents rusting, cracking, and corrosion. Weber's original kettle premium charcoal grill also comes with a hinged cooking grate so that you can effortlessly add charcoal to the fire.
This premium kettle grill comes with a one-touch cleaning system that makes cleanup a breeze with a high-capacity ash catcher situated just below the dome. It has a built-in lid thermometer so it's easy for you to read the temperature and adjust the heat as needed. There's even a hook for you to conveniently hang the lid on the side of the grill. The heat shield underneath the handle prevents it from getting too hot, allowing you to comfortably remove the lid during your cooking sessions. With two durable wheels for easy portability, Weber's original kettle premium charcoal grill comes with everything you need for just a fraction of the price of a higher-end grill.
The Weber original kettle premium charcoal grill is available on Amazon for $194.
Best barrel charcoal grill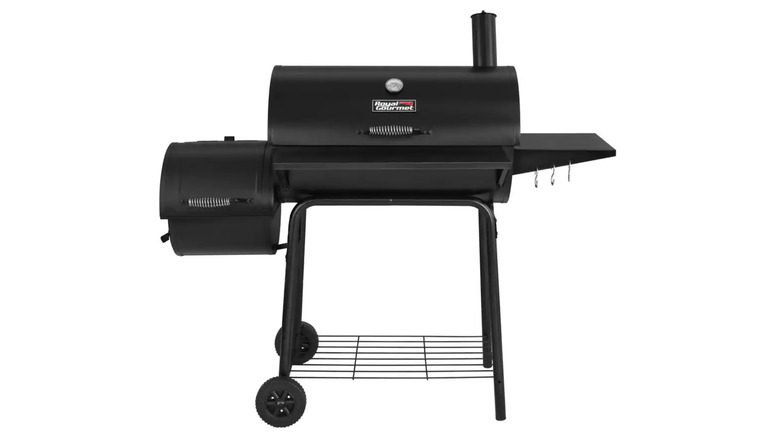 Royal Gourmet
Just as the name suggests, barrel grills come in the shape of a sideways barrel. This design typically allows for some extra cooking space on the grill, making it perfect for those of you who like to cook bigger batches (via The Home Depot). This Royal Gourmet charcoal grill comes with an offset smoker so that you can have two entirely separate cooking zones. The main grill has a porcelain-enameled steel wire cooking grate that gives you 443 square inches of cooking space. Just above the cooking grate is a 184 square inch chrome-plated warming rack. Amazingly, all of this clocks in at only 50 pounds, and its two durable wheels make the Royal Gourmet charcoal grill easily mobile.
This charcoal grill also comes with an air vent and side access door that allows you to harness air flow and temperature to your liking. It has an adjustable charcoal pan with lifting handles and two different levels to provide you with more heat control. A thermometer gauge is mounted on the lid for easy visibility. There's also a side table with convenient S-hooks that you can easily hang your cooking utensils from. Spacious and versatile with a highly affordable price point, all of this adds up to one of the best barrel charcoal grills on the market.
You can purchase the Royal Gourmet charcoal grill from Amazon for $159.
Best ceramic charcoal grill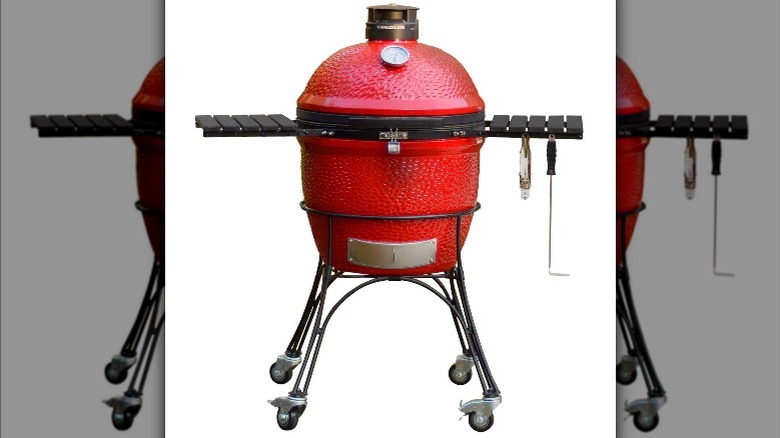 Kamado Joe
Did you know that some of the earliest cooking vessels are over 3,000 years old and were made of clay? In Japan, these clay pots were eventually modified with a removable lid and called a mushikamado. Later on, the name was shortened and the device simply became known as a kamado which translates to "cooking range" in Japanese (via BBQ Guys). Today, modern style kamado grills made from ceramic are prized among cooks for their superior heat retention. This is because ceramic provides such strong insulation that it traps heat much more effectively than metal.
There's no doubt that the Kamado Big Joe charcoal grill is one of the best ceramic charcoal grills on the market. Its special design can reach temperatures up to 750 Fahrenheit by effectively capturing heat and also allows for excellent moisture retention. There is a cast iron air vent on top of the ceramic dome to provide you with precise temperature control. There are also half-moon-shaped grill grates that can be adjusted to sit at different heights above the coals to provide you with plenty of temperature flexibility. With dual side tables, locking wheels, and amazing accessories like the Joetisserie motor that can spin up to 20 pounds of food, a soapstone griddle for searing, and a coal-fired pizza oven modification, this grill is a top-notch investment for serious grill masters.
You can buy the Kamado Big Joe on Amazon for $1,030.
Best versatile charcoal grill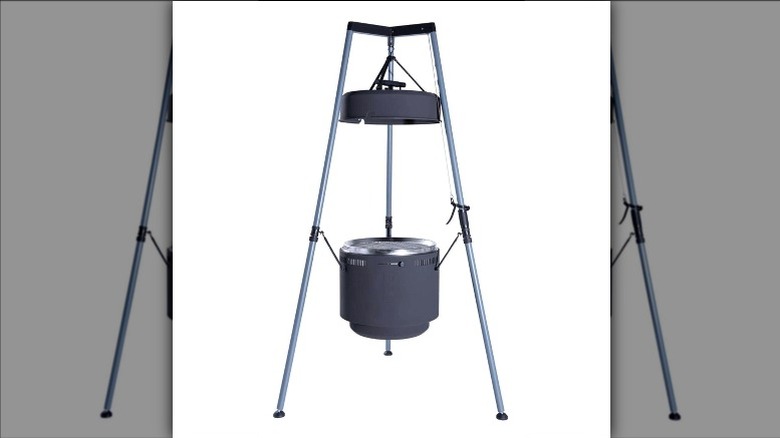 Burch Barrel
It's always best for grills to be situated on a level surface to ensure stability and even cooking. The Burch Barrel charcoal grill ensures a smooth cooking foundation through a brilliant design that suspends the grill in the air on an adjustable tripod. This grill can cook, smoke, bake, and even burn hardwood to function as an elevated fire pit. Its grill-lifting system allows you to easily raise the grate so that you can tend to your coals or add wood for smoking in the middle of cooking with minimal disturbance.
The Burch Barrel charcoal grill has a spiral rail system that allows you to adjust the height of the charcoal tray up to one foot. This design allows for an easy transition between searing, grilling, or low and slow smoking. Because its flexible design allows it to be situated on just about any kind of terrain, this grill can be set up almost anywhere, making it ideal for campers and nature lovers. And because the Burch Barrel grill is circular, it's easy to create a more communal cooking experience for everyone. This grill delivers excellent results and allows multiple cooking styles whether you're camping near a rocky riverbed, posted up at the beach, or simply hanging out in your own backyard.
The Burch Barrel charcoal grill is available on Amazon for $1,195.
Best portable charcoal grill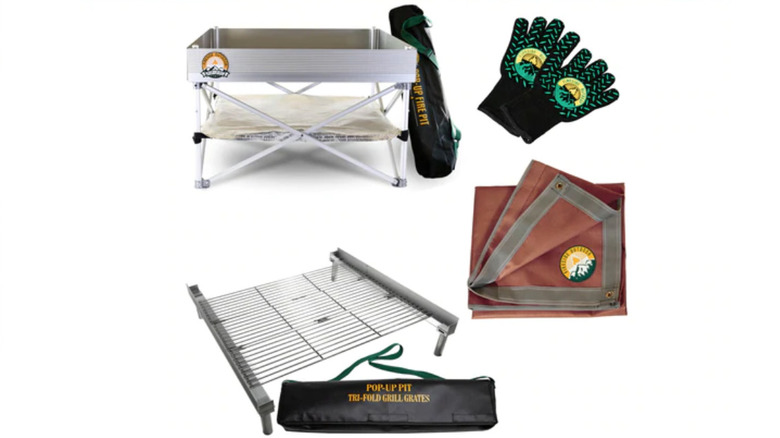 Fireside Outdoor
Sometimes portability can be an issue with charcoal grills. Sure, you might be able to shift your grill around a little bit — but can you easily pack it all up and take it on the go? The Leave No Trace bundle package from Fireside Outdoor makes that possible. The kit comes with a pop-up fire pit and an ember mat so that you can grill without worrying about burning the ground underneath the grill. It also comes with a heat shield, folding grill grates, and heavy-duty thermal protective gloves to provide a safe and comfortable cooking experience.
What makes the Leave No Trace bundle package even more convenient is the fact that it all comes in its own duffle bag. This duffle bag has enough room to fit everything in the kit and allows you to bring your portable charcoal grill anywhere your heart desires with ultimate ease. If you've been on the lookout for a charcoal grill that you can easily break down and set back up again, the Leave No Trace bundle package is a fantastic option.
You can buy the Leave No Trace bundle on the Fireside Outdoor website for $250.
Best combo: charcoal/gas grill duo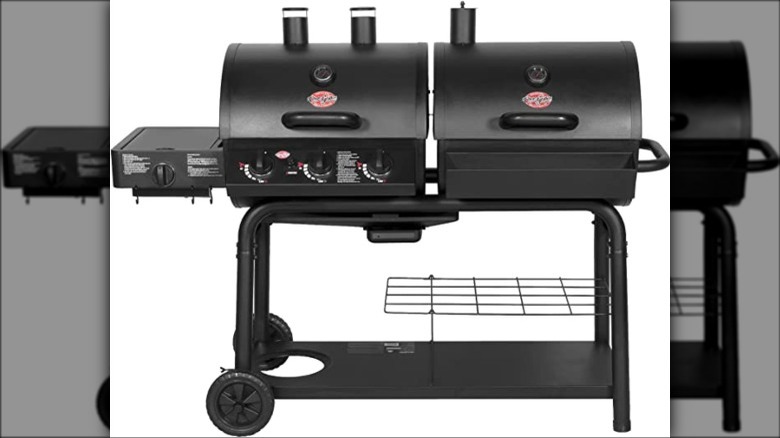 Char-Griller
Let's face it — being able to easily transition between gas and charcoal has its charms. So we've got a solid deal for those of you who love the convenience of a gas grill but also want the flavor of charcoal. The Char-Griller 5050 duo gas and charcoal grill is highly durable with features like heavy steel construction and cast iron cooking grates. The grill showcases over 1,200 square inches of total cook space, with 438 square inches on the gas side and 580 square inches in the cooking area for charcoal. As if that weren't enough, there's a gas-powered side burner that can fit any pots or pans for sauces for sides. There's also a basket underneath the grill for all the condiments you desire or extra storage.
Each side of the grill has a warming rack and its own stainless steel heat gauge. The adjustable charcoal grate allows you to control the heat with more precision. The grill also comes with a grate lifter so that you can easily lift up any of the grates to add charcoal. The Char-Griller 5050 duo is truly the best of both worlds all in one grill.
The Char-Griller 5050 is available from Amazon for $450.
Best mini charcoal grill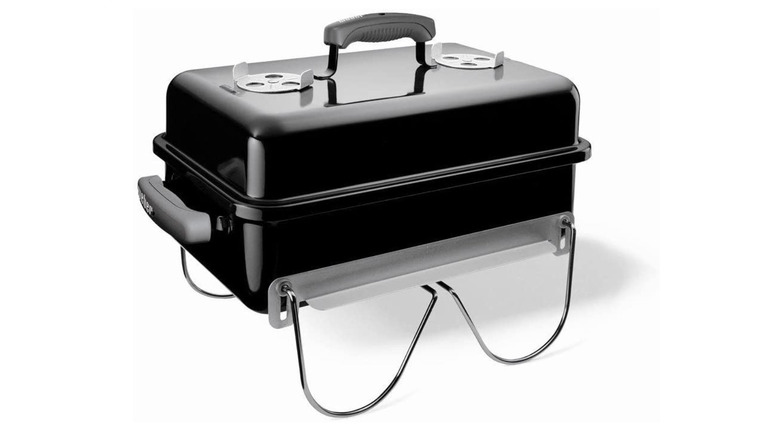 Weber
Having a mini charcoal grill is always a good idea — you never know when it may come in handy. Great for smaller group settings including picnics or camping trips, a mini charcoal grill can be really useful when you don't want to use those gnarly, rusted-over grates on a public grill or fire ring. Mini charcoal grills are also a great choice for folks who have limited patio space.
The Weber Go-Anywhere charcoal grill is made with porcelain-coated steel and weighs only 13 pounds, making it durable yet lightweight. There's 160 square inches of cooking space on the grill grate and can fit around six burgers, which is plenty of food for a handful of people. The lid locks and the grill has carrying handles for easy portability. It also has plated steel legs so that the grill can firmly prop up on surfaces and dual vents for ideal air flow and temperature control. This mini charcoal grill is humble yet mighty and can do everything bigger grills can do — just on a smaller scale. Sometimes less is more.
You can purchase the Weber Go-Anywhere charcoal grill on Amazon for $65.
Best professional charcoal grill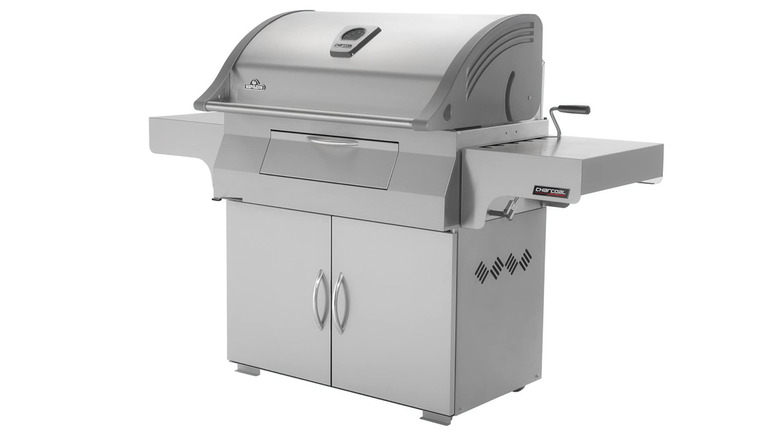 Napolean
For all the pros in the house on the prowl for a great grill, we have another recommendation: the Napoleon professional freestanding charcoal grill. This grill boasts an impressive 845 square inches of cooking space — 605 square inches on the main grilling grate and 240 square inches on the warming rack, making it a stellar choice for big batches on the grill. The Napolean professional charcoal grill also comes with a rear rotisserie burner on the inside with an option for an upgrade to a full rotisserie kit.
There are six different adjustable height settings for the charcoal tray, allowing you to easily change your cooking temperature. There are dual side tables with plenty of space that give you room for a work surface on the grill. Best of all, this grill has a charcoal door that makes stoking the fire or adding more fuel nice and easy. This charcoal grill has the features and space to make all of your culinary dreams come true.
The Napoleon PRO605CSS is available from Amazon for $1,599.
Best charcoal hibachi grill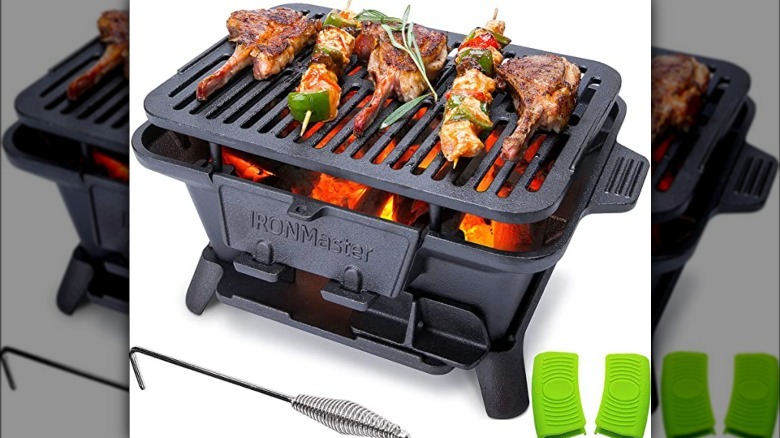 Ironmaster
What makes the Ironmaster barbecue hibachi grill special is its modest size, light weight, and durability. The entire grill is made from high-quality cast iron, yet at only 22 pounds it's still very easy to move, making it an ideal companion for any occasion that requires some mobility. Its small size also helps it heat up very quickly, which is an added bonus when hunger strikes.
The surface of the cast iron has been polished multiple times and pre-seasoned with vegetable oil. There is 109 square inches of cooking space on the cast iron grill grate, which can translate into 6 burgers — easily enough for a small group of people. There's a sliding oxygen door that can help you easily adjust temperature and airflow, and the grate has lips on either end to prevent your food from sliding off, making the Ironmaster grill a smart choice for skewers. All in all, this durable charcoal hibachi packs a punch and has an exceptionally affordable price point, especially for a grill that can be passed down for generations.
You can buy the Ironmaster CI-1608 from Amazon for $158.
Best gas ignition charcoal grill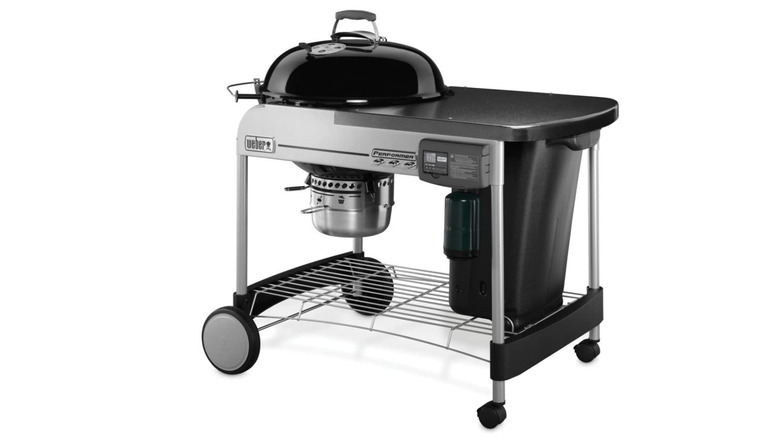 Weber
For those of you who want to take most of the work out of lighting your charcoal, the Weber Performer Deluxe with gas ignition is the way to go. This grill has space for a 14.1- or 16.4-ounce propane cylinder (not included) that feeds the ignition process — with the simple touch of a button, your charcoal will be bathed in flames and ready to go in no time.
Constructed with premium-grade US steel coated with black porcelain enamel, the Weber Performer Deluxe is built to last and resist rusting and peeling. With 363 square inches of cooking space on the grill grate, this grill can handle cooking an impressive amount of food. The hinged grill grates allow you to add more charcoal or tend to the fire with ease. More features include a rust-proof top, two crack-proof wheels for durable mobility, a built-in thermometer, a spacious work table, and a charcoal storage bin. The grill even comes with a cookbook to give you some recipes that are perfect for the grill.
You can buy the Weber Performer Deluxe at BBQGuys for $499.
Best luxury charcoal grill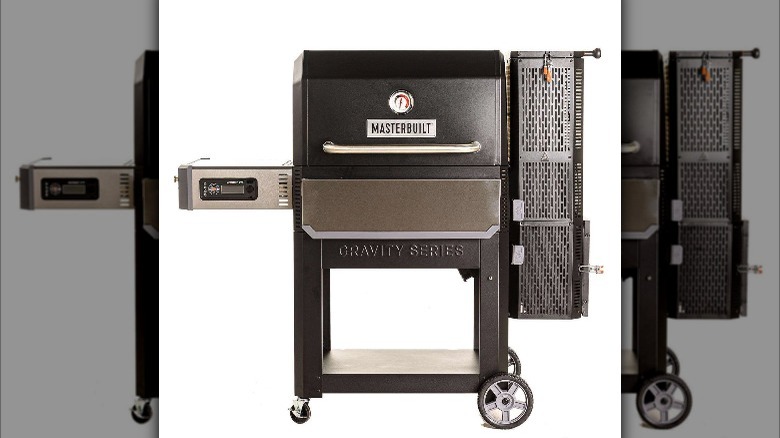 Masterbuilt
Who says a charcoal grill can't be fancy? The Masterbuilt Gravity Series 1050 digital charcoal grill is about as extravagant as a charcoal grill could possibly be. This grill comes with a digital temperature control panel that also has Wi-Fi and Bluetooth capability when you download the Masterbuilt app. It also has a digital fan that can circulate air with the push of a button to help you maintain your desired cooking temperature.
Amazingly, the Masterbuilt Gravity Series 1050 can reach 700 degrees Fahrenheit in just 15 minutes, making it a great option for quick searing. If you prefer to cook low and slow, this grill can do that too, reaching over 200 degrees in only 10 minutes. Its innovative gravity-fed charcoal hopper can hold up to eight hours of cooking fuel. With over 1,000 square inches of grill space and smoking racks, the Masterbuilt has a massive amount of room to cook, making it perfect for hosting big events like barbecue parties. If you really want to go the extra mile, this grill even has an attachable rotisserie kit accessory. The Masterbuilt Gravity Series charcoal grill seamlessly blends modern technology with traditional design, making it an excellent choice if you're looking for a luxurious upgrade.
The Masterbuilt Gravity Series 1050 is available on the Home Depot website for $799.