The 6 Best Pressure Cookers Of 2022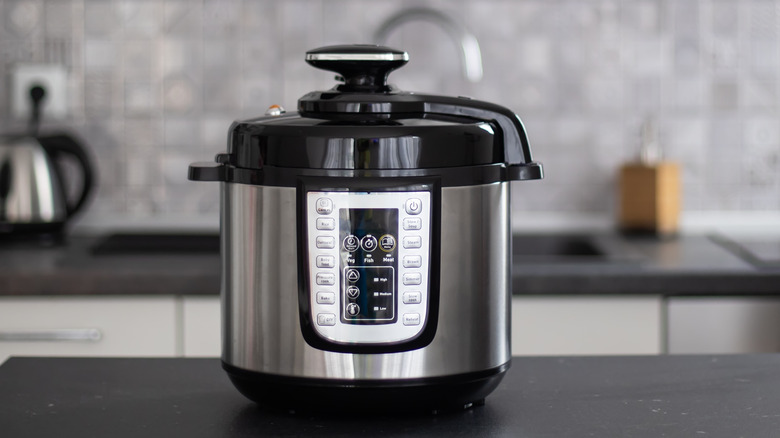 Michael Dechev/Shutterstock
We may receive a commission on purchases made from links.
The pressure cooker was invented in the mid-17th century by French physicist Denis Papin, and he called it alternately a Steam Digestor or a Papin Digester because of his invention's ability to cook bones so they were "soft as cheese" (via Condé Nast Traveler). Leap ahead a couple of hundred years, and the Digester — renamed the pressure cooker — transformed cooking worldwide. The stovetop pressure cooker pretty much stayed the same but earned some notoriety for exploding and launching food to the ceiling, as in this famous clip from "I Love Lucy." 
In 2010, though, the pressure cooker was reengineered as an electric appliance when software engineer Robert Wang created the Instant Pot (per NBC News). Wang combined a pressure cooker with a rice cooker and a slow cooker and transformed the simple pressure cooker into a multi-cooker. The Instant Pot became a sensation, and still is, thanks to Wang's frequent updates to his original model. In the wake of the Instant Pot's success, many brand-name appliance manufacturers have hopped on the pressure cooker bandwagon, and although Instant Pot is still number one, we've found several worthy competitors that have upped their game to try to push Instant Pot off its top spot.
How we selected products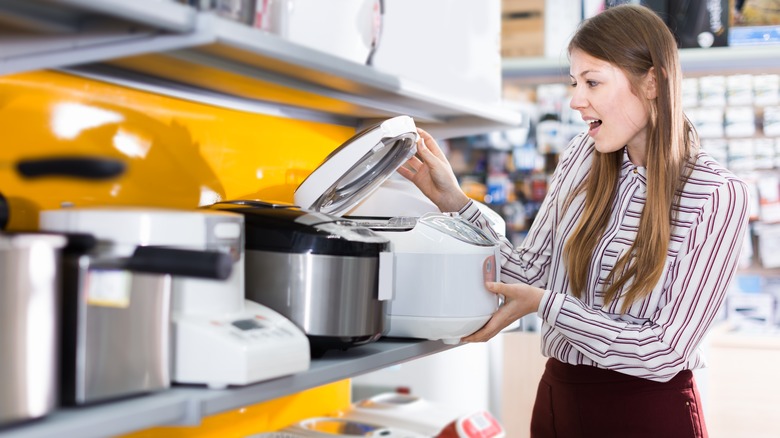 BearFotos/Shutterstock
Our recommendations for the best pressure cooker are based on several criteria. First, we researched user reviews because many are honest appraisals of a pressure cooker's capabilities, ease of use, and overall performance. Negative reviews were also helpful to determine whether the technological improvements actually made the pressure cooker better, or in some cases, worse. We also considered media reviews that were based on actual testing of pressure cookers with a broad range of recipes that showed both their range of functions and their limitations. 
Smart pressure cookers are on the rise, and we were skeptical that these were just pricey gimmicks. But from all of the information we gathered, pressure cookers that were integrated with an app were impressive and certainly could appeal to both new and seasoned cooks alike. There are many copycats out there, but we chose six of the best pressure cookers that are popular and are made by reputable brands.
Best overall pressure cooker: Instant Pot Pro 10-in-1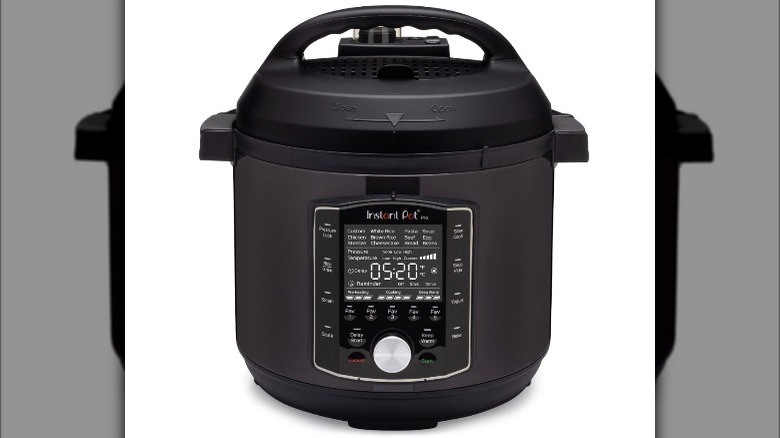 Instant
Instant Pot bumps up the popular Instant Pot Duo a few notches with the Instant Pot Pro 10-in-1 electric pressure cooker. With its streamlined and easy-to-read menu, options to program your favorite recipes, and a flat-bottomed pot with handles, Pressure Cooking Today gives a big thumbs-up to this upgraded model. Long-time Instant Pot users will breathe a sigh of relief to learn that the Instant Pot Pro has refashioned the lid to now have a switch for venting and sealing and a diffuser cap over the steam release valve, which reduces the scary sound of steam escaping and prevents it from splashing on the counter or other appliances. 
If you want to try your hand at sous-vide cooking, the IP Pro has also added a new program for that as well. The IP Pro is available in 6 quarts and 8 quarts, and as YouTuber Night Time Mommy says, "they've added all of the best features and put them into one pot."
You can buy the Instant Pot Pro 10-in-1 on Amazon for $127.
Best air fryer pressure cooker: Ninja Foodi Deluxe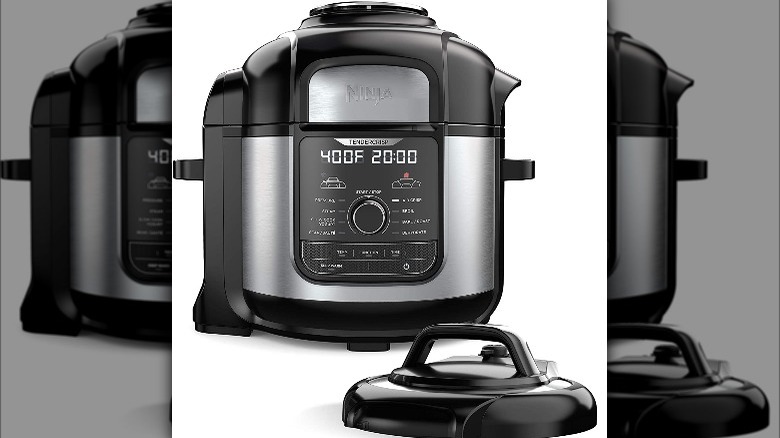 Ninja
The extra-large Ninja Foodi Deluxe is perfect for family-sized meals. If you love crispy skin on your chicken, say hello to your new best friend. The smart folks at SharkNinja have added an air fryer/crisper, which they call Tendercrisp technology, that locks in flavors and juices and gives you the option to finish off what you've cooked with a gorgeous layer of golden crispiness. The large nonstick ceramic-coated basket can actually hold a 7-pound chicken, and the included double rack lets you cook an entire meal with both protein and veggies at the same time. 
Another function that makes the Ninja Foodi different from its competition is that it can broil a steak or caramelize baby back ribs as though you'd just tossed them on the grill. There's no denying that Ninja Foodi Deluxe will take up some valuable countertop real estate in your kitchen, but a smaller 6.5-quart version is also available.
The Ninja Foodi Deluxe 8-quart is available on Amazon for $200.
Best affordable pressure cooker: Instant Pot Duo 7-in-1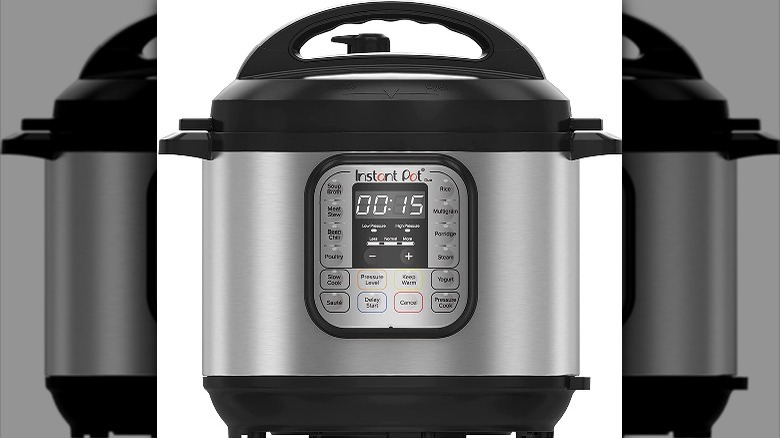 Instant
The Instant Pot Duo 7-in-1 is the gateway to pressure cooking. People who were once terrified of split pea soup exploding from a stovetop pressure cooker are now dishing out all kinds of love for the Instant Pot Duo. Carla Hall loves it for prepping big holiday meals, and senior Food & Wine editor Kat Kinsman proposed marriage to her beloved IP (it said yes!). And, honestly, what's not to love? From soup to yogurt to perfect hard-boiled eggs to the most succulent pulled pork and beef short ribs you've ever tasted, there's an Instant Pot recipe for almost any kind of food you can imagine.
It's true that you'll never get crispy chicken skin from the Duo, but it will be the tenderest, juiciest bird you ever ate. Many first-timers are confused by the cooking times of recipes that don't account for the 10 minutes or so that it takes for the IP to come to pressure. But once you get over your beginners' Instant Pot mistakes, this little droid will absolutely change the way you cook. This "starter" Instant Pot is also incredibly affordable, and during certain times of the year, it's marked down to almost bargain-basement levels. 
You can purchase the Instant Pot Duo 7-in-1 on Amazon for $79.
Best luxury pressure cooker: Breville Fast Slow Pro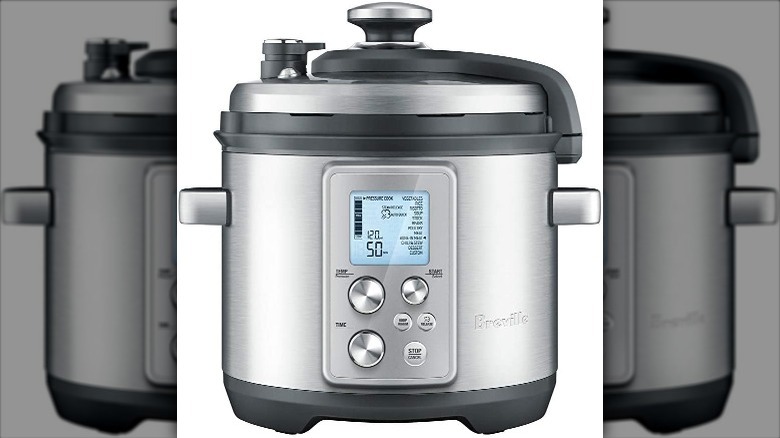 Breville
Breville is known for its high-end, high-quality kitchen appliances, and the Breville Fast Slow Pro doesn't disappoint. This classy and gorgeously designed pressure cooker isn't for beginners. You really need to know your way around pressure cooking to fully appreciate what the Fast Slow Pro can do. The digital interface is easy to use, and the Fast Slow Pro has preprogrammed settings for certain foods that other pressure cookers don't have, including risotto and bone-in meat. Manual programming gets a little more complicated, but with a bit of practice — and following recipes precisely — you'll get the hang of it. 
The Fast Slow Pro has a few fantastic features — like adjustment for high-altitude cooking, a super-secure locking system, and hands-off steam release — that really make this pressure cooker a standout. Yes, it's pricey, but Hip Pressure Cooking calls the Breville Fast Slow Pro a game-changer, and we agree.
The Breville Fast Slow Pro is available on Amazon for $366.
Best smart pressure cooker: CHEF iQ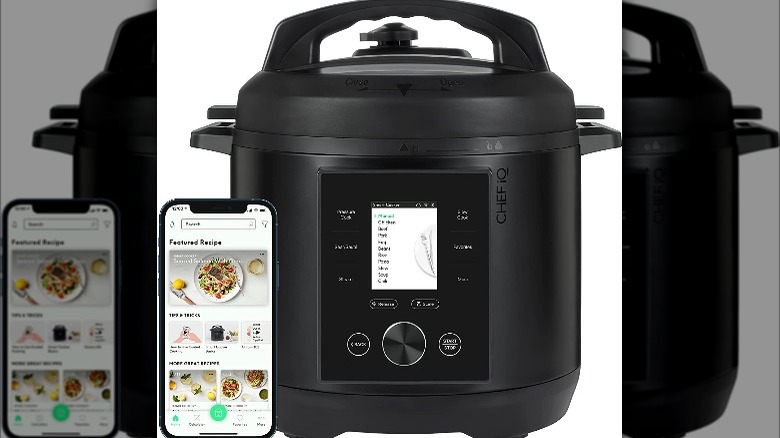 CHEF iQ
Everything is called "smart" these days — toasters, trash cans, dog toys — but are they ever all that smart in reality? The CHEF iQ certainly seems to be. The pressure cooker and the CHEF iQ app are both loaded with over 1,000 presets for virtually cooking anything. You plug the ingredients you want to use into the app, and it calculates the cooking method, pressure level, and cooking time. The app also has videos that guide you through the recipes step-by-step. Once you've added the ingredients, seal the CHEF iQ, push the start button, and go set the table. You never have to flinch when it's time to release the steam because the cooker does it automatically. 
Another remarkable feature is CHEF iQ's built-in scale, which completely eliminates measuring out ingredients with measuring cups and spoons. For example, if a recipe calls for two cups of flour, you can add it gradually to the CHEF iQ, and it will alert you when you've hit the mark. With all of these features, is it any wonder that this reviewer from In The Know prefers the CHEF iQ to the Instant Pot?
You can purchase the CHEF iQ on Amazon for $169.
Best stovetop pressure cooker: T-fal Clipso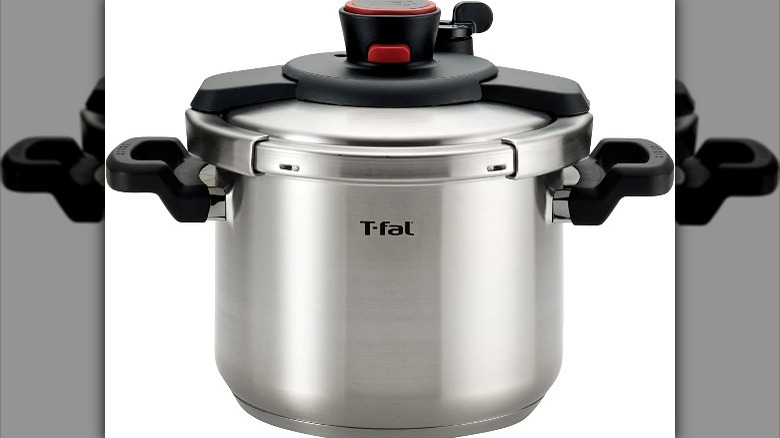 T-fal
Our list would be incomplete without at least one stovetop pressure cooker. The T-fal Clipso is a well-constructed, stainless-steel pressure cooker with a 6.3-quart capacity, so it's made for big-batch cooking. The T-fal has several safety functions to prevent explosions from ever happening, like a locking system that is impossible to release while the pot is pressurized. The extra-large steam release valve has two settings, one for vegetables and one for meat, and you can adjust and release it without steam burning your fingers. 
The feature that most people love is the one-hand system for opening and closing the lid. As one YouTuber demonstrates, it's so effortless he can do it with a single finger. Another bonus is that the T-fal Clipso is dishwasher safe. So if you've cooked something especially sticky, there's no need to soak and scrub; simply pop it into the dishwasher with the pots-and-pans setting. The T-fal Clipso is also great for canning, and if you're just starting to can fruits and veggies, this pressure cooker is recommended for beginners.
The T-fal Clipso is available on Amazon for $92.