Crumbl's New Honeycomb Cookies Are Perfect For Spring
Crumbl found a way to get the average person super excited for cookies. According to the brand's official website, the company originally launched out of Logan, Utah, and the owners maintained a mission that emphasized the freshness of the baked goods. The owners understood the importance of allowing customers to peek in on the cookie-making process, and over time, Crumblr developed a wide swathe of cookie flavors and started dishing out the items in pink boxes. The chain has since opened up locations in 36 states, and fans can't get enough of the brand.
Over on Reddit, fans debated about which cookies from the company taste the best. Some easily prefer Kentucky Butter Cake over Neapolitan, while other diners love their Banana Cream Pie cookie but can't stomach the cornbread cookie. No one can deny that the brand pushes the envelope when it comes to unique flavors, so it should come as no surprise that Crumbl now plans to offer a signature honeycomb cookie to get folks excited about spring.
A cookie that truly rings in spring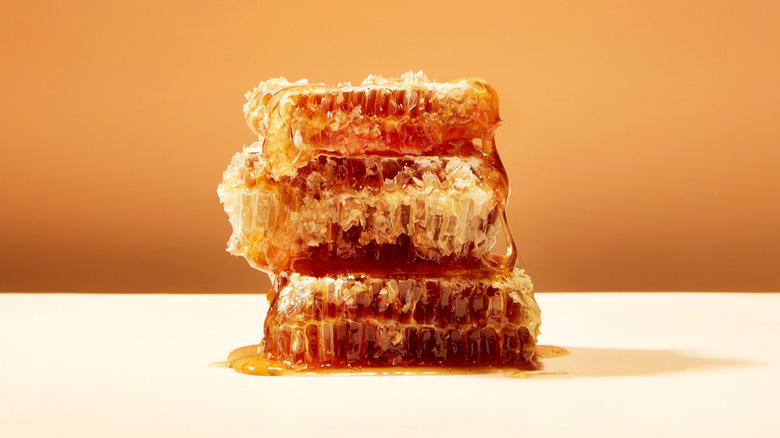 stciel/Shutterstock
According to Brand Eating, Crumbl is releasing signature honeycomb cookies this week, though we don't blame you if you need a refresher on the difference between honeycomb and toffee. This confection taps into a variety of warm flavors and relies on an oat cookie to serve as the basis for the toppings. Crumbl layers the cookie with honey buttercream and sprinkles on some chocolate-covered honeycomb bits. The brand plans to include the cookie in a lineup among other fan favorites, like the Coconut White Chip cookie, Peanut Butter Brownie cookie, and their Classic Pink Sugar cookie. Diners have already gotten a chance to sample the new cookie and couldn't hold back their thoughts.
One Redditor absolutely loved the honeycomb cookie, rating it a nine out of 10. They stated that people who love the cornbread or breakfast cookies should get an extra kick out of this particular treat, and mentioned how strong the cookie tasted like honey. Their only gripe came down to the chocolate bits, which they didn't care for. The hype has built up around this cookie, and it looks like Crumbl might have tapped into spring with this particular offering.