J. Kenji López-Alt Asked About A Food Combo And Instagram Had Answers
We all love an interesting food combo to spice up the routine of everyday eating. And what better place to find a new lunch hack than Instagram? Social media provides the means to connect with food lovers all over the world and get new ideas about cooking. Many of these culinary gems can be found in the comments section of posts about food, as they provide a fertile ground for social media users to share their opinions about eating. As they say, there's no accounting for taste! 
This week, J. Kenji López-Alt, the cookbook author known for his YouTube videos in which he cooks with a GoPro on his head, posted an Instagram reading: "Potato chips on a tuna sandwich is extremely delicious. I'm curious as to where you may have first seen the idea of tuna salad with potato chips and if you know of any shops or chefs who are passionate about this particular combo." He added that he's made sandwiches this way for a while but couldn't recall what gave him the inspiration. When the commenters descended, they had a lot to say about the extra crispy pairing.
Everyone loves sandwiches with chips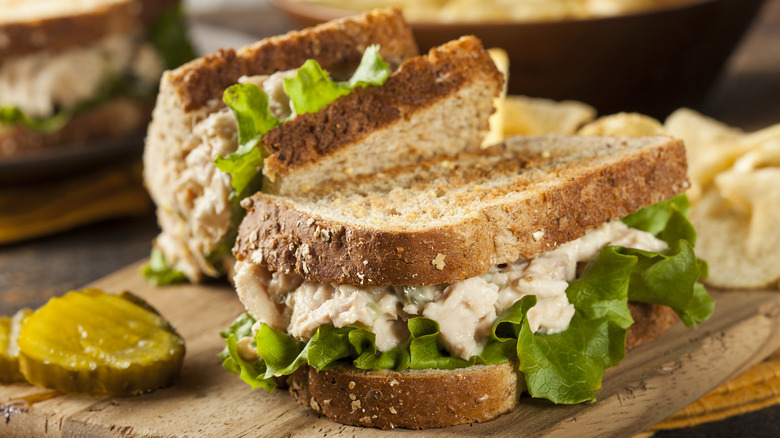 Brent Hofacker/Shutterstock
The comments on López-Alt's post truly went wild. First, many commenters were quick to tell the food writer that potato chips in a tuna sandwich is by no means a new concept, nor a chef-invented one. Popular food TikToker @acooknamedmatt responded, "Every American has done this since birth haha. Delicious with Doritos too." Other users agreed that it's a favorite childhood treat, practiced by kids in the school lunchroom all over. This feedback prompted López-Alt to edit his post, clarifying that he did not mean to imply that he thought it was a "chef-created concept." "No insult intended your mother, your father, your best friend in middle school, or your six-year-old self," he added with a laughing emoji.
Per López-Alt's request, followers chimed in with their favorite places to eat chips in a sandwich, as well as their favorite brands and flavors for the combo. Some mentioned baked Lays, Ruffles, Cheetos, and sour cream and onion chips. Even fellow social media-savvy chef Alex Guarnaschelli weighed in: "My mother loved this. She would make tuna salad on toasted rye bread and put BBQ potato chips inside. Sometimes she would add another slice of bread and put a thin layer of egg salad in there." And while he didn't comment on the post, Food Network star Robert Irvine has said before that these chips improve any sandwich — tuna salad included.