This Is The Perfect Cookbook For Walking Dead Fans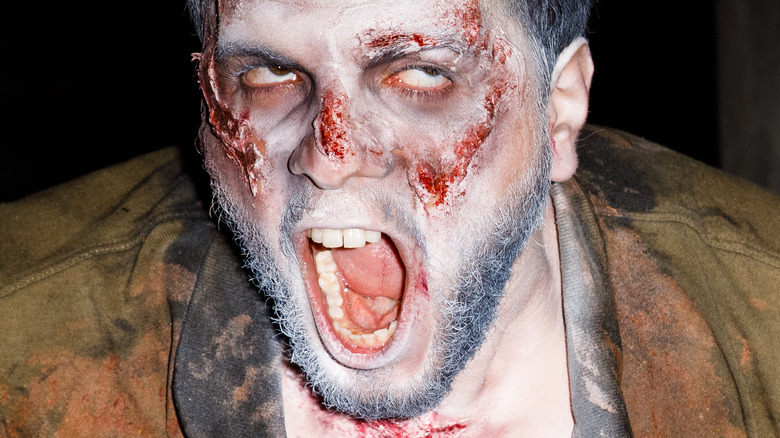 Rosdiana Ciaravolo/Getty Images
We may receive a commission on purchases made from links.
T-shirts and caps are solid memorabilia of shows, books, and films, but few ways are better to truly immerse yourself in the world of your favorite characters than by eating what they eat. This is perhaps why there are tons of cookbooks written for passionate fans: from unofficial cookbooks for "Friends," "Gilmore Girls" and the Harry Potter universe, to official cookbooks for "Game Of Thrones" and "Star Wars" buffs (via Variety).
Fans of "The Walking Dead" might be happy to know that there's an official cookbook designed after that show too — and it's a whole lot more than just a collection of recipes for dishes seen throughout its seasons. Written by Lauren Wilson, who is also the author of another similarly-themed cookbook called "The Art of Eating through the Zombie Apocalypse: A Cookbook and Culinary Survival Guide," the "Walking Dead" cookbook comes with all sorts of tips and tricks humans would need if the world was indeed hit by a zombie apocalypse tomorrow (via Entertainment Weekly). Published in 2017 by AMC before the premiere of Season 8, here's everything fans can expect from "The Walking Dead: The Official Cookbook and Survival Guide."
Walking Dead fans can recreate Carl's pudding and Carol's cookies
Entertainment Weekly reports that the "Walking Dead" cookbook will equip fans with "skills and recipes anyone would need to survive (while trying to avoid being eaten!) during an unexpected walker apocalypse." But that doesn't mean that readers will find the nuances of eating worms, raw turtles, wild dogs, pet foods, squirrels, waters infested with zombies, or even fellow humans when nothing else remains, as seen on the show (via Ranker).
Instead, the book seems to start with the basics including making fire, hunting game, and learning how to get accustomed to cooking in the wild. It then moves to recipes of dishes seen throughout the course of the show (via Amazon). These include Dwight's egg sandwich, Morgan's peanut butter protein bars, West Georgia Correctional Facility oatmeal, Carl's chocolate pudding, and Carol's famous beet and acorn cookies.
Unsurprisingly, the book seems to be a hit amongst both "Walking Dead" fans and other people who are interested in reading about how to prepare for an unexpected end-of-the-world scenario. "The Walking Dead: The Official Cookbook and Survival Guide" currently has a 4.24 rating on Goodreads and a whopping 4.8 stars on Amazon where a hardcover copy of the book sells for $15.99.