The Real Reason McDonald's Mozzarella Sticks Were A Failure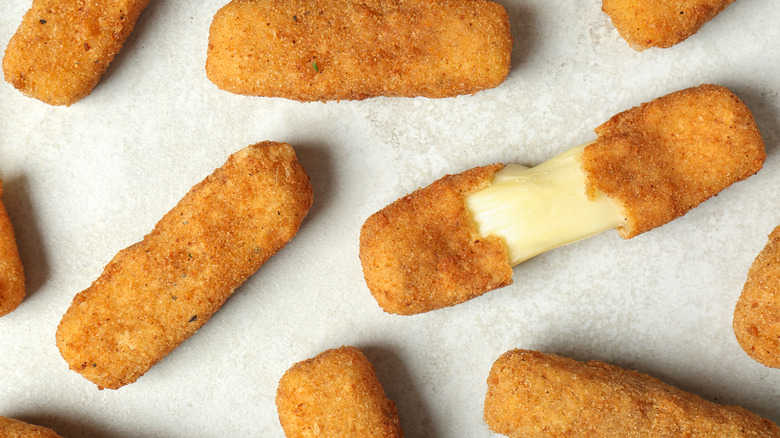 false/Shutterstock
Fast food chains have the annoying tendency to scrap popular items from their menu, much to the chagrin of loyal customers. Blame it on seasonal availability, marketing gimmicks, supply chain issues, or unprofitability, you never know when your go-to order is going to go extinct. The discontinuation of McDonald's' mozzarella sticks, however, is an entirely different story.
When McDonald's announced that it was going to add the deep-fried cheese stick to its menu nationwide starting in 2016 — and selling three sticks for a dollar at that — collective gasps from thrilled customers could be heard across the country (via Business Insider). While the initial reaction to the mozzarella sticks was one of delight, soon the highly anticipated cheese sticks became the subject of national outrage. In fact, the sticks were reportedly taken off the menu pretty soon after they were launched and it was no planned tactic on McDonald's behalf. 
On the contrary, the mozzarella sticks were taken off the menu amidst a string of complaints on social media as well as a class-action lawsuit and what's even more interesting is this isn't the only time McDonald's has been sued over cheese.
The McDonald's mozzarella sticks lawsuit
As soon as the mozzarella sticks hit McDonald's stores, furious customers flocked to social media to express their displeasure at the cheese inside the sticks, or rather, lack of it. Pictures of mozzarella sticks with hollowed insides started surfacing the internet with people complaining that the sticks had more fried air than cheese. "When I order mozzarella sticks I generally want some cheese," tweeted one unhappy patron. The chain later released a statement saying that the mozzarella oozed out while baking and should not have been served — a mishap that was supposed to be fixed (per Delish). 
By then, a McDonald's customer in California, Chris Howe, filed a class-action lawsuit against the chain along with 40 other customers (via Eater). The furious patrons collectively claimed a whopping $5 million in damages from the chain. According to ABA Journal, the point of contention was McDonald's advertising its cheese sticks as being made of "100% mozzarella." Instead, Howe claimed that "the sticks are filled with a substance that is composed [in part] of starch, in violation of the federal standards of identity for 'mozzarella' cheese, and contrary to reasonable consumers' expectations regarding the meaning of the term 'mozzarella'." The suit claimed that 3.76% of the cheese is starch.
Regardless of the lawsuit's outcome, fans were clearly not lovin' these McDonald's' cheese-less fried sticks.