Here's What Happened To Beyond Sushi After Shark Tank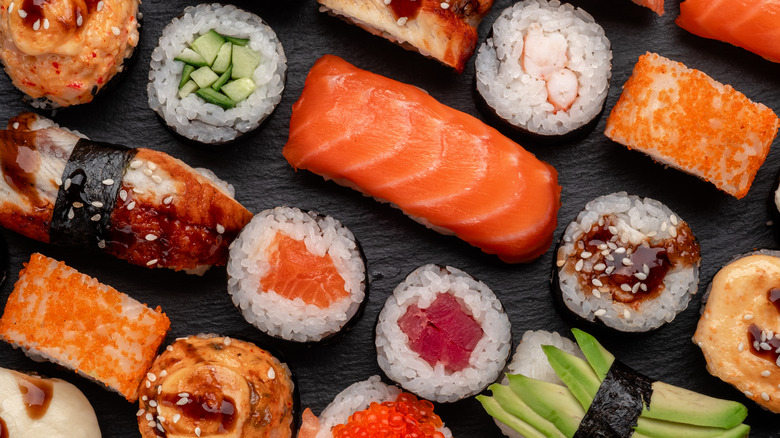 Andrei Iakhniuk/Shutterstock
Sushi is a bit of a polarizing dish. While there are some who balk at the idea of eating raw fish or dislike seafood in general (via Reddit), there are others who love everything about it. As much as eating raw fish may make some people feel queasy, it is a key part of the cuisine. It would be akin to a cheeseburger without the meat patty. But would it be possible to make sushi without including any fish? Could you make sushi using a "substitute" that still delivers the taste and allure of the dish?
Israeli-American chef Guy Vaknin decided to boldly answer this question. According to Beyond Sushi, Vaknin has a long and impressive resume in the culinary business, from operating his family's restaurant to opening a catering business with his father. Opening his first restaurant in 2012 with his wife and business partner, Tali, Vaknin focused on vegetarian recipes. It was this focus on a vegan clientele that would lead Vaknin to experiment with the concept of plant-based sushi. To help fund this concept, Vaknin went on "Shark Tank" in 2018 to ask for an impressive $1.5 million investment for a 25% cut of West Coast locations and a 5% cut of the East Coast (via Shark Tank Tales). His offer was accepted by both Lori Greiner and Matt Higgins, who agreed to a 30% cut on the West Coast and a 15% cut on the East Coast.
Beyond Sushi is still in business
Beyond Sushi seems to be doing quite well for itself following Vaknin's appearance on Shark Tank. With six more locations in Manhattan since the restaurant first opened including opening a full-service restaurant on the Upper East Side, Beyond Sushi serves their well-known vegetable and plant-based sushi, but also offers "impossible" fried chicken and meatballs. Not only do their locations offer crafted cocktails, group dining menus, and "sophisticated dinner specials," according to their website, they also offer takeout and delivery at all locations.
The company also recently started City Roots, a catering business that brings the restaurant's fresh and sustainable cuisine to weddings, lunches, banquets, and other events. But for as well as Beyond Sushi seems to be doing, is its plant-based sushi really that good to warrant such expansion?
Beyond Sushi gets great reviews
Reviewers on Yelp shared their opinions about the restaurant, with most of them bringing attention to the impressive array of vegan-based options available on the menu. One reviewer raved that, although skeptical of the concept, they tried the eggplant nigiri, mushroom maki, and mango maki black rice, and were left impressed by the "superb" textures and flavors. Another reviewer praised the dumplings and the spicy mango sushi, though the reviewer would claim that the dumplings were hard to eat without falling apart and that the sushi needed more spice. 
"Amazing concept and really creative sushi flavor and combos. Perfect for those who want sushi but can't eat raw fish," another said." Overall, it would seem that many people were impressed with fishless sushi and the restaurants as a whole.
And it appears from the reviews that many customers love the staff just as much as the food offerings. "I will say the staff makes this place — the kindness — the speed and they owner has done a fantastic job creating vegan menu items that will appeal to customers cravings," says one reviewer.