Mario Lopez Spills The Details About His New Partnership With Chips Ahoy! - Exclusive Interview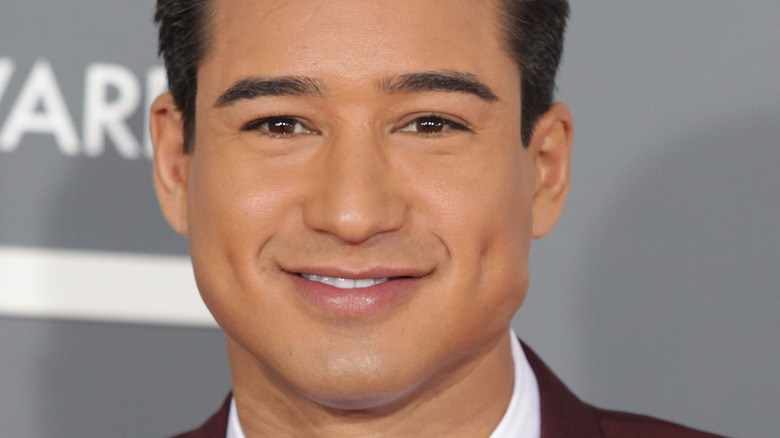 DFree/Shutterstock
There is one thing most foodies can agree on, and that's a passion for all things food and beverage. Whether you know him as a restaurateur, television host, or actor, Mario Lopez could definitely classify as a food lover. The "Saved By The Bell" actor recently paired up with Chips Ahoy! and the Boys & Girls Club of America (BGCA) on the Follow Your Art campaign to create limited edition cookies inspired by teen artists. This is not the first time Lopez has found himself in the food business, as he launched Mario's Tortas Lopez with Grubhub last year.
The Access Hollywood host told Mashed all about growing up in the Boys & Girls club, and how the art program helped shape his career. Now, Chips Ahoy! has committed to a $1 million donation over a time span of three years that will aid in funding BGCA art programs. The limited edition cookies will feature blue candy-coated chocolate chips along with special packaging designed by six BGCA teenagers, per a press release sent to Mashed. In this exclusive interview, Mario dished out on his collaboration with Chips Ahoy!, his upcoming acting projects, and his favorite foods.
Mario Lopez explained what BGCA means to him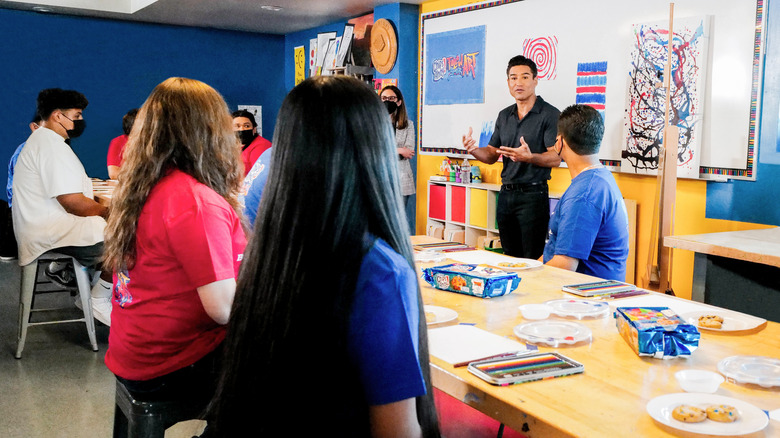 Eva Woolridge for Chips Ahoy!
Why did you decide to partner with Chips Ahoy! on this campaign?
I grew up going to a Boys & Girls Club since I was five years old. They had a huge impact on my life, and exposed me to wrestling and the arts. Now  it's my career. I've been a proud ambassador for years and I love the programs that they support, including this one, where they're harnessing happy. They recognize that for a lot of teens out there, having a creative outlet is very important, especially to their happiness. They're [Chips Ahoy!] donating a million dollars over the next few years to these clubs, to fund these art programs, which I think is really, really cool. I wanted to raise the awareness level for that, because it happened for me.
I know that you were a part of the Boys & Girls Club at a young age. What does this partnership mean to you?
Well, like I said, [I] probably wouldn't have been exposed to the arts if it wasn't for the clubs, and I know there's a lot of talented kids out there that might not have the opportunity otherwise. That's why these programs are so important.
[And] what did you exactly do at the Boys & Girls Club? I saw that you might have done some wrestling.
Yeah, I wrestled, grew up wrestling. I got involved in theater programs, and these sort[s] of programs. I was there every day after school.
How do you think this Chips Ahoy! campaign will influence young artists?
It's giving them an opportunity that they wouldn't have otherwise. There's a lot of creative kids out there, and now they have an opportunity to flex those creative muscles, which is great.
What's your favorite Chips Ahoy! flavor?
They have other flavors other than chocolate chip?
They have the chewy, they have the original –
Well, I like them all. I don't discriminate when it comes to cookies.
Mario just launched a cocktail mix brand
Turning gears a bit, I know you recently launched MarioChelada, which is a fun product line for the popular drink. What inspired you to do this?
All the stuff that I get behind [are] things that I'm passionate about, and MarioChelada is about me. Chelada, with summer around the corner, is a great drink, and we have gummies and all kinds of fun candy stuff. [I'm] happy with the way it turned out, and it's really delicious, and I'm getting [a] great response. That, along with my fitness line over at Big Lots, which is very cost-effective, wonderful equipment that people can use at home [...] as well as my workout gear stuff at Ross. I'm proud of these sponsorships, and proud of partnering up with them.
Do you have a favorite cocktail or drink, or is that your favorite one?
My tequila, Casa Mexico Tequila. [It] launched a couple years ago. I'm partnered with Oscar de la Hoya in it, and it's gone really well. Again, something that I'm really passionate about.
Right, yeah. You dip your toes into everything. That's really cool.
Try to.
Mario has several upcoming acting projects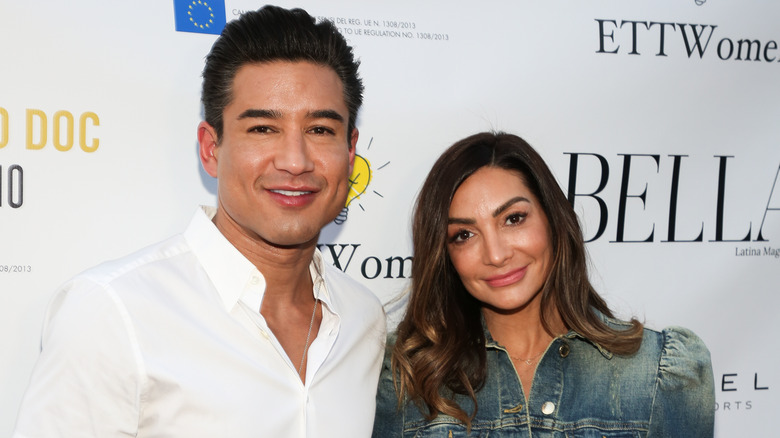 Paul Archuleta/Getty Images
You currently have two seasons aired of the "Saved by the Bell" reboot. When can fans expect a third season?
Good question. You know, we're waiting and seeing right now, hopefully we'll get an answer soon. I'm happy and proud of the way the show turned out, and had a really good time doing it.
Yes, and how has the response been for the reboot?
It's been great. People seem to be digging it, and critically, it seems to be really well received, which I'm pleasantly surprised about, and we got a great team and a great cast.
Keeping with new projects, I saw that you also have an upcoming Lifetime holiday movie with your wife, Courtney, alongside Jana Kramer and Cheri Oteri. Could you tell me a little bit more about that?
I'm shooting that ... I leave Monday to Nashville for a few weeks and [there's] a musical element to it — going to be singing and dancing and doing some fun stuff. It'll be romantic, and it'll be shot in Nashville, for Lifetime, this holiday season. That's pretty much all I can say at the moment.
Are you excited to work alongside your wife?
Yeah, we work together a lot, and we met doing a Broadway show, and she does my radio show with me. So yeah, hopefully she won't get Mario overload.
I saw that you co-hosted Ellen recently with your son. Could you tell me how that went?
I've been on Ellen a lot. I've been 43 times so far and I've got a couple more, so I think I hold the record for most appearances. I love the team over there and they have me all the time, and I'm very grateful for it.
Mario revealed why he's so passionate about food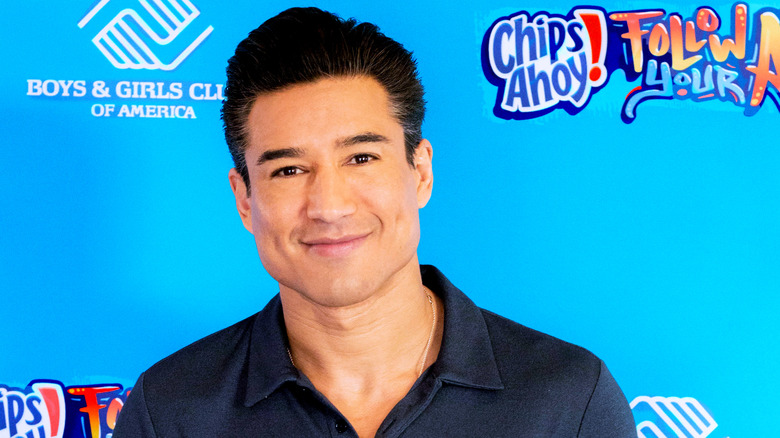 Eva Woolridge for Chips Ahoy!
I'm going to wrap up the interview ... with some quick food-related questions that our readers really love to know. Who is the one chef you'd want to cook you dinner?
There's a lot, but I'm probably going to go with Chef Ludo Lefebvre [...] The French chef. He does "Rat in the Kitchen." 
What's one food you could never live without?
Mexican food.
What is your go-to fast food order, and which restaurant would you go to?
Chick-fil-A['s] chicken sandwiches.
You were on "Family Feud" with the "Saved by the Bell" cast. Could you tell me how that went?
I can't tell you how that went, because I'm not supposed to, [and] it hasn't aired yet. We played the "Bel-Air" cast, so it was a good time.
I actually interviewed you once before for the General Mills throwback cereal, and I know you partner with a lot of food brands. Is that because you're really passionate about food [...] or do you enjoy working with other brands on certain projects?
I am passionate about food, but when they partner up for a great program like this one, and it makes sense, and I can speak to it from an authentic place, then I'll decide to partner up.
Visit the Chips Ahoy! Follow Your Art website to learn more about the campaign and sweepstakes.