Spicy Shrimp Fra Diavolo Recipe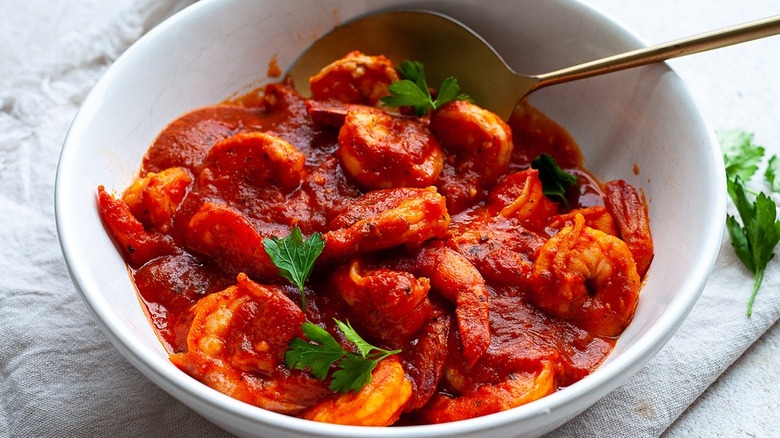 Christina Musrave/Mashed
Who doesn't love an old-fashioned Italian meal? This recipe for shrimp fra diavolo is a classic that dates way back. According to Paesana, the name for this fiery shrimp came about in 1770 in Naples, Italy. A young boy survived a terrible illness, and later, someone gave him the nickname of "fra diavolo," which means "brother devil." The name later spun into a sauce, which is super spicy, to match the boy's attitude. All you need to make this dish is a little bit of red sauce, shrimp, and a handful of other ingredients. It's super quick to put together when you're in a bind for time, and it takes just 10 minutes to cook and no prep time at all. Sounds pretty good to us! 
Recipe developer Christina Musgrave of Tasting With Tina came up with this spicy and delicious recipe that is perfect for seafood lovers. "My favorite part of the recipe is how simple it is," Musgrave raves about the dish. "It comes together so quickly and is so full of flavor." It isn't too often that we enjoy shrimp in a spicy context, so this dish is perfect for anyone looking to turn up the heat on the beloved crustacean.
Gather the ingredients for shrimp fra diavolo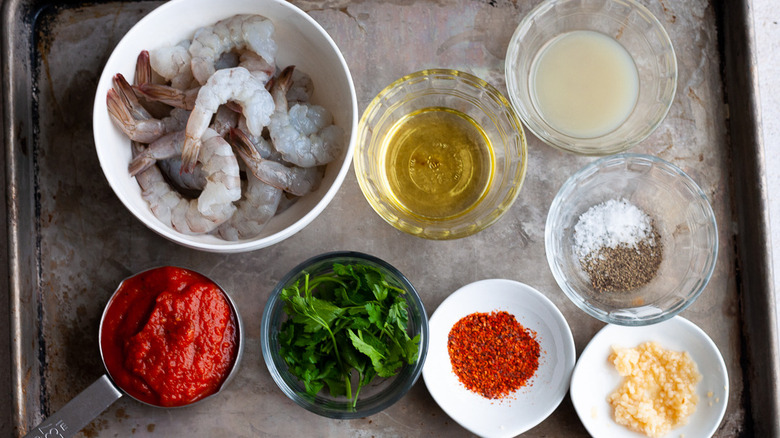 Christina Musrave/Mashed
Before you do anything else, you will need to make a list of ingredients and hit up your local grocery store. Pick up some peeled and deveined shrimp, olive oil, salt, black pepper, red pepper flakes, minced garlic, lemon juice, marinara sauce, and chopped parsley.
Heat the olive oil and cook shrimp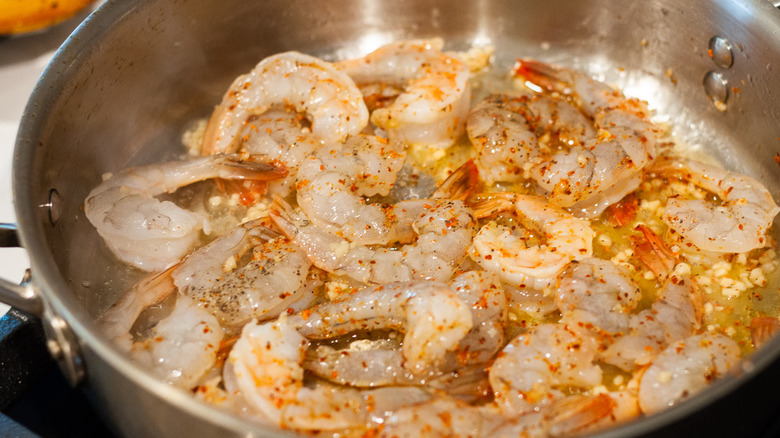 Christina Musrave/Mashed
Take out a large skillet and place it on your burner. Kick the heat up to medium and add the olive oil. Next, toss in the peeled and deveined shrimp into the skillet in addition to 1 teaspoon of salt, 1 teaspoon of black pepper, 2 teaspoons of red pepper flakes, and two cloves of minced garlic. All of these ingredients will add a major burst of flavor to the shrimp as it cooks. Continue cooking the shrimp with the spices for about three minutes. Keep in mind that the shrimp will cook more in the sauce, so it doesn't have to be fully cooked at this point.
Add the lemon juice and marinara to the pan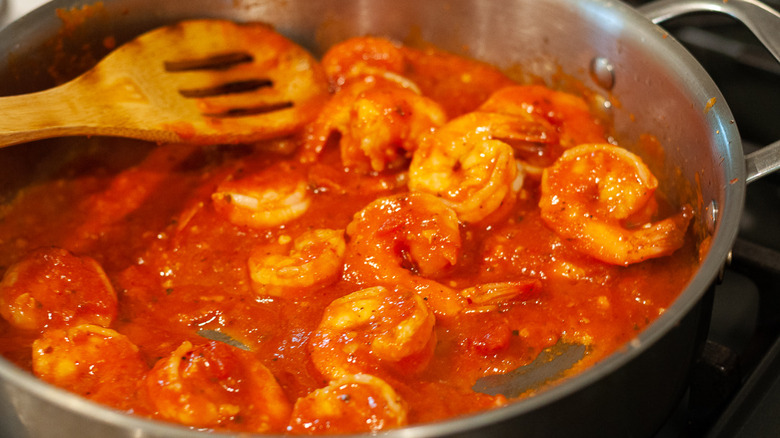 Christina Musrave/Mashed
This is where your fiery red sauce comes into play, and it's really the staple of the dish. Go ahead and toss in 1 tablespoon of lemon juice and 1 cup of marinara. "Any red sauce will work," Musgrave notes. Cook the shrimp for another two to three minutes, until the marinara is heated through. You can simply use a spoon to taste and see if it's hot. Be sure to check the spice level and add more red pepper flakes if you wish. This all depends on your spice preferences and how much of kick you want it to have. 
Garnish the dish with parsley and serve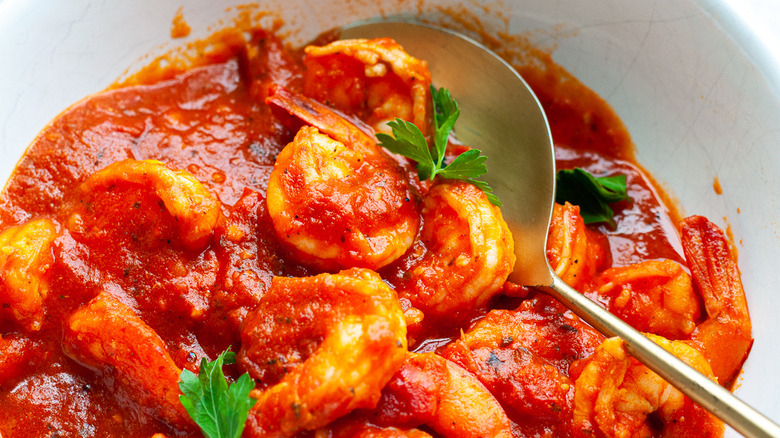 Christina Musrave/Mashed
Once you remove the shrimp from the skillet, top with chopped parsley to add a little more color and flavor, and then serve. Musgrave also provides a few additional serving suggestions to take this dish to a whole new level. "This is delicious tossed with pasta, served with bread, and a side salad," she shares. We also think a nice glass of wine would complement the dish pretty well, too! 
If you happen to have leftovers, Musgrave notes that you can keep them for two to three days. Between the spicy red sauce and the succulent shrimp, however, it's hard to imagine that there will be leftovers!
Spicy Shrimp Fra Diavolo Recipe
Spicy, fresh, and full of flavor, this shrimp fra diavolo will ignite your tastebuds.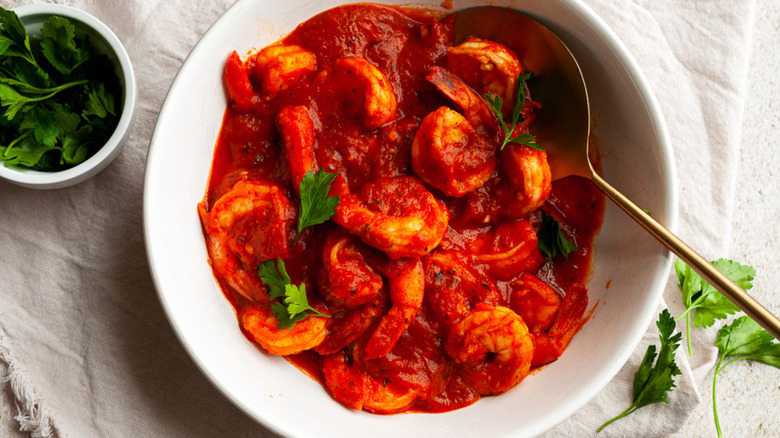 Ingredients
1 pound shrimp, peeled and deveined
2 tablespoons olive oil
1 teaspoon salt
1 teaspoon black pepper
2 teaspoons red pepper flakes
2 cloves garlic, minced
1 tablespoon lemon juice
1 cup marinara sauce
¼ cup chopped parsley
Directions
Heat 2 tablespoons of olive oil in a large skillet over medium heat. Add the shrimp, 1 teaspoon of salt, 1 teaspoon of black pepper, 2 teaspoons of red pepper flakes, and 2 cloves of minced garlic. Cook the shrimp and spices for 3 minutes.
Add 1 tablespoon of lemon juice and 1 cup of marinara sauce to the pan. Cook for 2 to 3 additional minutes, until the marinara is heated through. Check the spice level, adding more red pepper flakes for more spice if desired.
Top the dish off with chopped parsley and serve.
Nutrition
| | |
| --- | --- |
| Calories per Serving | 360 |
| Total Fat | 17.9 g |
| Saturated Fat | 2.7 g |
| Trans Fat | 0.0 g |
| Cholesterol | 288.4 mg |
| | |
| --- | --- |
| Total Carbohydrates | 15.5 g |
| Dietary Fiber | 3.3 g |
| Total Sugars | 7.9 g |
| Sodium | 1,842.8 mg |
| Protein | 33.4 g |