Aldi Shoppers Are Raving About This Flavored Butter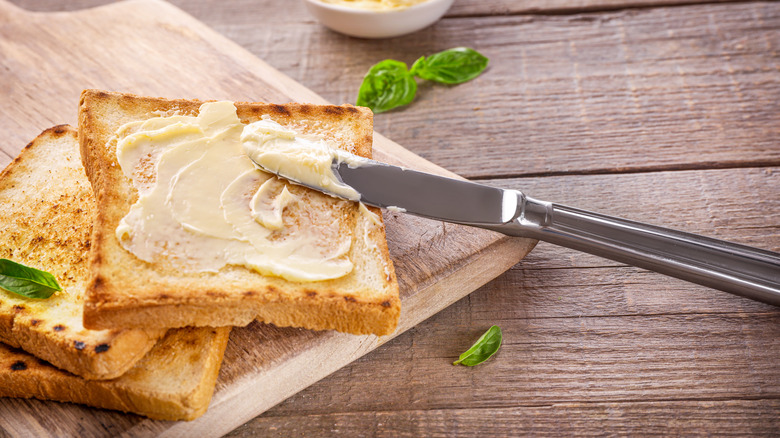 LumenSt/Shutterstock
Putting a tasty dinner on the table night after night is no easy task, especially if you have a job, kids, or other responsibilities that make meal planning and cooking a chore. That's why most people rely on certain store-bought time-savers to make the whole process easier. Many of these types of products can be found at Aldi. Frozen pizza has a place in most people's freezers for those busy nights, and Aldi's frozen meals are ideal for times when you want something delicious to eat but don't have the time to start from scratch. If you're not a fan of frozen food, there's always store-bought sauces and marinades that help make meals better without too much work. And of course, you can't forget about flavored butter.
Flavored butters are used in professional kitchens all the time to elevate dishes. At a steakhouse, you might find something like a blue cheese compound butter served with a seared ribeye. And at a bakery, a sweet compound butter can transform a humble biscuit into a memorable treat. But if you don't have time to make a compound butter from scratch, you can check out the dairy section of your local grocery story to see what pre-made options they have on hand. At Aldi, shoppers can now find three different flavors of butter from Land O'Lakes, and people on Instagram sound excited to hear the news.
Land O'Lakes has three new flavors of butter
Aldi shoppers can find the new Land O'Lakes flavored butter spreads in the refrigerated Aldi finds section of the store. According to the Instagram post announcing the find, they cost $2.25 each (though price and selection may vary by location). The flavors include two sweet options, honey and cinnamon sugar, and one savory option, garlic and herb. Aldi fans took to Instagram to share their thoughts about the flavors.
Some people planned to use the butters simply, to jazz up plain toast, french toast, and other breakfast breads. The garlic and herb butter makes homemade garlic bread easy, and some people said it's also delicious on steak. A lot of people also seemed to like the cinnamon sugar butter. One person remembered it, or a version of it, from their childhood. Another said that the cinnamon flavor is so good, they recommend buying four or five at a time, so you don't run out. Overall, it seemed like people were really excited to find these Land O'Lakes flavored butters at Aldi. "All three of these are bomb," said one. "I can't choose, so get 'em all lol."