Frozen Food You Should Be Buying At Aldi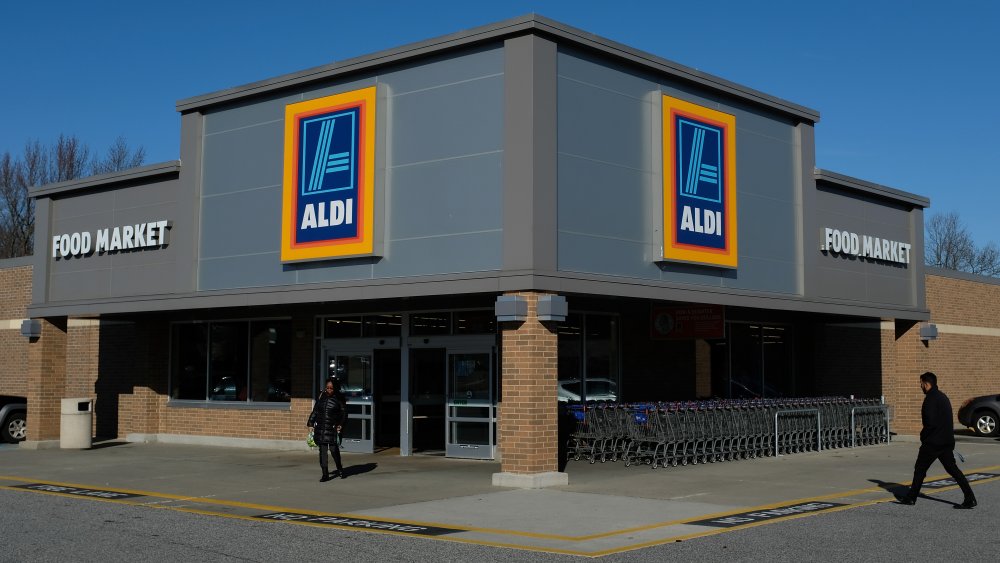 Sean Gallup/Getty Images
Sometimes, frozen foods are where it's at.
If you've been shying away from the freezer aisles because of their bad reputation, we've got good news. Researchers from the University of Georgia (via Tufts University) found that while the nutritional value of fresh and frozen produce is actually extremely similar on the day it is bought, after five days, it is the fresh produce that loses a lot of its vitamin content! 
And if you're not looking for produce, other frozen products are great to have on-hand for nights when you just don't have time to cook from scratch (and don't want to hit up the drive-thru). 
Aldi, which has some of the most competitive prices around, is a great place to stock your freezer. While prices differ slightly depending on location, you can be assured you're getting better prices on most products than you will at other stores. And, as if all that wasn't enough, there are some truly mouthwatering options to choose from in Aldi's frozen aisle. If you're not sure where to start, try picking from some of our personal favorites.
These are the frozen foods you should be buying at Aldi.
Belmont Ice Cream New York Cheesecake from Aldi
Even if you're on a really strict diet, experts say you can afford to indulge in a decadent slice of cheesecake once a week, and this option from Belmont is the perfect (and perfectly well-priced) way to do so without having to run to a pastry shop when your next craving strikes. Because they're frozen, you can store these cheesecakes for a little longer than you would be able to a regular slice (if you've got the willpower, that is!), and since they come two slices per package, you don't have to worry about eating the whole cake yourself. 
But whether you're on a diet or not, we suggest picking this one up. Aldi offers flavors such as Ice Cream New York Cheesecake, Ice Cream Turtle Cheesecake, Ice Cream Strawberry Cheesecake, and more. And rest assured, each flavor is delicious. We're partial to the New York version, but there's really no harm in trying them all until you find your favorite flavor.
Aldi's Sundae Shoppe Mint Chip Protein Pints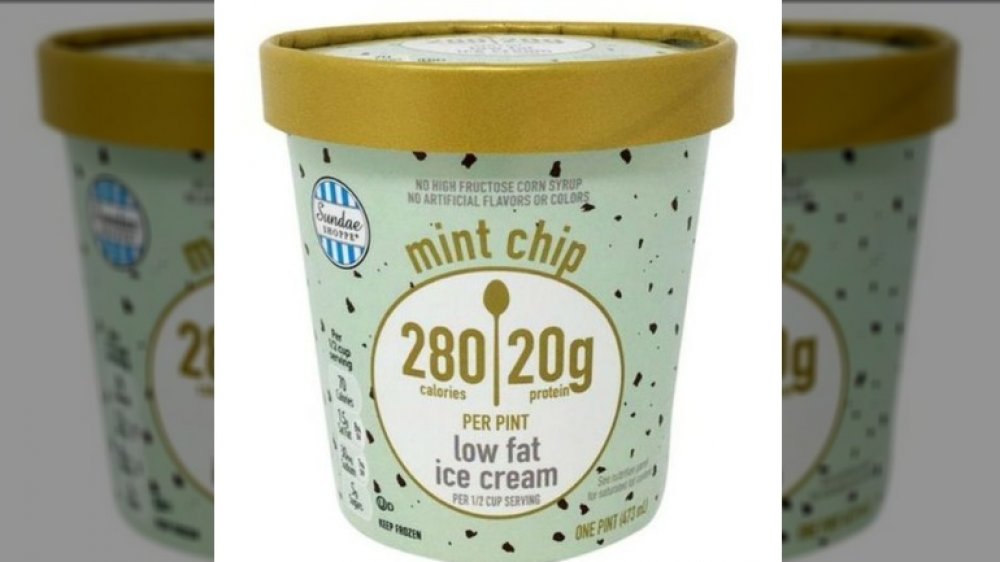 Aldi
So, we love mint ice-cream enough to eat a pint-a-night, but we know that's not the healthiest of nightly snacking options. Still, if you can't resist heading over to the ice cream aisle every time you're on a grocery run, consider this seriously good ice cream Aldi sells at a seriously good price (around $3 per pint), without all of the guilt usually associated with this frozen treat. 
The brand offers a mint chocolate chip, chocolate, and vanilla bean flavor and they're all really good, but we're going to go out on a limb here and give the mint chocolate a double thumbs up. It's a great  alternative for your Ben & Jerry cravings — the brand claims the delicious treat will help you increase your protein intake (which you should be doing), without adding to that daily calorie intake we're all so worried about.
Aldi's Protein Pints are also a lot cheaper than most other healthy ice creams, giving popular brands like Halo Top and Enlightened run for their money. 
Aldi's Earth Grown Burgers
There's nothing like a well-made black bean burger, and there's no reason it shouldn't come out of your freezer! Sure, there's been a lot of debate recently about whether all meatless burgers are actually as healthy as they claim to be, but superfood or not, there's no denying how delicious several vegan options can be, including this one.
If you have a craving for a patty that packs a punch without puncturing your pocket, Aldi has just what you're looking for, and for under $4 for four in most locations. Earth Grown's meatless patties are our favorite of the brand's Aldi options, but they offer everything from cheese to meatless meatballs, chicken-free nuggets, links, patties, and potstickers, all of which are pretty amazing. 
These frozen patties are great to keep in your freezer for a quick lunch or dinner since they can be ready in minutes. And, did we mention how delicious they are?
Specially Selected Wild Caught Sockeye Salmon Fillets from Aldi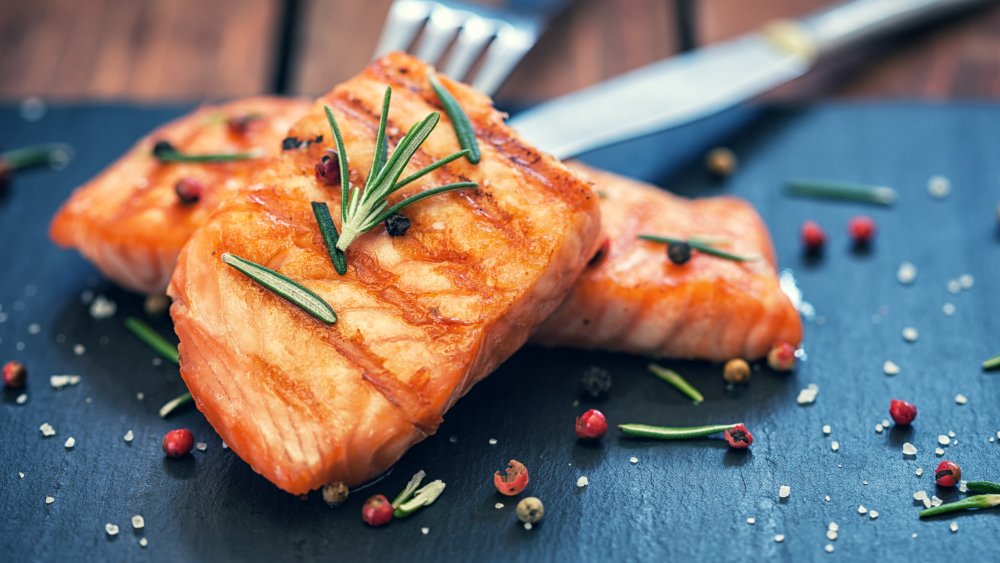 Shutterstock
Don't shy away from the frozen fish section of the grocery store any longer, because several sources and reports have begun to suggest that it may actually be of better quality and a lot fresher than whatever's been sitting out there on ice at the store. Besides, the American Heart Association says those who ate some fish every week were at lower risk of heart disease. They also found that the best way to increase your intake of omega-3 fatty acid is a dietary approach over pills and supplements, so if you're not already trying to increase your intake of omega-3 fatty acid, perhaps you should.
As always, there's something in Aldi's freezer that will help you out. They have a range of inviting frozen fish options but among our favorites are these Specially Selected Wild Caught Sockeye Salmon Fillets. They're full of flavor, easy to prepare, light on the pocket, perfectly proportioned — and if all that wasn't enough already, it helps that they're pretty healthy too, since salmon is also high in omega-3.
Aldi's Deutsche Küche Bavarian Soft Pretzel
There's nothing more indulgent than a hot, soft pretzel, but you'd be hard-pressed to find a fresh pretzel vendor around the street corner whenever you've been hit by a craving. Since Aldi is so good at keeping our pantries stocked with everything we may possibly have a hankering for, it's no surprise that they've got this covered too. Aldi's Deutsche Küche Bavarian Soft Pretzels have been gaining popularity for a while now, and after trying them ourselves, we realized they're on lists of Aldi's best frozen foods for a reason — they really are that good.
These massive pretzels come six to a box, so they're a steal at under $4 in most locations. They're easy to prepare, great bang for your buck, and if you're anything like us, you'll enjoy them most in front of the television with a delicious dip, or some melted cheese.
Aldi's relatively recent Deutsche Küche range of German-inspired treats also has schnitzel, sandwich cookies, and other cookies and puffs for German food aficionados. Some locations only carry these items a few times a year, so if that's your store, stock up when you see them.
Season's Choice Hash Brown Patties from Aldi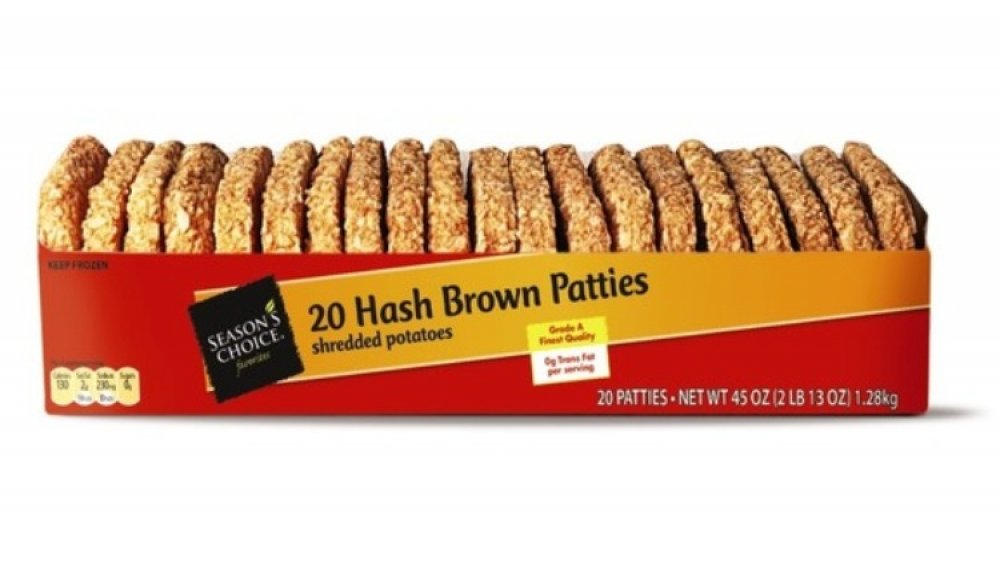 Aldi
Hash brown patties are an extremely convenient breakfast option... if you buy them ready-made. If you've ever tried to make them yourself, you'll know that all the peeling, grating, straining and squeezing, and then waiting close to 45 minutes for them to bake, isn't exactly the quickest way to start your day. 
Instead, pick up a box of Season's Choice Hash Brown Patties from Aldi. Not only is this box delightfully priced at just under $4, but there are also 20 whole patties in one pack. Imagine all the money you're saving by picking these over the dollar-a-piece option at McDonald's. Sure, it takes longer to bake these, but they're easy to pop in the oven while you're getting ready.
These hash brown patties are really tasty, and they're perfect as a to-go breakfast option on their own, or as a side for something a little more fancy.
LiveGfree Stuffed Sandwiches from Aldi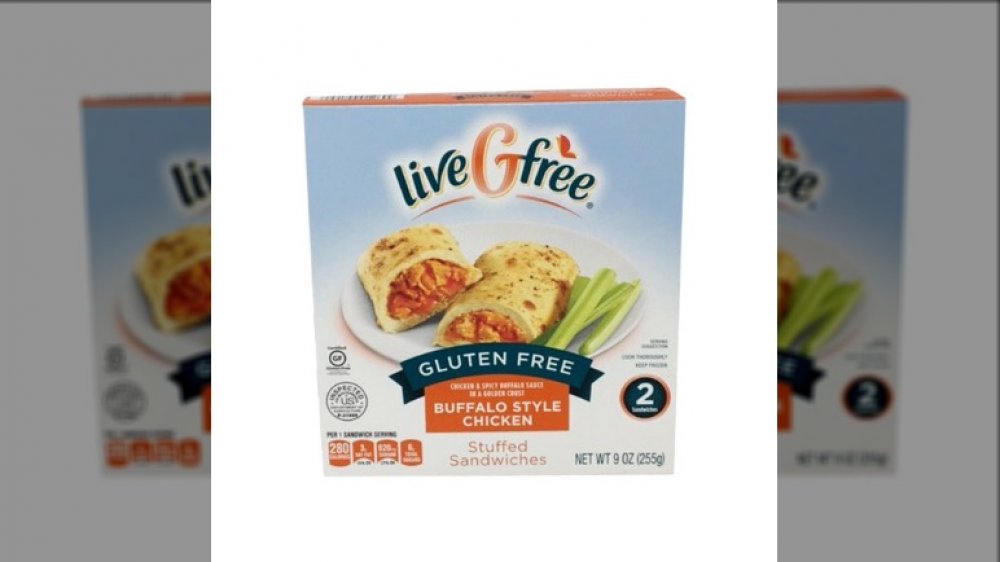 Aldi
There was a time not so long ago when we'd microwave a Hot Pocket whenever we had a slight hunger pang, but even though they're not as bad for you as you'd think, they're still not really the best afternoon snack. But even if you're trying to cut back on the amount of the tasty, pastry-encased snacks we consume in a single day (the abundant flavors and options they have don't make this any easier), you're not going to be able to resist Aldi's spin on the popular quick-fix food. 
The LiveGfree Stuffed Sandwiches from Aldi are the best tasting of any Hot Pocket wannabe we've tried, and they're gluten-free without tasting dry or falling apart. Available flavors include Buffalo Chicken, Spinach and Kale, Southwest Veggie, and Ham and Cheese. They're included in the LiveGfree range of frozen snacks and microwave meals that are all worth trying — although the stuffed sandwiches are our favorite.
LiveGfree Pepperoni Pizza at Aldi
Whether you're following a gluten-free diet or not, we know the mention of gluten-free pizza isn't usually met with "ooh's and ah's" of delight. This isn't really surprising because most gluten-free crusts taste terrible, and ruin the indulgent idea of digging into a cheesy slice. And usually the trouble you have to go to just to locate a gluten-free pizza isn't worth all the hassle — especially when you factor in the disappointment you'll face after that first bite. 
Aldi's LiveGfree gluten-free pizza option, though, is good enough to pick up even if you're not limited to foods without gluten. While Aldi doesn't have a magic solution for all of the pizza problems their gluten intolerant customers face, but they do have some respite at this store because the LiveGfree brand recently introduced a wide range of delicious new frozen foods to their already impressive selection.
As an added bonus, not only does the LiveGfree Pepperoni Pizza at Aldi not taste like sawdust, the entire pizza only costs about $5. If you've done much shopping for gluten-free foods, you know that's an amazing price that simply can't be beat.
My/Mo Mochi Ice Cream from Aldi
There are so many things we love about Japanese food; the sushi, the sashimi, the udon, soba, onigiri, miso soup... we could go on and on, but one of the best parts of a Japanese meal at a restaurant is definitely the dessert. While we love the doughy Daifuku and can't get enough of the sweet filling centered Manju, there's something special about the relatively new invention (it was first created as recently as the 1980s!) — mochi ice cream. So it's especially exciting that it's now available in stores, and even more so that it can be found at such wonderful prices thanks to Aldi. 
For those who don't know, mochi is a dough made of sticky rice, and the mochi ice cream, if the name hasn't given it away already, is ice cream wrapped in this sticky, sweet mixture. We're all for the more traditional matcha variant of course, but Aldi sells My/Mo Mochi in Ripe Strawberry, Sweet Mango, and Double Chocolate flavors — and we can't get any of those flavors off of our minds. Besides being perfectly portable and a quick way to quench your sweet tooth, ice-cream also makes you happy, so don't miss out!
Season's Choice Frozen Berry Medley from Aldi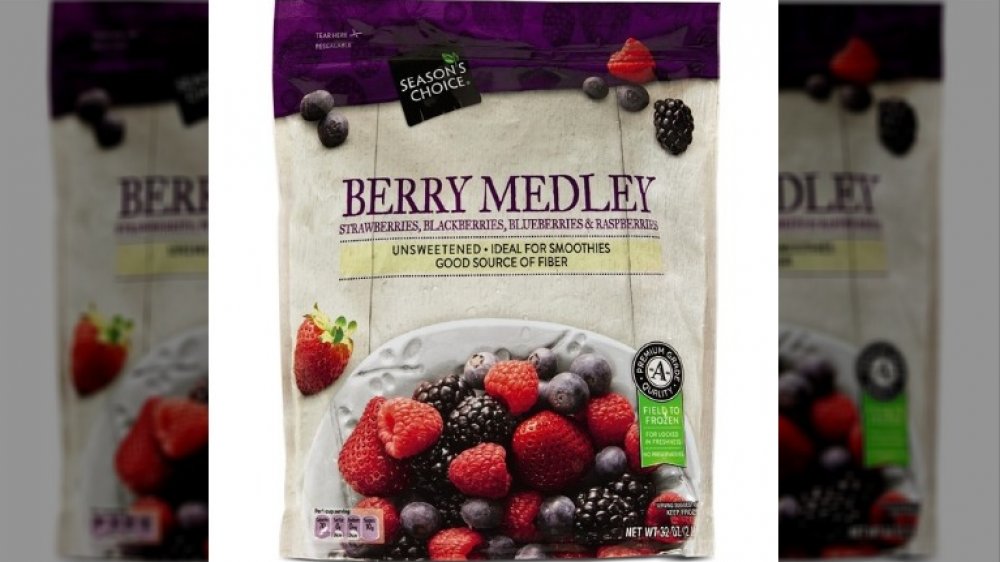 Aldi
You should definitely be including more fruit in your diet, but it's not always easy to keep a steady stock of fresh fruit around. Sure, there's always fruit juices, but focusing on eating whole fruit will help you get the most out of it, including the dietary fiber that your body needs to stay healthy. If you're tired of fruit going bad but scared to lose nutritional value by picking fruit-based alternatives that last longer, invest in some frozen fruit — Season's Choice Frozen Berry Medley from Aldi in particular. 
Luckily, it doesn't really matter whether fruit is frozen or fresh, and while fruits like apples and bananas are best bought fresh (and last longer), Season's Choice Frozen Berry Medley from Aldi are perfect frozen too — they're very easy to use over cereal or to defrost and eat plain, contain plenty of that fiber we were talking about, and taste just as fresh and sweet as the real deal. 
Casa Mamita Beef & Bean Burrito from Aldi
Aldi stocks a large selection of Mexican food, including sauces, taco shells, seasonings, and ready-to-eat products that we can't get enough of — but there are other places in the store that you can complete your Mexican-inspired feast. In the frozen aisle, don't forget to pick up something from the popular Casa Mamita selection. After all, there's something so satisfying about being able to pick a small packet out of the freezer and have a meal or snack in minutes, and even more so if it's something as tasty as the Casa Mamita Beef & Bean Burritos from Aldi. 
Sure, there are several frozen burrito brands you can pick from, but Aldi knows what it's doing by stocking a large variety of this extremely affordable and delicious version, which aren't actually as unhealthy as you'd assume from the great price point. At just under $4, you can probably feed your entire family with an eight-pack — that's an Aldi-lover's dream come true.
Apart from the fact that this is a particularly convenient option, and one of our favorites, the brand is definitely one you should be dipping into because it has several other delicious options to pick from, including apple-filled churros and beef taquitos.
Aldi's Season's Choice Steamed Mixed Vegetables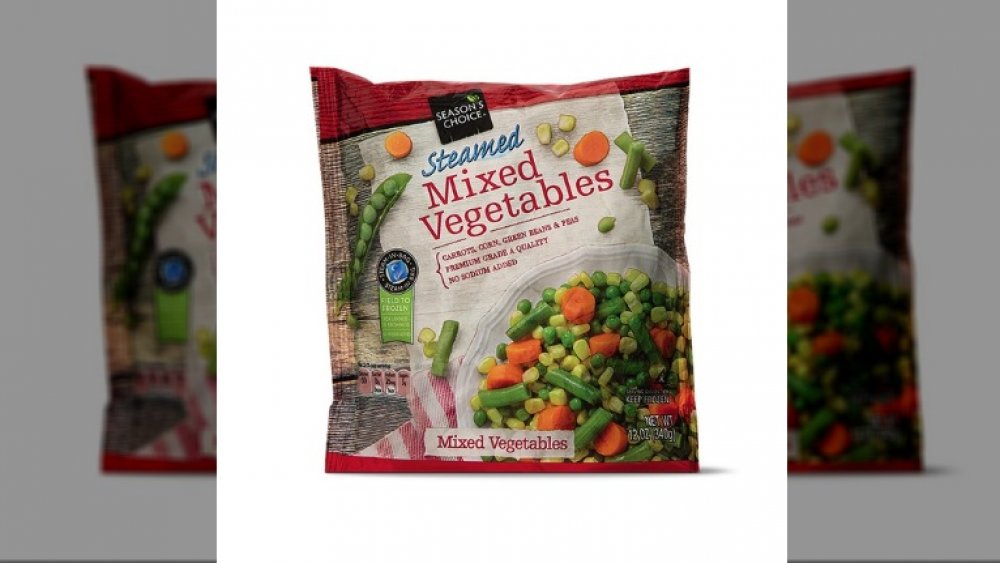 Aldi
It's not always easy, but it is important to make sure your diet includes enough vegetables — the American Heart Association recommends at least five servings a day and of these, and frozen vegetables definitely count toward that goal, which makes our lives easier! 
Thanks to quick-freezing technology that ensures your food can be frozen without it losing all its nutritional value, you can now indulge in frozen vegetables to make your day just that much easier (and cooking much, much quicker!). Aldi's Season's Choice Steamed Mixed Vegetables are one of our favorite products from Aldi's frozen section, not only because they are super cheap (just like most other items from Aldi), but they're also ready in a jiffy and taste just as good as fresh produce. Aldi's Season's Choice Steamed Mixed Vegetables a great option for everything from a quick stir-fry, to a casserole, or even as a simple side dish to serve along with dinner.
Aldi's Beer Bratwurst
We mentioned Aldi's delightful selection of German food already, but we just couldn't leave Aldi's Beer Bratwursts off a list of our favorite things to get at the store — and you won't have to wait until they're celebrating Oktoberfest to get it! 
Bratwurst is always a tasty addition to a sauerkraut dinner or a backyard cookout, but it's usually cheaper to just pick up a regular packet of franks. However, Aldi's Beer Bratwursts are a lot cheaper than most brands which usually hover around and go upwards of the $4 or $5 dollar mark. Aldi's are usually under $3, and they definitely don't compromise on taste. 
What makes these brats even more special is that they're flavored with beer, which gives them a particularly wonderful, summery taste. Boil these, grill them, fry them — there's really no way you can go wrong with a tasty Beer Bratwurst from Aldi.
Kirkwood Crispy Chicken Strips from Aldi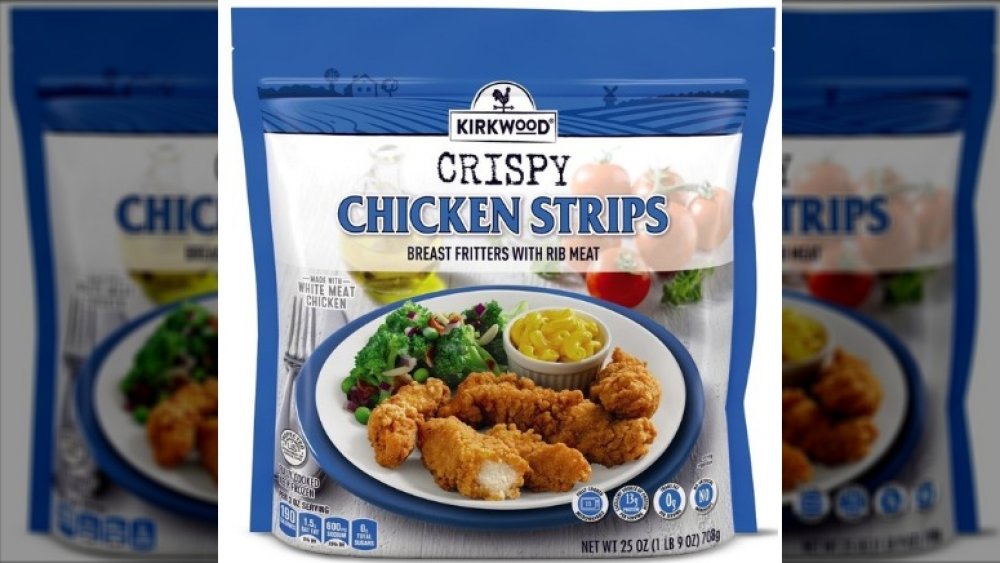 Aldi
There's nothing quite like picking a packet of chicken out of the freezer and having it ready in a matter of minutes, no seasonings needed! The Kirkwood Crispy Chicken Strips from Aldi may come in a resealable bag, but we're not sure you're going to need it after you taste them.
All of the Kirkwood frozen products are usually cheaper than similar options from name brands, and Kirkwood Crispy Chicken Strips in particular are increasingly popular with their customers, so we just had to try them — and we're hooked! 
At 190 calories a serving, it's perfectly indulgent without making you feel too guilty. They're also quick and easy to prepare, and although they are better oven-cooked, unlike some other brands, they taste pretty good out of the microwave too, making them our favorite for when we're craving some tenders and don't want to wait for the oven to preheat!