Instagram Is Raining Hearts On Cat Cora's Family Pic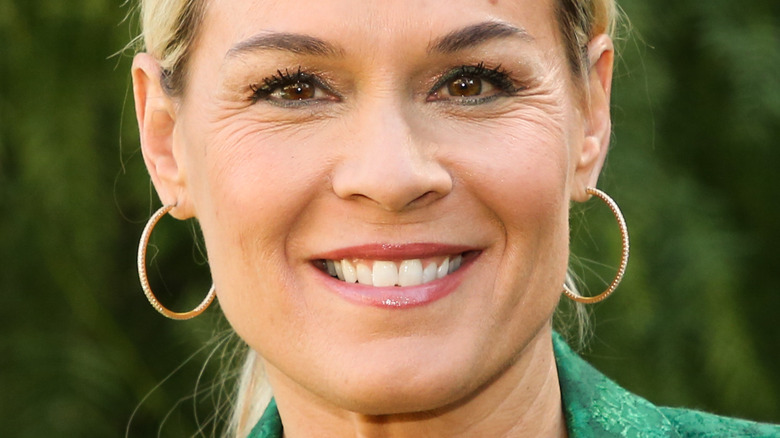 Paul Archuleta/Getty Images
Longtime Food Network fans worth their weight in salt will be able to tell you who Cat Cora is without help any help from Google, but even those who haven't been watching cooking shows since the 1990s will likely know that the celebrity chef and restaurateur was the first woman to appear on "Iron Chef America" and to be inducted into the American Academy of Chefs Culinary Hall of Fame. Others may know Cora for her avid philanthropy, including her Women's Empowerment Culinary Internship Program that, per Cora's website, earned her both a Volunteer Service Award and a Lifetime Achievement Award from former President Barack Obama back in 2018.
On top of her mountain of culinary-related achievements (we imagine she needs a whole room just to store her plethora of awards), Cora is also a mother of six boys. In celebration of her son Thatcher's birthday on Tuesday, Cora posted a sweet Instagram photo of herself and her kids sitting around a table with a mountain of crab legs, crawfish, and shrimp before them. The pic got a whole lot of love from her fans and fellow celebrity chefs alike. 
A birthday shellfish feast
Cora paired the Instagram post with a sweet caption calling her son Thatcher "amazing in every way." She added, "There's nothing more fun than celebrating with all the boys and a big bag of delicious crab legs, crawfish, & shrimp!" The post received nice comments from former "90 Day Fiancé" contestant David Toborowsky and fellow Food Network star and cookbook author Jet Tila, as well as a sea of Cora's fans and family. "Best Mom ever! Your boys are so lucky to have you," wrote one user. 
As a native of Jackson, Mississippi — not far from Biloxi, the former Seafood Capital of the World, per the Biloxi Historical Society — feasting on personal bags of shellfish seems like a natural way for Cora to mark a special occasion. While Cora currently lives in California, according to her website, one comment suggests the picture may have been taken in Atlanta, another bonafide seafood haven. Whatever the case, the chef certainly knows how to treat her loved ones to a celebratory meal.