How The Great British Bake Off Tent Tricks Your Eyes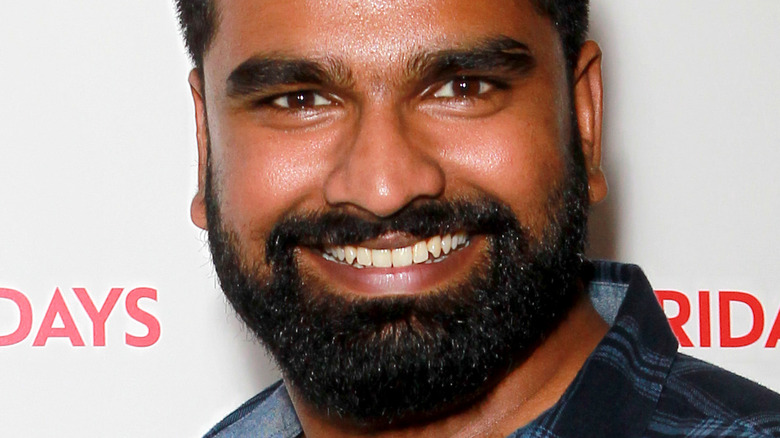 David M. Benett/Getty Images
Who doesn't like to relax with a banana chocolate chip scone while watching "The Great British Bake Off?" It's an entertaining hour of drama-free TV with cheerful bakers, beautiful bakes, and co-hosts that often crack jokes with the contestants. And while you may oooh and ahhh at the desserts, are you thinking about the production of the show?
Antony Amourdoux, a self-described "Bollywood baker" offers some insight. In 2018, he was one of 12 contestants in season 9 of "The Great British Bake Off." In a write-up for Insider, Amourdoux reveals some interesting tidbits that happen behind the scenes while filming in the famous white tent. And if you're wondering why The Great British Bake Off really films in a tent, here's the explanation. 
Antony went through extensive interviews while auditioning for season 9, and then he competed in the white GBBO tent for three weeks before dropping out. "Week one in the tent is really special," he recalls, sharing that contestants first stay in a hotel for a few days to get to know each other. However, that spark was cut short for Amordoux, as he admits he found himself unprepared for what was to come.
The tent is not as big as it appears on TV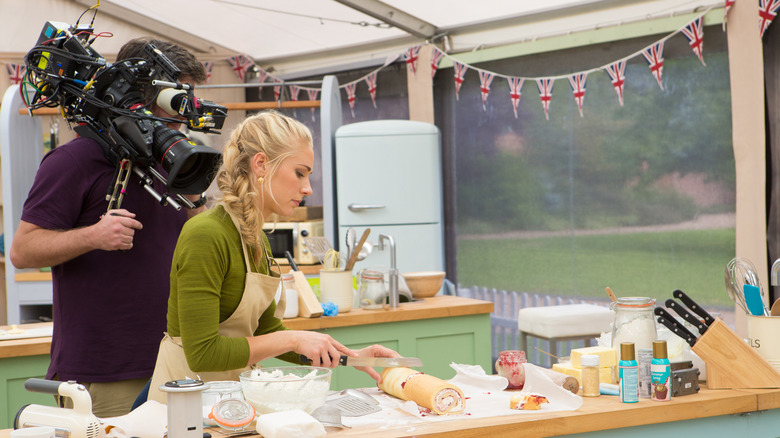 Comic Relief/Getty Images
Another thing Amourdoux shares with Insider is that the filming of the show is very secretive. Phones are forbidden on the set, and the contestants' social media feeds are closely monitored by Love Productions so as to not accidentally spoil the surprises yet to air. If you'd like to know more, here's how GBBO keeps the show a secret during filming. 
Season 9 was filmed at Welford Park, and Amourdoux reveals that the famous GBBO tent somehow tricks your eyes when you're seeing it on TV, which is probably due to that Hollywood magic everyone talks about. In reality, the tent is not as large as it appears on the screen. Amourdoux says that the tent is actually packed with people, cameras, lights, and other equipment that we don't see on the tube. And behind this equipment, the ex-contestant says, are at least 100 crew members along with the hosts and other bakers.
Although Amourdoux thought that the filming was too intense due to the unfamiliarity with the new kitchen, the crowded tent, and the judges' snappy comments, in the three weeks he lasted he reveals that he found solace in hosts Noel Fielding and Sandi Toskvig who helped calm hime and other contestants with their lightheartedness.