Firehouse Subs Is Even More Fiery With The Return Of A Spicy Item
While Firehouse Subs is always serving steaming hot subs, the return of a favorite spicy menu item has many people making a dash to their local restaurant. As the quick service restaurant brand says in its mission statement, its story has "some serious meat in it," the reality is that this sandwich restaurant blends delicious food and a commitment to helping the community (via the brand's website). Even if many have tried to copy that signature bread recipe, the meat and flavors in between that bread is what brings people back time and again.
In 2019, Firehouse Subs launched its Spicy Cajun Chicken Sub. As stated in the original press release, the offering was part of the brand's 25th-anniversary celebration. While spicy chicken offerings have become a staple across many quick service restaurant menus, the return of this particular sub has many people excited. According to Chewboom, the sub tops the grilled, Cajun-seasoned chicken breast pieces with cherry peppers, as well as pepper jack cheese, lettuce, onions, jalapeños, and deli mustard. Additionally, there is a Cajun mayo that brings an extra level of spice to the conversation. While available for a limited time, the fiery flavor has many people running to satisfy that craving before the flames burn out.
What are people saying about Firehouse Subs' Spicy Cajun Chicken Sub?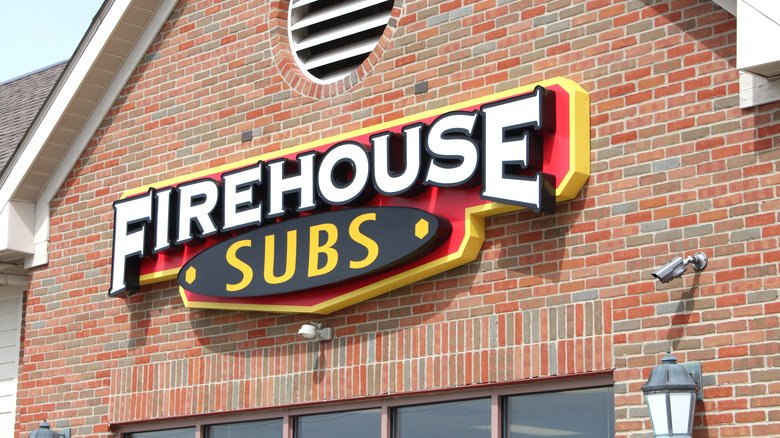 Eric Glenn/Shutterstock
When Firehouse Subs announced that its Spicy Cajun Chicken Sub was returning to the menu, many people went on high alert and bolted to the restaurant. Looking back at when this menu item launched in 2019, the response was positive. As Fast Food Pit Stops said on YouTube, the combination of the cherry peppers with the warm chicken and Cajun mayo makes for a hearty, flavorful bite. Between the cost value and the flavor, he was pleased with the purchase. 
More recently, SomethingNew on YouTube reviewed the sandwich. His critique pointed out that the deli mustard with the spicy flavors was a miss. In addition, a commenter mentioned a pickle flavor that did not complement the heat of the sandwich. Since Firehouse Subs does allow customization, it might be worth asking to skip the deli mustard and focus on just the Cajun mayo, which seems to be a hit. Whether the spice level of this chicken sub is too hot to handle or just a smoldering burn, fans of the sandwich can try the limited-time offering before the opportunity goes up in flames.