How Selena Gomez's Jack In The Box Order Became A Story About Self-Acceptance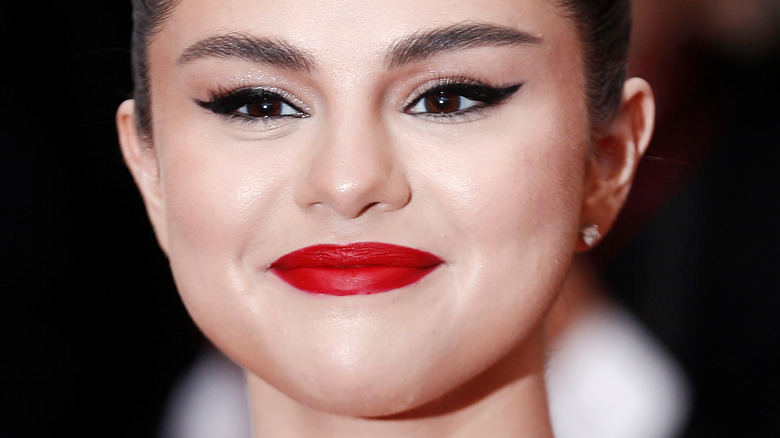 Andrea Raffin/Shutterstock
Actor, singer, and beauty mogul Selena Gomez has been in the public eye for nearly half of her life. And while fame has earned her a lot of success, growing up in the spotlight has also meant having her appearance ruthlessly picked apart. This week, the singer had a straightforward message for those who still feel the need to make unsolicited comments on her weight or dietary choices: She's over it.
"So I be trying to stay skinny, but I went to Jack in the Box and I got four tacos, three egg rolls, onion rings, and a spicy chicken sandwich," Gomez revealed in a TikTok Story that was reposted by an Instagram account. "But honestly, I don't care about my weight because people b**** about it anyway." Gomez then went on to mock those who make negative comments about her appearance, while also calling out the impossibility of trying to adhere to others' beauty standards. "'You're too small,' 'you're too big,' 'that doesn't fit.' 'Meh meh meh," she jeered, before snapping into a confident declaration. "B****, I am perfect the way I am. Moral of the story? Bye."'
This is far from the first time Gomez has clapped back at body shamers. Per Newsweek, back in 2018, the "Only Murders in the Building" actress responded to rude comments about how she looked in a bikini with an Instagram post declaring, "I chose to take care of myself because I want to, not to prove anything to anyone."
Selena Gomez refuses to judge herself for how she looks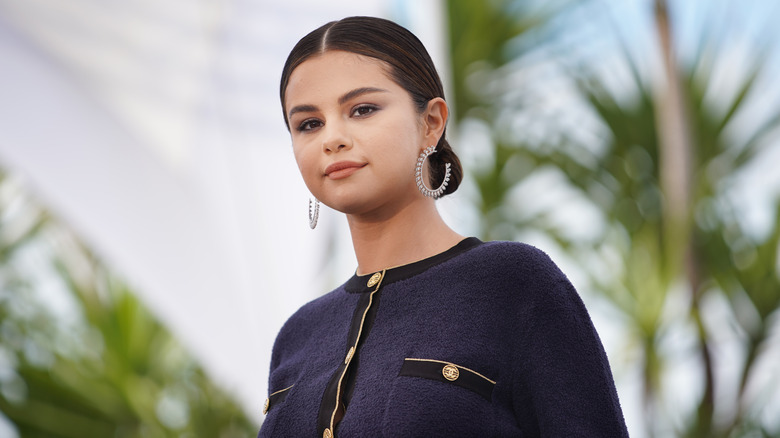 Denis Makarenko/Shutterstock
For years, Gomez has been candid about her struggles with body image, particularly following her diagnosis with lupus. In a 2019 interview with the "Giving Back Generation" podcast, the singer revealed that she became self-conscious after people started making hurtful comments about how her weight changed in response to the autoimmune condition and medication she was taking (via OK Magazine). "I really noticed [my weight] when people started attacking me for that. And in reality, that's just my truth. I fluctuate." Gomez later told Cosmo, "I've had to learn pretty early to have thick skin when it comes to this stuff and to understand that it doesn't matter at all. It's just hateful. It's all it is." It's a sentiment she would echo in her Jack in the Box post.
Even so, Gomez has admitted that learning to fully embrace her appearance over the years has been an ongoing journey. "​​It's hard to feel comfortable when you feel like everyone is watching, judging, and commenting on the way you look," the Grammy-nominated singer told Glamour UK in February. She later explained that what helped her become more self-assured was making a conscious effort to redefine health and beauty on her own terms. "Self-confidence is still something I work on daily, but when I stopped trying to conform to society's unrealistic standards of beauty, my perspective entirely shifted."